The coronavirus has brought about one of the latest fashion trends in the form of the face mask. This is not the first time we've seen people cover their faces as a fashion statement. However, it is the first time it's been so widely used by the general public. Although many view the face mask as a necessity rather than a fashion statement, plenty of people have found ways to style it. Like anything signaling one's identity, people have embraced the mask as an accessory. Here are some of our favorite examples.
Matching Patterns and Colors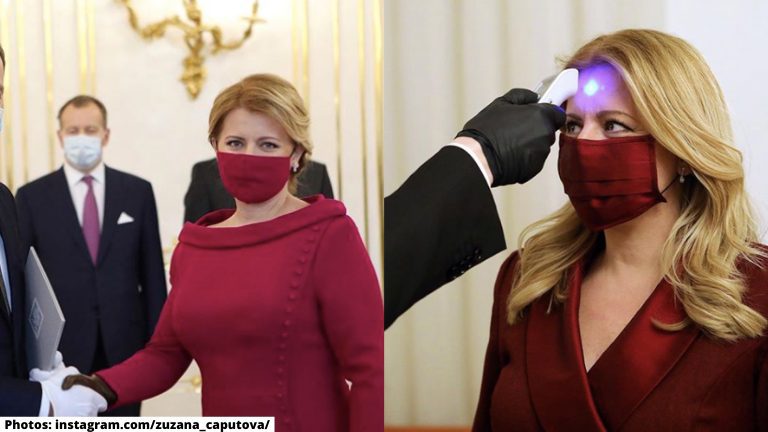 Like Zuzana Čaputová, President of Slovakia, people have incorporated face masks into their wardrobe through matching colors and patterns. This styling choice, though relatively simple, is very effective in creating a cohesive look. Celebrities have also hopped onto this trend. Pop singer Lizzo recently shared a picture on her Instagram showing off a pink and green bikini with a mask to match. Supermodel Cindy Crawford also matched up her patterns, posing in a rainbow blouse in the same pattern as her mask, captioning the photo, "social distancing, but make it fashion."
Retailers have also caught on to this trend. More and more I'm seeing masks sold along with tops or dresses in the same patterns or colors. Matching may be a little too much for some, but for others its the perfect way to show off their style while keeping it all together.
Jewels and Statement Pieces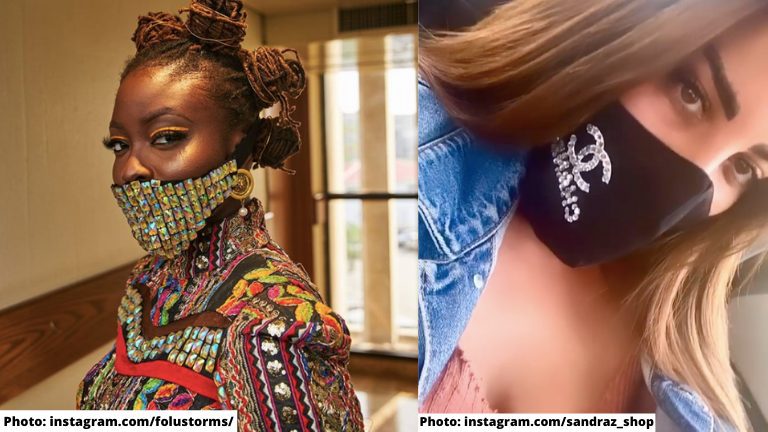 Bejeweled masks have also been on show across social media platforms. These are surely the most attention-grabbing masks of the bunch, but if you're someone that likes to stand out, this is perfect for you. Jeweled face masks are not brand new, and have been popping up on runways and red carpets for awhile. However, in more recent times, we have seen them come into the mainstream.
Back in mid-March, Nigerian celebrities wore bedazzled masks at Africa Magic Viewers' Choice Awards as a statement. As the world was on the brink of a complete shut-down due to the pandemic, these celebrities opted for the sparkly accessory not just because it looked glamorous but also as a way to make a statement, to be mindful and do your part to fight the coronavirus.
Even more recently, Jordanian designer Samia Alzakleh has been selling face masks covered in crystals. These masks range from fully glitzed out to a more toned down. For example, a bedazzled Dior, Chanel, or Gucci logo over a black mask. These can still convey a sense of luxury without being too over the top.
Simple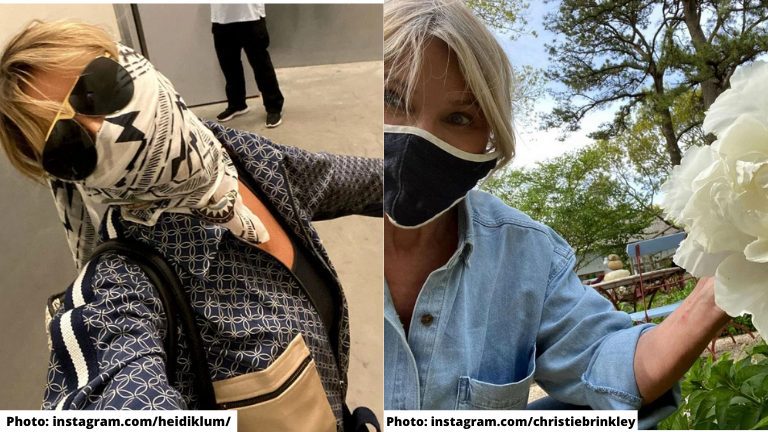 Of course, jewels and matching sets aren't for everyone but there are plenty of more subtle ways to make a face mask more fashionable. For some, it can be as simple as using items you already have. Heidi Klum shared a picture of herself using a scarf as a face covering. I'm no Heidi Klum but sometimes I'll use a bandana if it matches my outfit. There are also plenty of tutorials to make masks out of old shirts or other pieces of clothing.
Or, if you want to buy a simple mask, neutral colors are a good bet, they go with everything. If you're feeling more adventurous, there are hundreds of patterned options on sites like Redbubble and Etsy that can help show off special interests and create a sense of individuality. Even better, buying from these sites means supporting independent artists that sometimes depend on that income.
Although these circumstances are less than ideal, there is no reason why you can't look and feel your best. If you're someone that loves to express themselves through fashion the current state of the world doesn't have to stop that. Whether it's bedazzled or a recycled t-shirt, there really is a mask for everyone. And you really do need it.
Cover photo courtesy of Africa Bloom brand