If anyone knows opulence and how to present it , it is Kilian Hennesy. With quite well known family tree of cognac makers and entrepreneur grandfather he learned a lot about the finer things in life.  In search of  "angels share", what the House of Hennessy calls the percentage that evaporates from cognac cellars, like an offering to the Gods, Kilian encountered the world of perfumery. He trained with "finest noses" of the industry and worked with big perfume houses to eventually start his own brand.
I first stumbled upon Perfume as an Art in Meat Packing district in New York City. What caught my attention was seeing beautiful perfume bottles placed in fashionable, evening clutches used as perfume boxes. How is it that no one thought of it before? Testing some of the scents that are unique and inspired by far, mystical lands intrigued me event more.  My current favorite is Voulez-vous coucher avec Moi, intense but not overwhelming. 
Humble , but yet excited to share latest news about his vision about merging interior design and scent Kilian Hennesy took me through the whole collection. It is always great to talk to passionate people happy to share their vision. In addition to his line of fragrances and if you never heard of scented jewelry ( now you know where to find it) he introduced four decorative objects.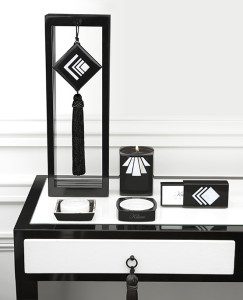 "True luxury should never be thrown away, it should be passed on from one generation to another. All Kilian bottles are reusable and refillable, making the brand a true statement of "eco-luxury"
When a customer buys a Kilian bottle, they can keep that bottle for their lifetime." -Kilian Hennesy
He used noble materials to embellish and transform interior spaces. These are made of wood and mother pearl, are refillable and there to enhance the look of your home. He chose four signature scents for candles, paperweight, tassel and the bakhara.
French  Boudoir has tuberose bouquet.
Loukoum, inspired by turkish delight, is an overdose of vanilla scented with orange blossom.
 Noir Ottoman is based on a rosewood accord with a musk cocoon.
Song of Songs has deep notes of oud mixed with amber.
For more information click : Kilian