Situated outside a busy corner in the Meatpacking District, a pop-up water-truck-turned-retail store garnished attention from people passing by.
The brand new retail boutique for luxury spirit brand Absolut Elyx launched selling the posh copper pineapples on Wednesday November 4th, with a celebration following the recent launch of their five year philanthropy partnership with Water For People (an international non-profit organization dedicated to providing access to safe water in developing countries).
The pop-up debuted in New York and will embark on a three-city tour of the country in Los Angeles in November and Miami in December.
The truck highlights the scarcity of water to generate awareness of the global water crisis and for the first time ever – Elyx's exclusive copper pineapples will be available for purchase in the mobile boutique, as well as online.
For every bottle of vodka sold, Elyx will provide access to one week of safe water (140 liters) to someone in need. For every copper pineapple drinking vessel sold, access to one month of water (560 liters) will be provided. This is part of a five year partnership to provide access to safe water for 100,000 around the world.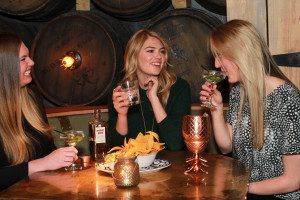 The vintage water truck contains a bar and rolling retail boutique, and embodies the Absolut Elyx design aesthetic of raw luxe.
After a tour of the pop-up, guests headed upstairs to the exclusive Elyx House. While sipping on cocktails specially created by Toby Cecchini (Death & Co. & The Long Island Bar/Passerby) and David Moo (Quarter Bar), guests lounged in the space formerly owned by actor Mickey Rourke and admired the eclectic decor while nibbling on small bites.  Chandeliers framed the immense dining table, rainbows of books lined a cozy reading nook, and bottles of Elyx were blended into the decor throughout the space to create a sophisticated, yet welcoming atmosphere.
Celebrity fans of the pineapple include: Marc Jacobs, Alessandra Ambrosio, Mario Testino, Kate Upton, Kellan Lutz, Pamela Anderson, prolific band –Tame Impala and many others.
Check back for a video coming soon!
To learn more: AbsolutElyx.com