The Bachelorette is one of the few TV shows that people still watch every week, but it's hard to be free every Monday at 8. It's also hard to catch up when the episodes drop on Hulu– they're a whopping hour and a half every time. Maybe you're going to a Bachelorette watch party for the first time and you have no idea what's going on. Or, even if you just missed last week's episode, this recap will tell you everything you need to know about the first three episodes.
Episode 1
The Bachelorette's season 17 premiere was the debut of both the new Bachelorette, Katie Thurston, and two new hosts, Kaitlyn Bristowe and Tayshia Adams. It was your typical first night, complete with puns, jokes, and sexual innuendos. Contestant Connor Brennan even showed up in a cat costume. 
As another twist, James Bonsall showed up in a box and waited till he was alone with Katie to come out. It was a little anticlimactic, but she seemed into it. When she was taken into a dirty RV for a romantic dinner of carrots and iced tea, though, she did not seem into it at all. She put it nicely: "Unfortunately, I just wasn't feeling the vibes with the RV."
At the end of the night, contestants Austin Tinsley, Brandon Torres, Gabriel Everett, Jeff Caravello, Landon Goesling, Marcus Lathan, and Marty Hargrove all went home. Greg Grippo, who had an instant connection with Katie because of his nerves, scored the first impression rose.
Episode 2
In Episode 2, the first group of guys competed for the title of "The Greatest Lover of All Time." Unfortunately for Mike Planeta, who says he's still waiting for marriage, this meant more sexual innuendos and a lot of dirty talk. But, after telling Katie about it via poem, Mike won the competition. After that, Thomas Jacobs won the group date rose because of his "magical connection" with the Bachelorette. 
Greg unsurprisingly got the first one-on-one, which consisted of camping, fishing, and kissing on a bucket. It was bittersweet for both of them, as both their fathers have recently passed. They bonded over it and Greg got a rose.
Things got a little messy, both literally and figuratively, during "Katie's Big Buckle Brawl." Contestants Cody Menk and Aaron Clancy had palpable tension during their match. When asked about it, they revealed that they know each other from home and they aren't on good terms. Aaron told Katie that Cody has "questionable intentions" and she sent Cody home.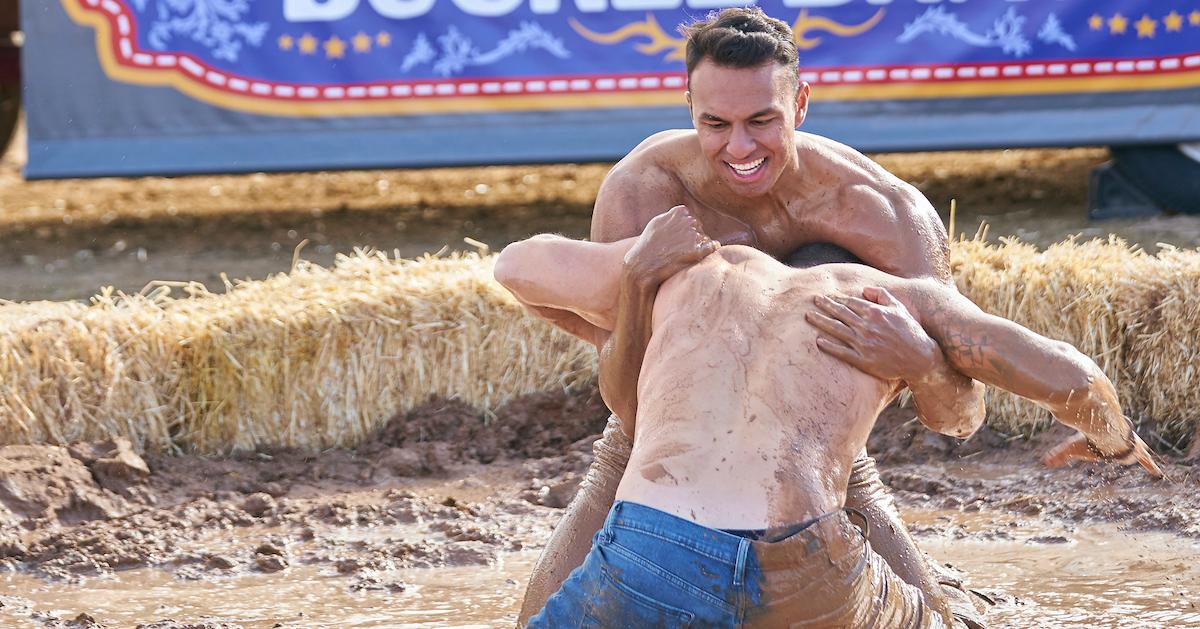 During the cocktail party, Katie commended Aaron's honesty. She said that she's a "safe space" and that she deserves "to know what's going on in the house."
One man, Karl Smith, took that to heart. When he got time with Katie, he told her that there are "some people that don't have the best intentions." He wouldn't tell her any names or specifics, but it still shook Katie up, leaving her paranoid and teary when the episode ended.
Episode 3
The third episode opens in the middle of an argument between Karl and the rest of the men. Then, Katie, in an attempt to stop the drama, says goodbye to him, Garrett Schwartz, John Hershey, and Kyle Howard.
Next, the guys go to a group therapy-style circle of truth where they confess their biggest regrets, mistakes, and red flags. Most of them do; Connor shares that he cheated on his ex, Hunter talks about his divorce, and Katie tells them about being sexually assaulted. It's why, she says, she's so passionate about sex positivity today. Connor gets a rose for his honesty.
Thomas, on the other hand, said that he has multiple "red flags" and that he came to the show knowing you could "build a great platform from it." His comments led to a confrontation with Hunter Montgomery where Thomas admitted he joined wanting to be the next Bachelor.
In the meantime, Michael Allio got the one-on-one. After a rowdy ATV ride, he told Katie about his wife, who passed away from cancer in 2019. It was a teary date, but a good one, and he ended up with a rose.
For a recap of the next three episodes, click here.