The 60th New York Film Festival  is currently in full swing (September 30-October 16, 2022) at 'Film at Lincoln Center' and in venues in all five boroughs. Pop Style TV has been attending some amazing screenings and frequenting the red carpets! See below for some highlights thus far.
All the Beauty and the Bloodshed
The centerpiece film this year by Laura Poitras (CitizenFour) was especially interesting. In her essential, urgent, and arrestingly structured new documentary, Academy Award–winning filmmaker Laura Poitras weaves two narratives: the fabled life and career of era-defining artist Nan Goldin and the downfall of the Sackler family, the pharmaceutical dynasty. Pop Style TV spoke with Laura and Nan Goldin about the making of the film. When asked what the government could be doing better with the healthcare system and opioid crisis, Poitras cooly responded, 'What couldn't they be doing better?' Nan Golden was simply excited for the film to hit the big screen.
NYC Showtimes below:
November 23
'Women Talking'
Talk about a stacked cast of females! Rooney Mara, Claire Foy, and Frances McDormand to name a few! You can see 'Women talking' at
Lincoln Center
this weekend only.  Director Sarah Polley (also an actor)  brings honesty and urgency to her screen adaptation of Miriam Toews's  novel about of a group of women from a remote religious community dealing with the aftermath of sexual assault perpetrated by the colony's men. Talk about heavy. Women Talking is an exploration of self-determination, forgiveness, faith and forgiveness. The women also couldn't help but gush over one another on the red carpet!  Actress Sheila McCarthy even recalled when she made a film with director Sarah Polley (when she was a child actor) and played her mother! Screening info below:
SATURDAY, OCTOBER 15- 6:15 PM Buy Tickets
SUNDAY, OCTOBER 16- 3:00 PM Standby Only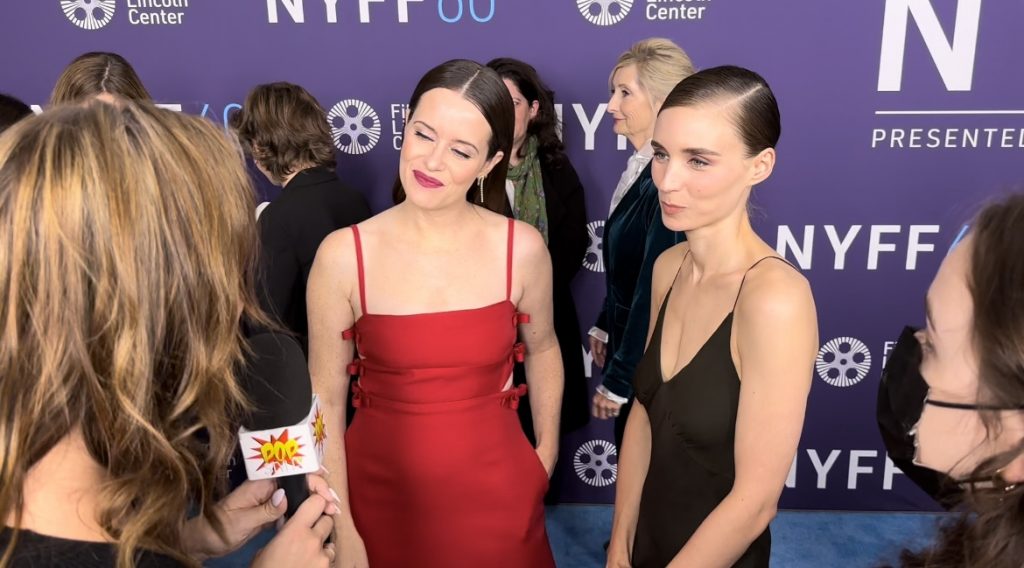 VENUES
Francesca Beale Theater – Walter Reade Theater
'Decision to Leave'
Usually, when a film is over 2 hours…one can tend to get a bit restless. Even with the SUBTITLES, this film had everyone at the edge of their seat! The plot? A Busan detective becomes increasingly obsessed with a murder suspect in a strange new case: a middle-aged businessman has mysteriously fallen to his death and his wife might be to blame. Director Park Chan-wook won the Cannes Best Director award for this twisting  thriller, one of his best films yet.
Showtimes
For more information on the film festival, you can visit www.filmlinc.org.