The Cannes Film Festival is the most famous of its kind, and it's cancellation, although expected, is still disappointing for those of us that love film, fashion, and celebrities. The magic won't be completely lost though. The festival does plan to go forward with their 2020 selections, just in a new way. Through collaboration with other festivals, Cannes plans to host screenings for the movies that would have been featured. While we wait for them to announce the official selection next month, let's look back at some memorable moments, fashion or otherwise, from the iconic festival.  
Fashion
Cannes Film Festival is known for many reasons and its dress code is one of them. In 1946 when the festival launched, men in a jacket and tie and women in heels and long dresses was the standard. As the years went on and the spotlight on the festival got larger, so did the looks of the stars in attendance. While plenty of elegant and timeless gowns have graced the Cannes stage, so have plenty of boundary pushing, controversial looks.
Rule Breakers
In terms of controversy, one of more recent memory is the rumor of mandatory heels at screenings and on the red carpet. In 2015, reports came out that guests were denied entry to a screening because they were wearing flats. Criticism followed, and the next years at the festival featured mini protests from different stars. In 2016, Julia Roberts stepped out onto the red carpet barefoot in an off-the-shoulder gown. In 2018, Kristen Stewart removed her heels on the red carpet in protest of the supposed rule.
Another rebellious Cannes Film Festival moment came from Madonna in 1991. The pop-star walked the carpet in a long pink robe, before removing it to reveal a cone bra and garters underneath. Sharon Stone also opted for a reveal moment in 1995, unbuttoning her Valentino gown revealing beaded hot pants.
In 2019, Dj Kiddy Smile decided to forego the suit and tie rule, opting for a floral gown. The look nearly kept him from walking the carpet, as he was initially denied entrance. The moment serves as a reminder of the old school nature of the Cannes Film Festival dress code, but also as a sign that the rules can change.
Classic Looks
The Cannes Film Festival dress code is a huge talking point when it comes to the festival's fashion, but it does not keep celebrities from showcasing gorgeous looks. An overwhelming favorite is Princess Diana's chiffon blue ballgown from the 1987 festival. This elegant look is one of her most famous ever and certainly stole the show.
In more recent years, Blake Lively has become known for stunning red carpet looks. While I could talk about any one of her Cannes looks, my personal favorite is her black and white strapless Gucci gown from 2014. The full skirt and dramatic train is timeless and complimented by her statement diamond necklace.
Another iconic Gucci look comes from Lupita Nyong'o in 2015. The Academy Award winning actress took everyone's breath away in a bright green gown, finished with floral embellishments on the shoulders. Lupita always shines on the red carpet, but this look is definitely one of her best.
Finally, Indian actress and winner of the Miss World 1994 pageant Aishwarya Rai Bachchan is a Cannes regular that never disappoints. From her first appearance as a jury member in 2003, her looks have evolved over the years. She has multiple stunning moments, but perhaps the most captivating is her 2017 look from Dubai-based designer Michael Cinco. The princess-like silhouette and intricate embroidery make for a picture perfect gown.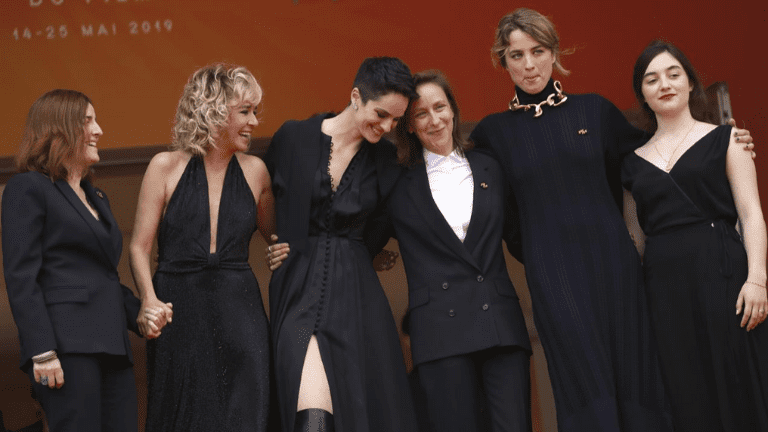 Films
While I do love a good red carpet look, the films are the most exciting part about Cannes for me. I love to keep an eye on the big festivals to see what everyone is raving about. It gives me an idea of what to look out for when those films hit theaters near me months later. Just last year, the festival premiered two of my favorite films in Parasite and Portrait of a Lady on Fire. 
Parasite took home the Palme D'or, the festival's top honor in a unanimous vote. This win was just the beginning for Bong Joon-ho's black comedy thriller which garnered widespread critical acclaim throughout the year, culminating in a huge Best Picture win at the 2020 Oscars, the first non-English film in Academy Awards history to do so. Portrait of a Lady on Fire took home the award for Best Screenplay at Cannes and also achieved critical success. It is not as widely known as Parasite, but is still one of the most beautiful films of 2019. Even better, both of these films are available to stream on Hulu now. If you haven't seen either get on it immediately. 
Some of my other personal favorites from Cannes have been BlacKkKlansman and Shoplifters in 2018, and Good Time in 2017. All of these films are unique and have compelling stories and themes. This is something audiences have come to expect from the Cannes selections each year. Not having the physical festival is disappointing, but there is a silver lining. We will still get a line-up of thought provoking and moving films like these to watch in the next year. The Cannes we hoped for may not be happening, but I will still be anxiously awaiting the official selections so I know what I need to add to my watchlist.
Cover photo courtesy from About Her