Last year, it was an undisputed fact that Simone Biles was the greatest female gymnast of all time. But at the Olympics this summer, she dropped out. In her Facebook Watch docu-series Simone vs Herself, it's not hard to see why.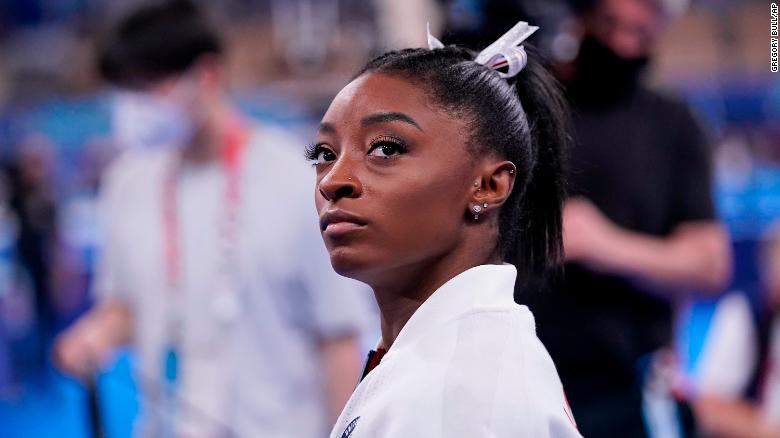 The five episode long series kicks off in March 2020, when the Olympics was first cancelled. Biles, in the prime of her career, was devastated at the news. For an Olympic athlete, postponement means another year full of training, waiting, and, crucially, aging. For Biles, it also meant another year of dealing with USA Gymnastics, an organization that failed her and countless other young gymnasts.
In the fourth episode, "What More Can I Say?" Biles talks about the sport's notorious toxic culture and how it allowed former Team USA doctor Larry Nassar to sexually abuse hundreds. Biles is the last survivor of Nassar's abuse to remain on Team USA, an enormous and terrible burden. 
"I have to be wary of what I say because I'm still competing under them," she said. "We still have to see them and I still have to be represented under USAG… I feel like I'll be more of a voice when I'm done cause I'll have that power and I won't feel like I'll be punished."
On top of that, the year of quarantine has only grown expectations of Biles' success at the Olympics. In the series' last episode, journalist Jemele Hill puts it nicely: "For her, in every competition, [there's] the expectation to be excellent. And not just for her to win it. The expectation is that she's going to show you something you've never seen before."
And she does. At her first post-pandemic competition, Biles nails the Yurchenko Double Pike, a skill so hard that no woman has ever competed it before. It seems like she's at the top of the game, and she is physically, but not so much mentally.
"Now when I compete, I'm more afraid of what other people are going to say if I mess up rather than if I do well," Biles said.
And that's where the series leaves off. It's some pretty obvious foreshadowing to Biles dropping out of the individual all around. In the battle of Simone vs Herself, it seems, for the first time ever, she lost. 
You can watch Simone vs Herself here on Facebook Watch.