Saturday Night Live is a staple in comedy and has been producing popular skits for 45 years. Not to mention, the coveted comedy sketch show has helped elevate numerous comedians that we know and recognize today. Let's look back on some of SNL's most talked-about moments.
The Coneheads
One of the most iconic sketches to come from the series was the Coneheads. The sketch features The Conehead family, who's literally out of this world. The success of the mid-70's sketch was huge. The characters were eventually revisioned as the 1993 Coneheads film.
Sinead O'Connor's Controversial Act
Sinead used her performance to make a statement. The singer infamously ripped a picture of the Pope during her rendition of "War" by Bob Marley. This action was meant to highlight sexual assaults that happen within the Catholic church. But it led to her joining the SNL banned list.
Family Feud with Kennan Thompson
The longest-running cast member has numerous skits to be recognized for. But Thompson regularly made audiences laugh during his Steve Harvey impressions. SNL's Family Feud had featured guests such as Chadwick Boseman, Tracy Morgan, and Margot Robbie.
"D*** in A Box" by Andy Samberg and Justin Timberlake
Who can forget the first time they heard this Saturday Night Live classic? "D*** in a Box" helped demonstrate to audiences that Justin Timberlake could bring the vocals as well as the funny. The two actors' take on a 90's-styled song about one of the worst gifts catapulted into popularity. So much so, the sketch won the 2007 Primetime Emmy Award for Outstanding Original Music and Lyrics.
Kate McKinnon as Justin Bieber
The known cast member was never dull on the stage. But McKinnon shined with her portrayal of Justin Bieber. Sporting a hoodie vest and signature blond hairstyle, McKinnon immersed herself into the pop singer. One of the most popular skits was her imitation of the Calvin Klein commercial. McKinnon did so well, Saturday Night Live has an entire compilation dedicated to her impressions of Bieber.
David Bowie's Eccentric Performance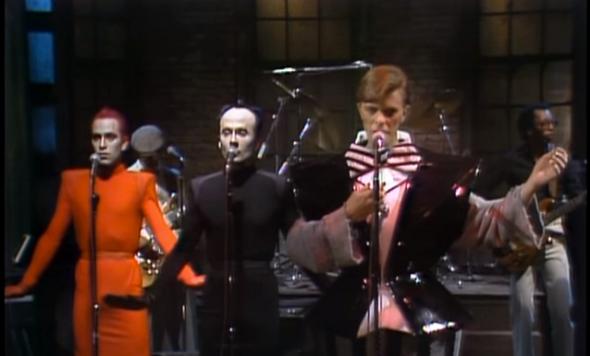 The late-David Bowie was known as a risk-taker throughout his career. But Bowie also knew how to put on a show. On his 1979 appearance, he stunned viewers with his outfits. Donning an hourglass top and oversized sleeves, David Bowie made sure all eyes were on him. Later in his set, he changed into a skirt—redefining what masculinity is.
The Blues Brothers
The sketch show displayed its creativity with "The Blues Brothers". Featuring cast members John Belushi and Dan Aykroyd, the 1978 performance was groundbreaking. Instead of a traditional comedy skit, the two broke out in song. "Soul Man" became a massive hit, sparking a movie. The musical cold open even made pop culture references for the next three decades.
Kanye's "Black Skinhead" Performance
Kanye West is a conversation starter. But the musician caused many following his performance of "Black Skinhead". His production was one of the most memorable, starting with a flashing "NOT FOR SALE" background. The song itself sounded unlike what audiences were used to from the rapper, embarking rock influences. Kanye also brought a live band, which only added to the energetic performance.
40th Anniversary Special
No one could forget SNL's star-studded special. This three-and-a-half-hour episode included appearances from current and former cast members. Some included Jimmy Fallon, Eddie Murphy, and Tina Fey. Within this special, popular skits were recreated—from Wayne's World to The Weekend Update with Bill Hader as Stefon. The anniversary episode also garnered nominations for an ADG Award in production design and a WGA Award for Best Comedy/Variety.