Isn't Couture Fashion Week exciting? This marks one of the special moments on the fashion calendar that we've experienced in a long while. Although the Covid-19 pandemic continues to cause disruptions for designers and we did see some digital-first presentations, there were more physical shows than we have had on the agenda for a while. Although defiantly different there were many editors and influencers in Paris to take in the collections from the front row.
The schedule, which began with Schiaparelli and Dior, also saw the likes of Chanel, Valentino and Fendi present their spring/summer 2022 collections. There were more than a few breathtaking gowns, and we expect to see some of them grace red carpets in the coming months!
Below, we round up the highlights from the shows and presentations. Everything you need to see from Paris Couture Spring/Summer 2022! 
Kim Jones' third couture collection for Fendi was one of the final shows on the schedule, and saw the designer once again pay tribute to the city of Rome, while he also celebrated female empowerment.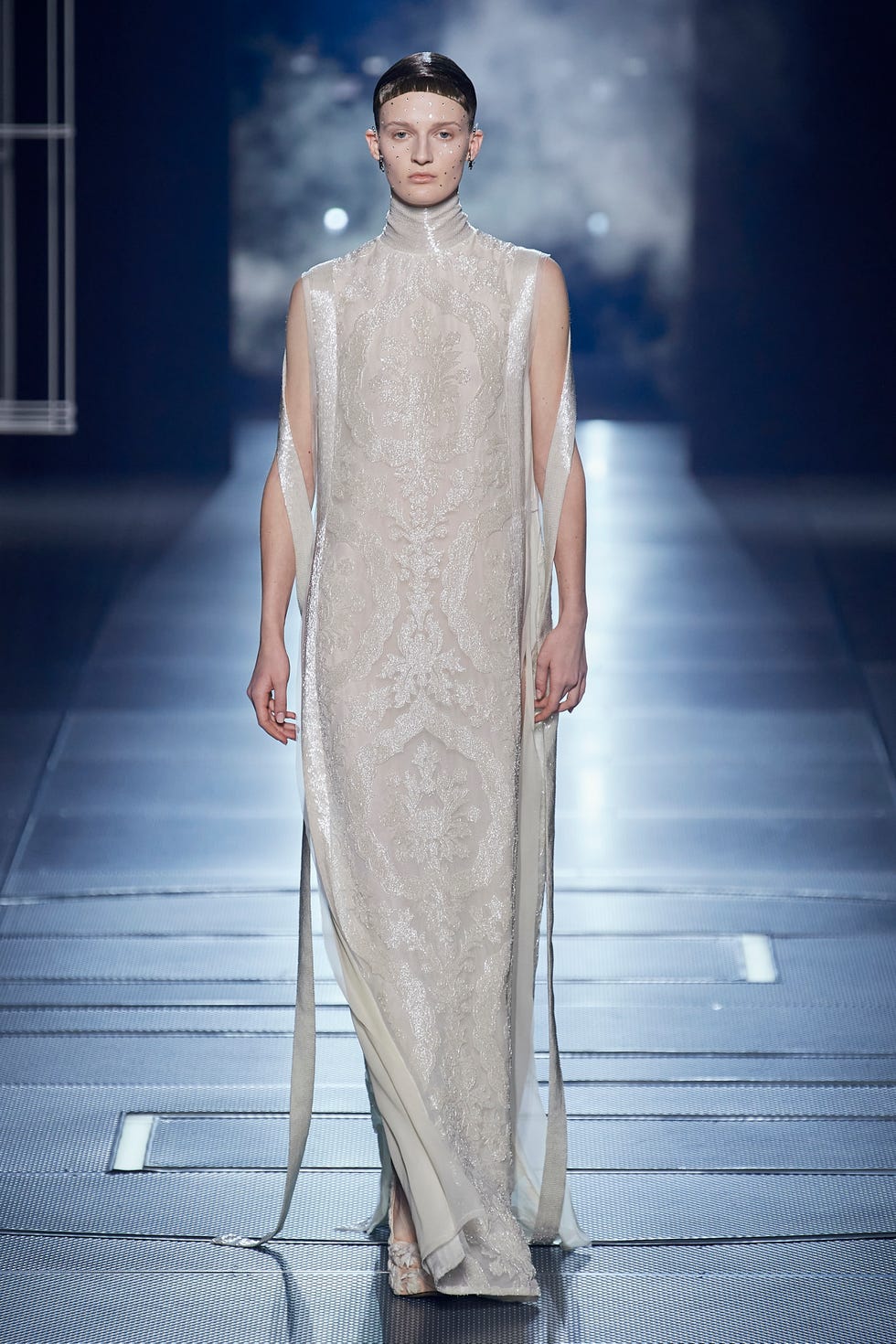 Some of the most beautiful, yet so delicate pattern work of this season!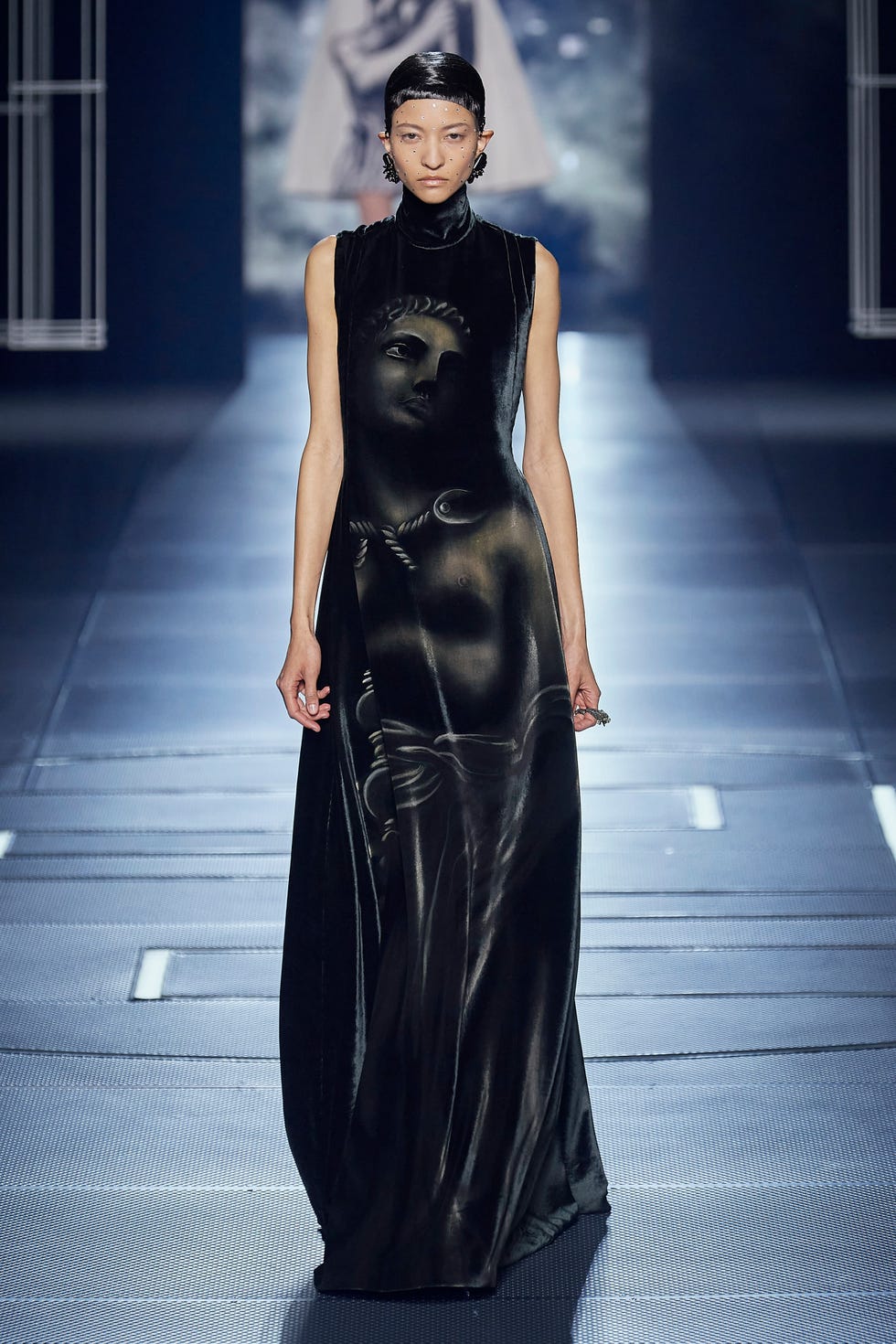 This beautiful gown showcases Lady Liberty looking off into the distance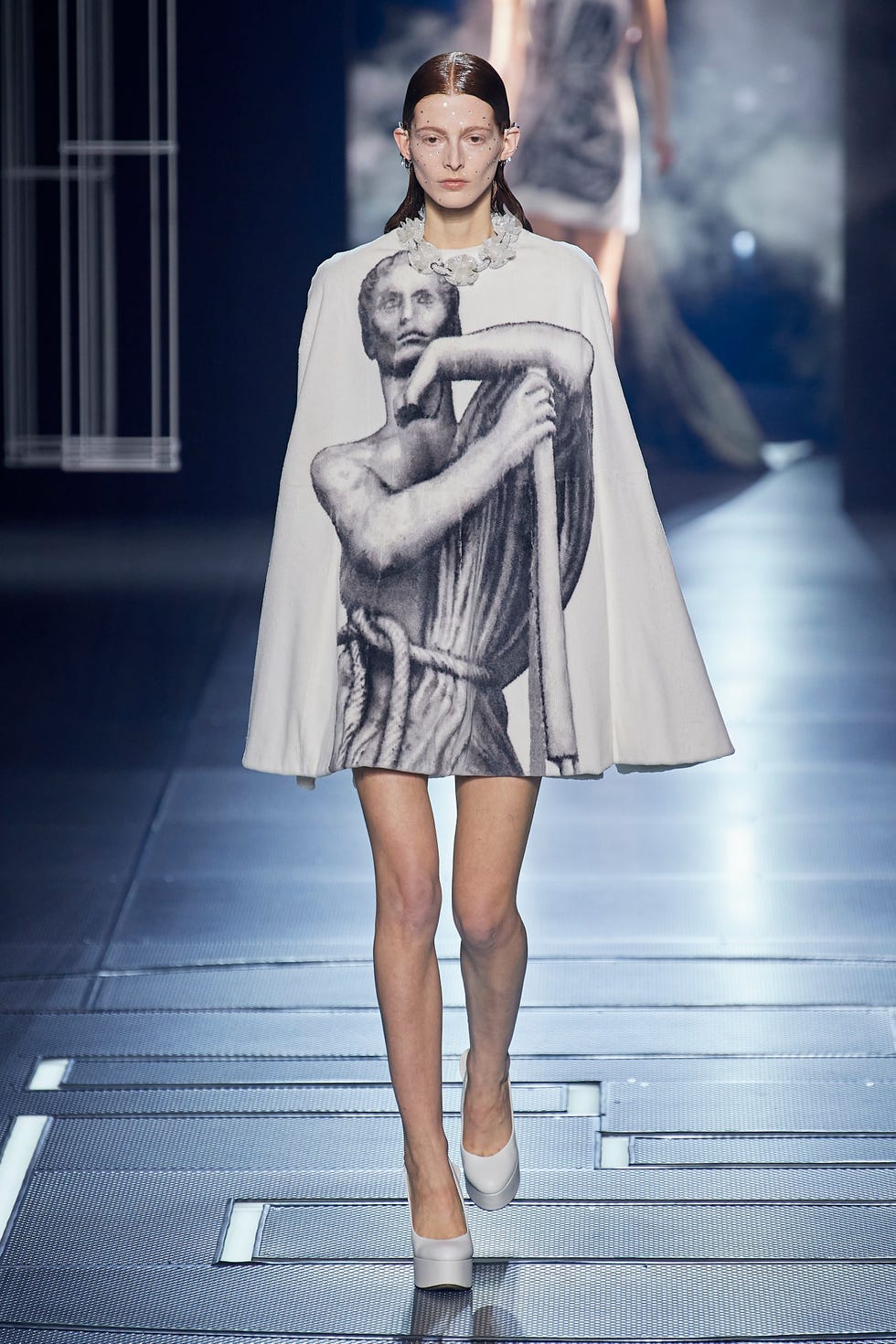 Again, we see the creator use figure from history- a nod to Greek statue. 
Always one of the most playful and talked-about collections of couture, Viktor & Rolf did not disappoint for SS22 with a range of high-shouldered designs, images of which were quickly all over social media. "Dracula is such a powerful symbol of the fear of change in society," designer Rolf Snoeren explained of the inspiration. "In Old Hollywood movies you have the archetypal scary image of the person in the doorway. This made us think of a shoulder line that we developed almost 30 years ago, in our very, very first collection for the contest in Hyères in 1993."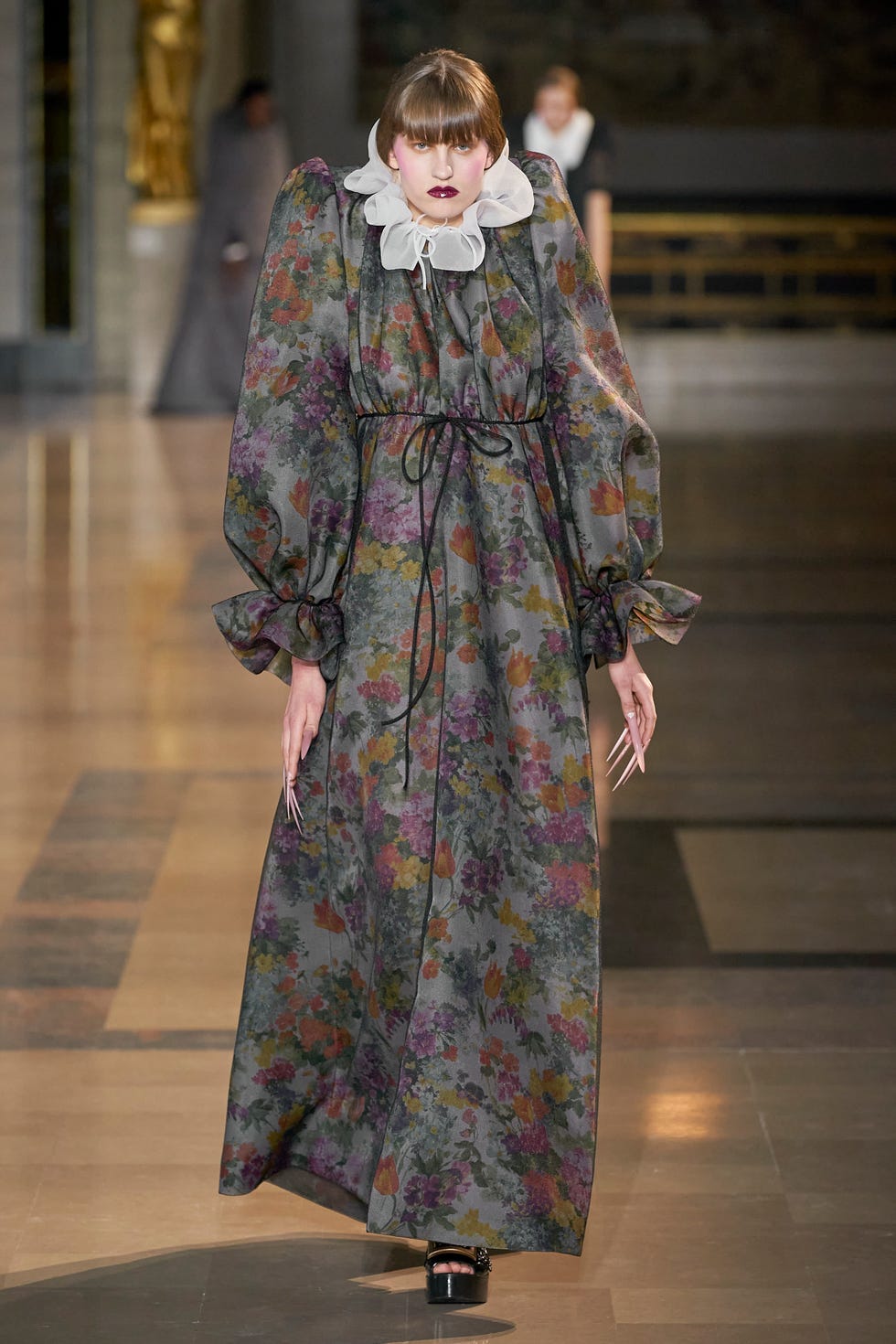 High shoulders you say, this dress mixes fashion with pilgrim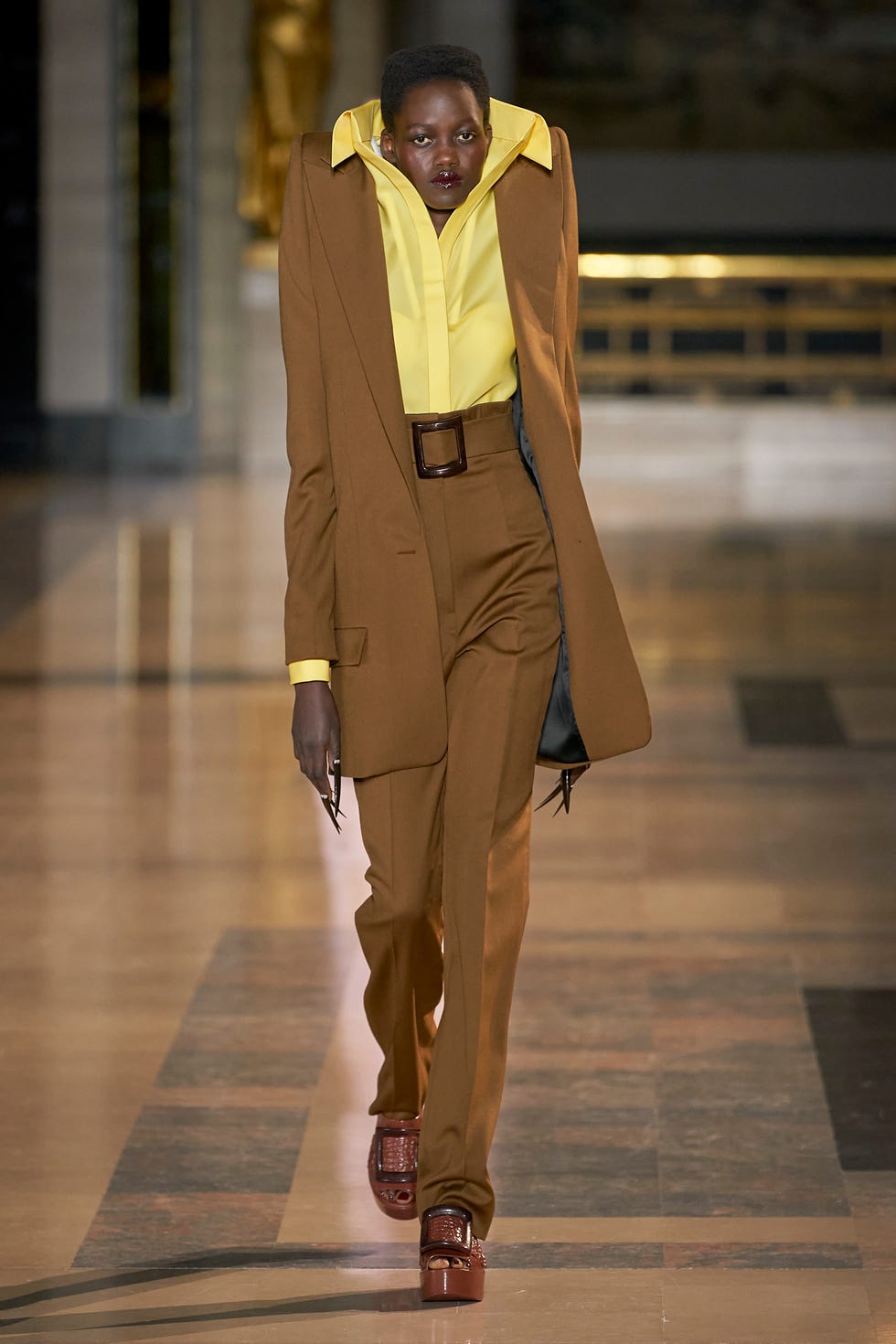 Something we can expect to see this year is two piece suits, and peep the matching belt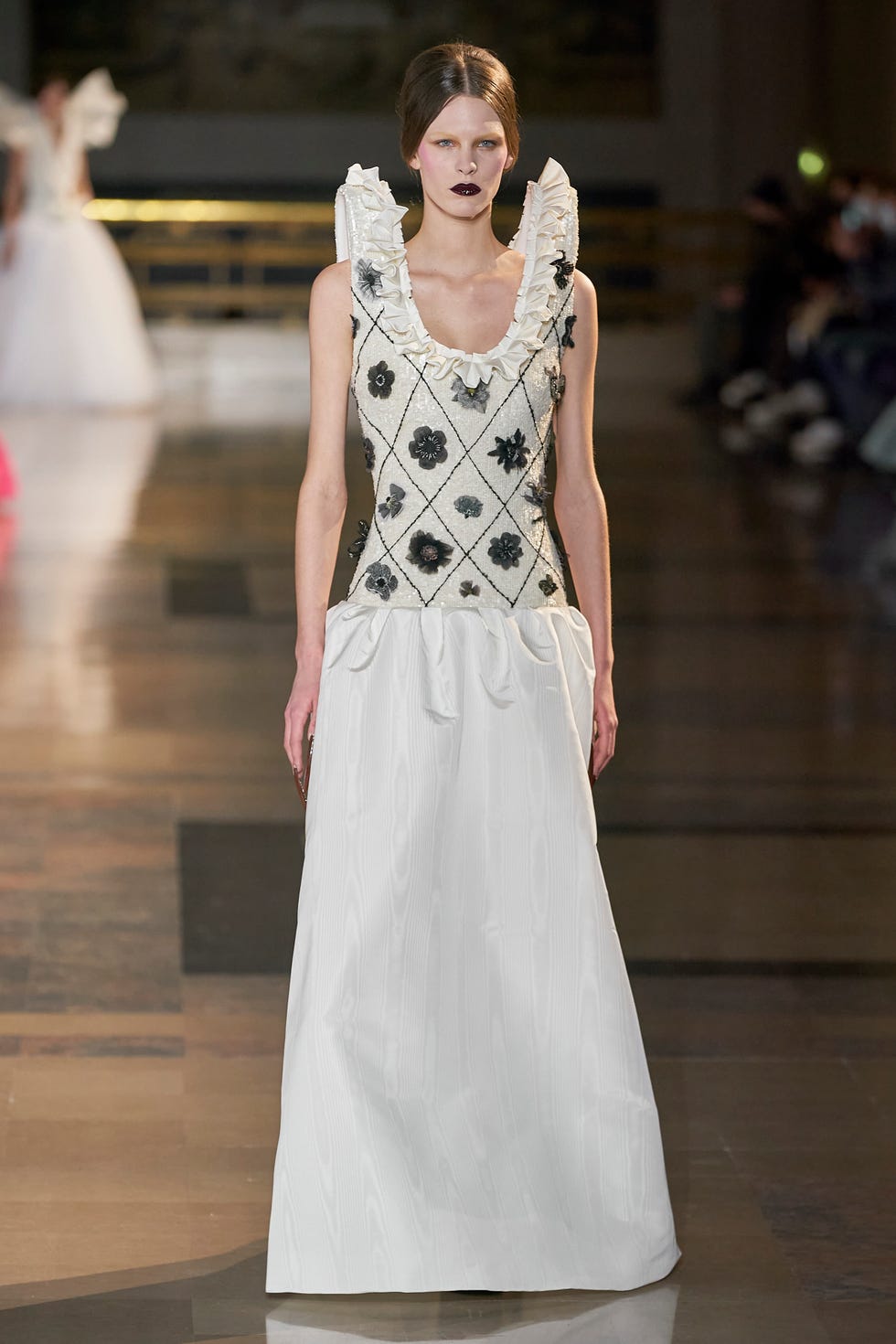 An interesting take on Black and White with this fantastic bead work, gorgeous 
As part of Jean Paul Gaultier's new approach to couture, in which the house teams up with a new designer each season, SS22 saw Glenn Martens take on the task of interpreting the legacy of the brand. Following on from Sacai's Chitose Abe, who presented in July last year. Martens – who serves as creative director of Y/Project and Diesel embraced some of JPG's signatures, particularly the corset, and created some breathtaking, voluminous gowns.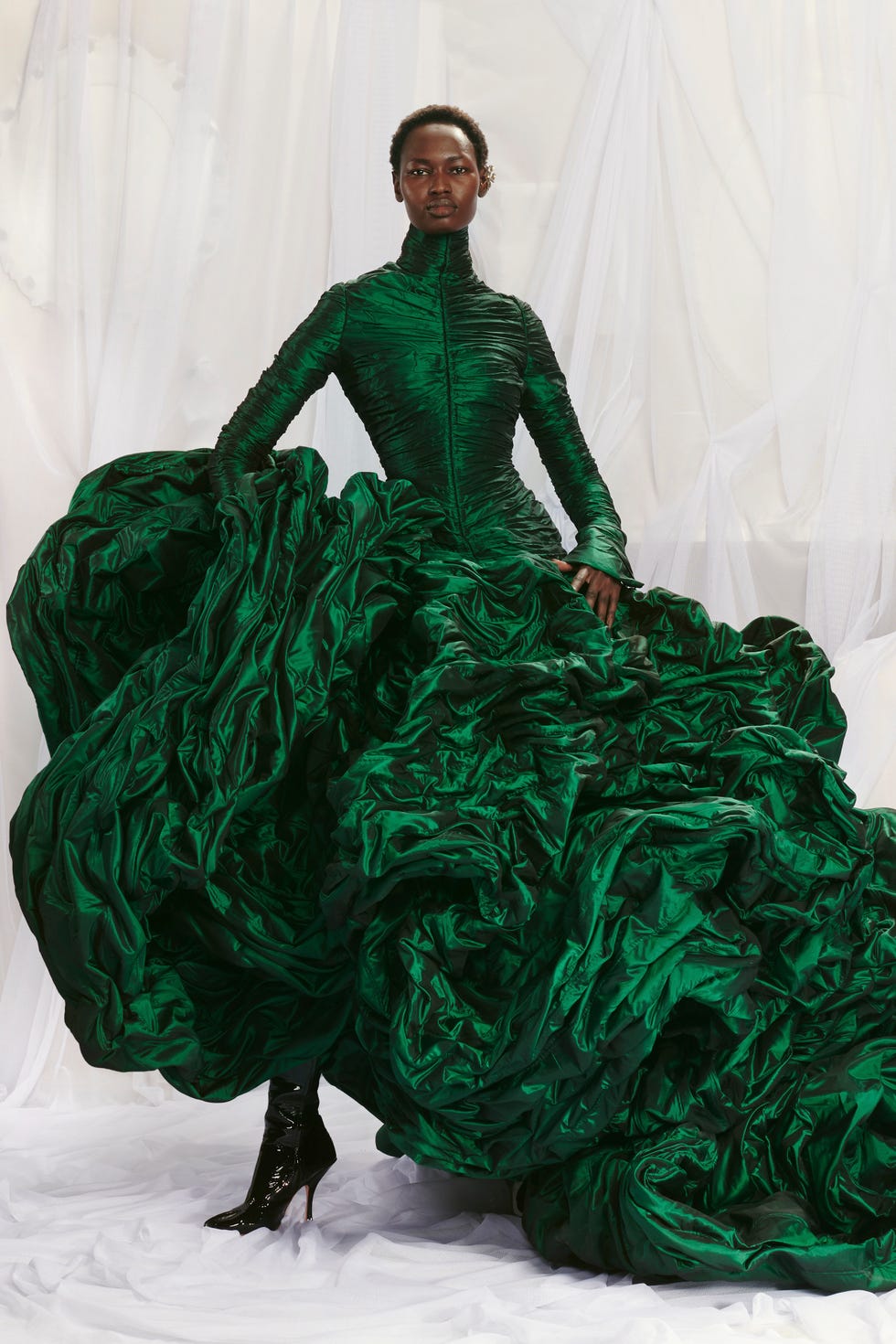 The high neck, this extravagant bottom, and the color!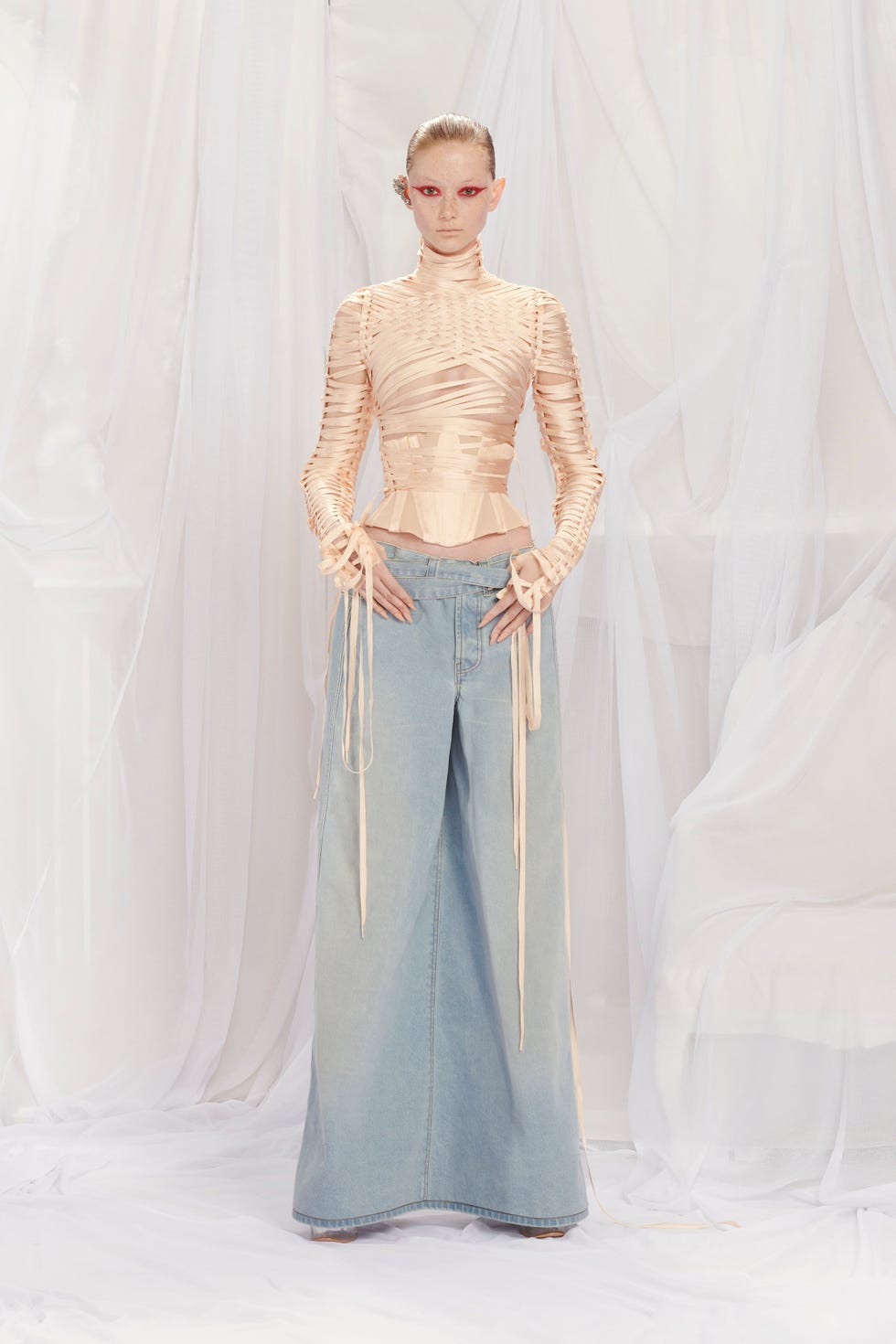 This silk corset is definitely going to be a staple in celebrities closets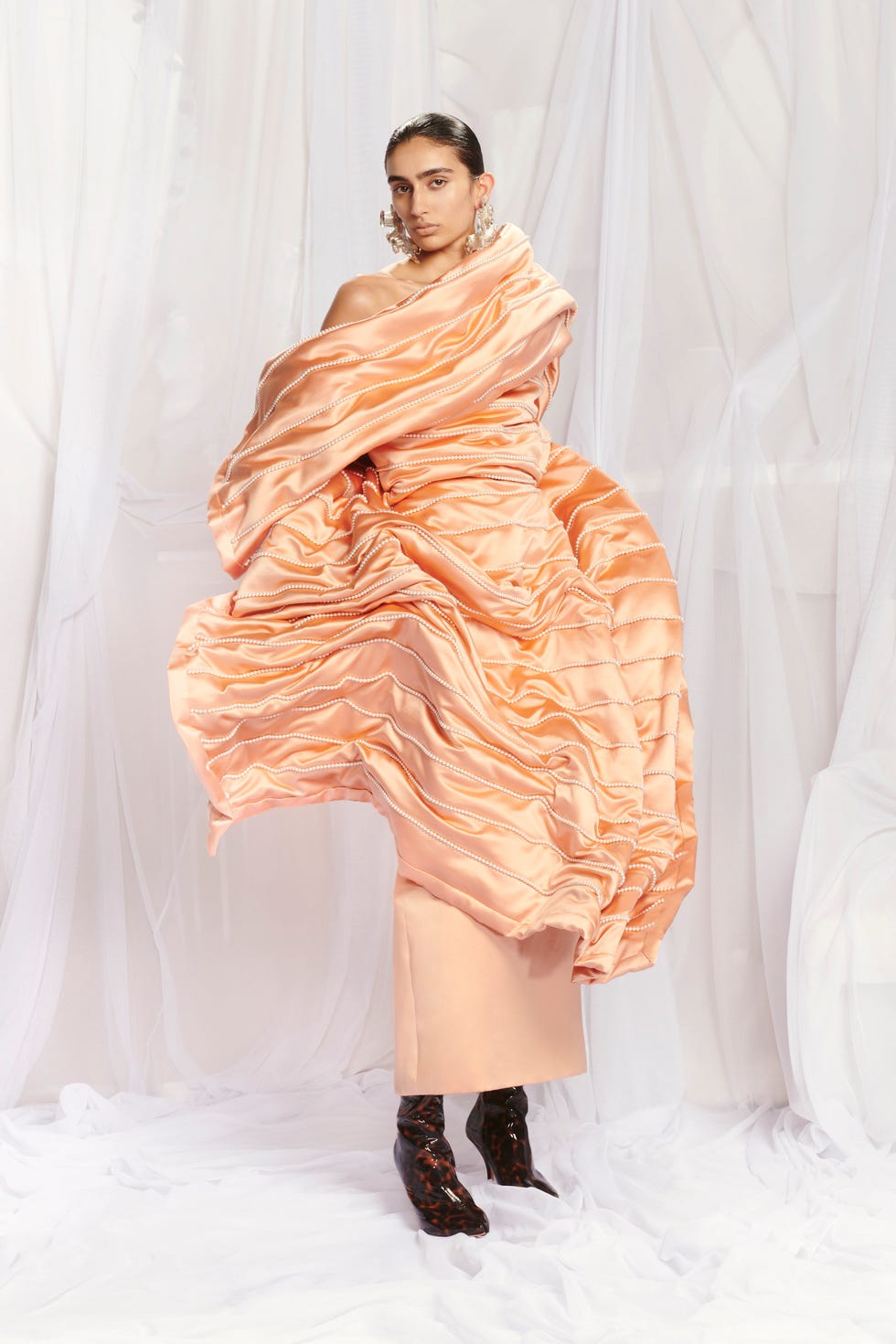 Ruffles, Ruffles, Ruffles!
'The Anatomy of Couture" was the title of Valentino's spring/summer 2022 collection, which was presented. In his show notes, creative director Pier Paolo Piccioli explained that he imagined this idea not on one single and idealized house model, but on a variety of women with different body frames and of different age.
"Soft and welcoming in the democratic spirit, and at the same time radical in the approach that rewrites known processes, Piccioli builds the collection as a composite harmony of physical types and the clothes that dress them, studied through a long process, both scientific and poetic. The message does not change in its purpose, which is to convey beauty, but in the welcoming expression."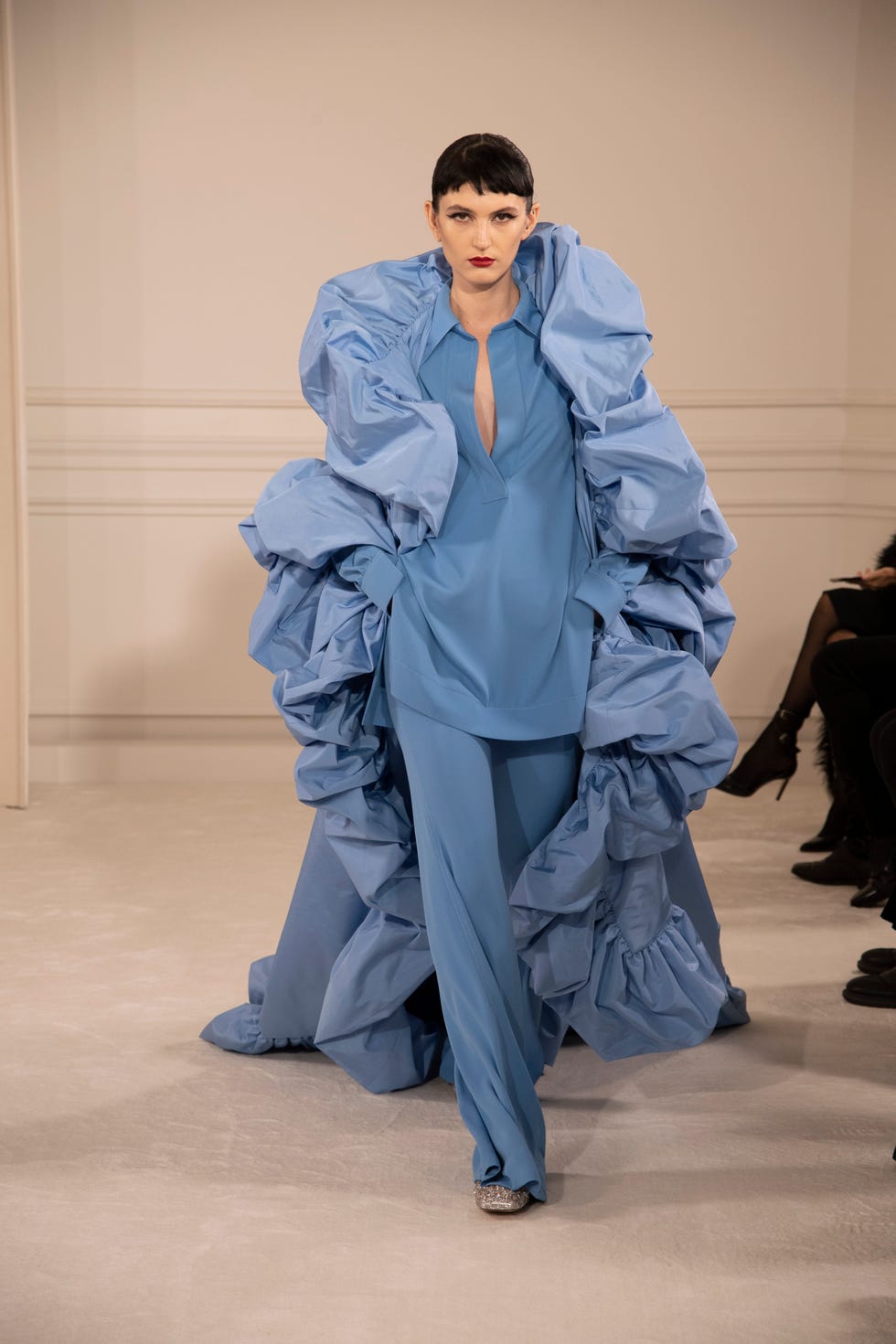 This blue-periwinkle piece is absolutely stunning. It's official, the "train" is back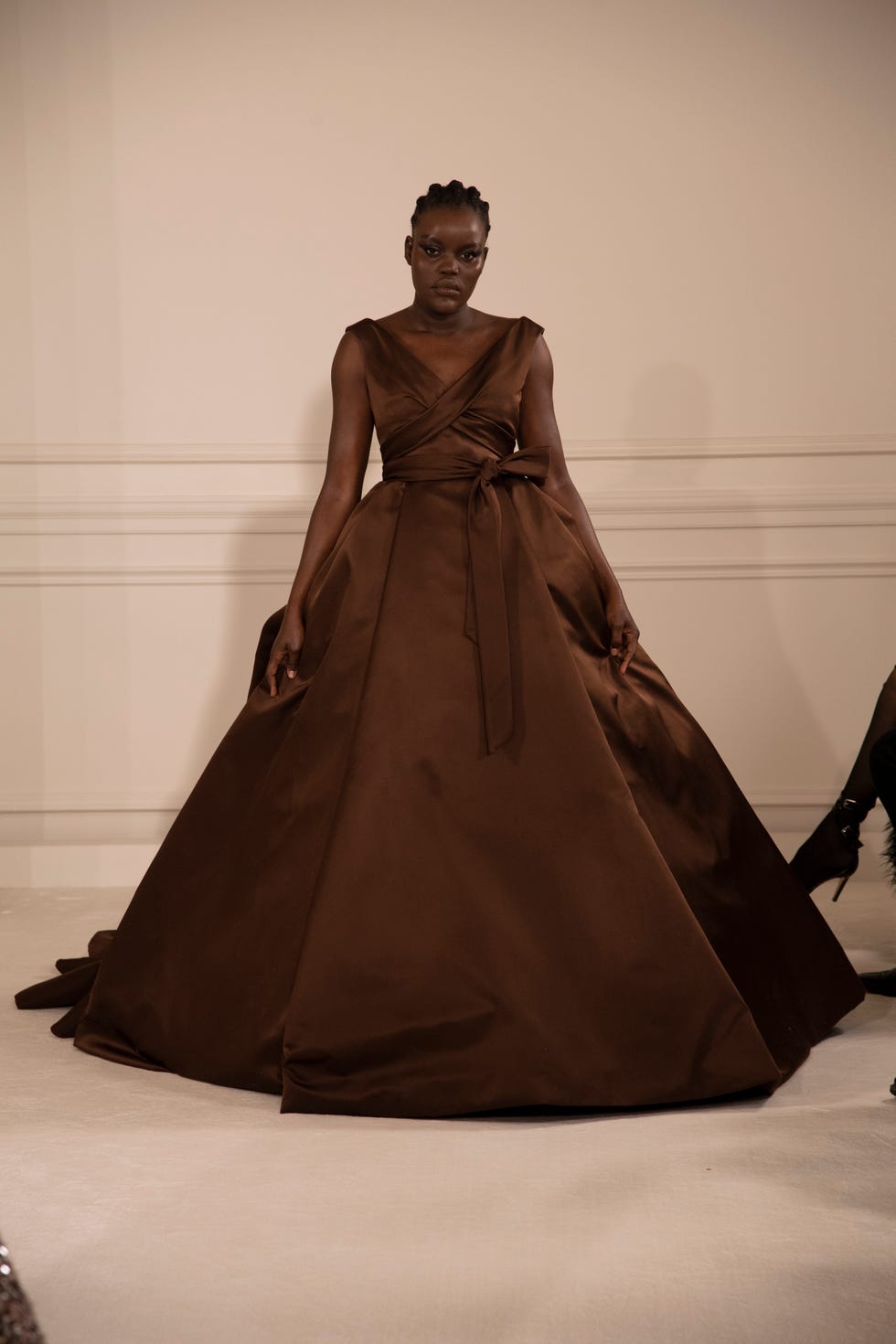 This dress for sure is something we can expect to see on the red carpet; the way it sits on the body as it flares out?  A-Line dresses are always a classic!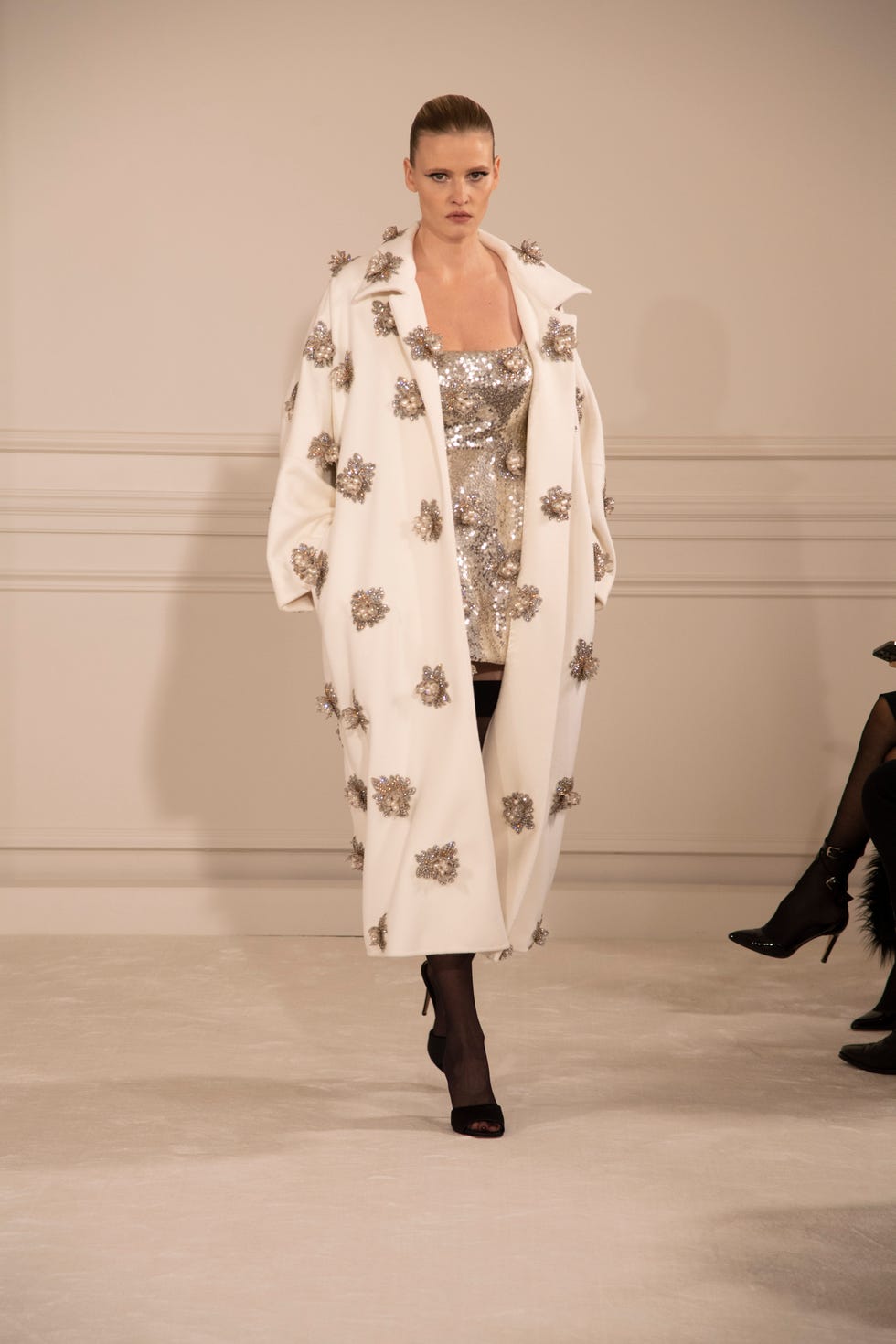 The jacket, the dress, and the stockings = perfection! 
Merging haute couture and ready-to-wear, Giambattista Valli presented the 'Valli Experience', where he unveiled his couture SS22 and pre-AW22 collections in one go.
"A promenade through Giambattista Valli's Savoir-Faire, taking its viewer by the hand to explore the maison's plentiful windows of expertise, ranging from dynamic propositions to the most iconic and elaborate silhouettes."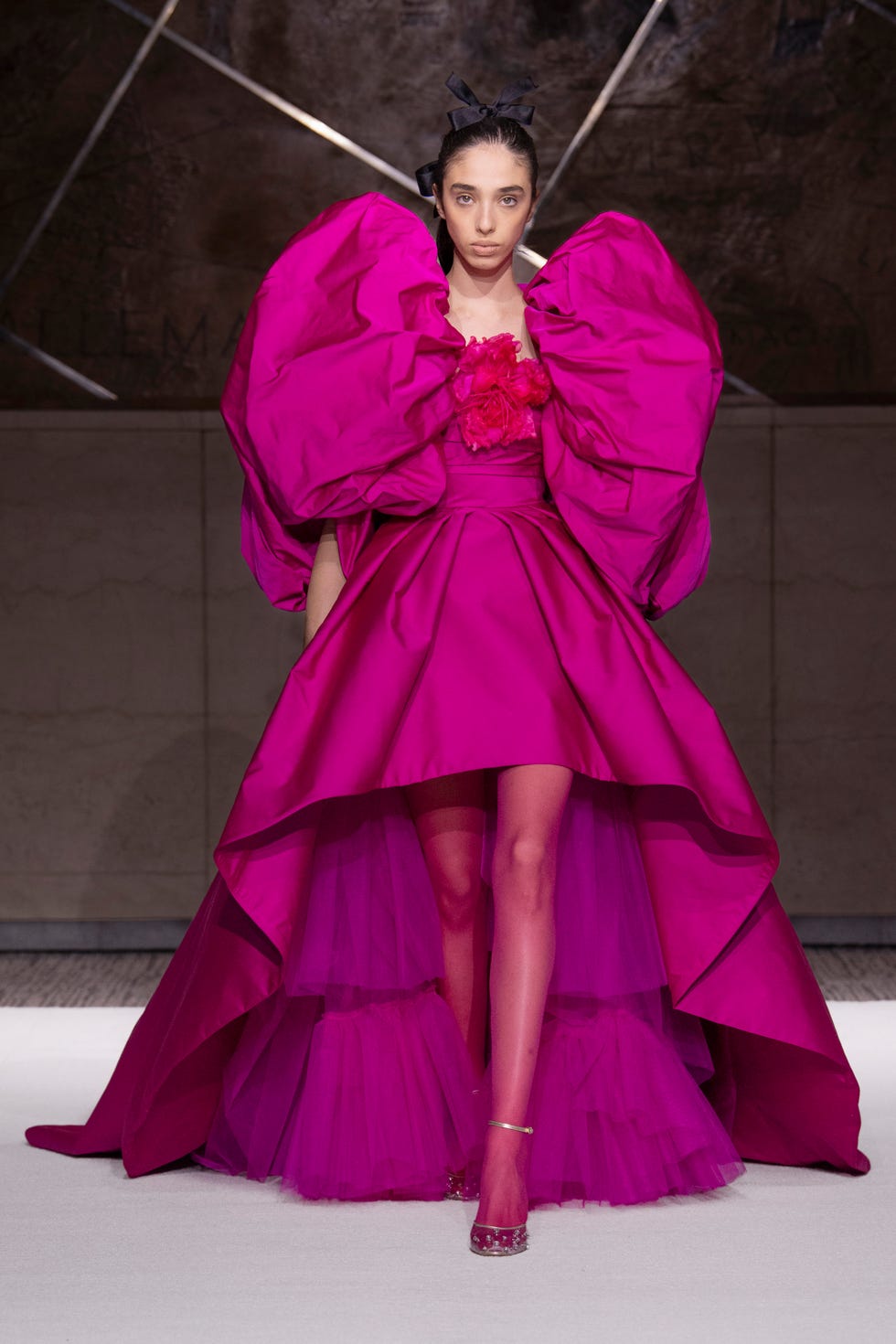 Never under estimate pink, and a high low dress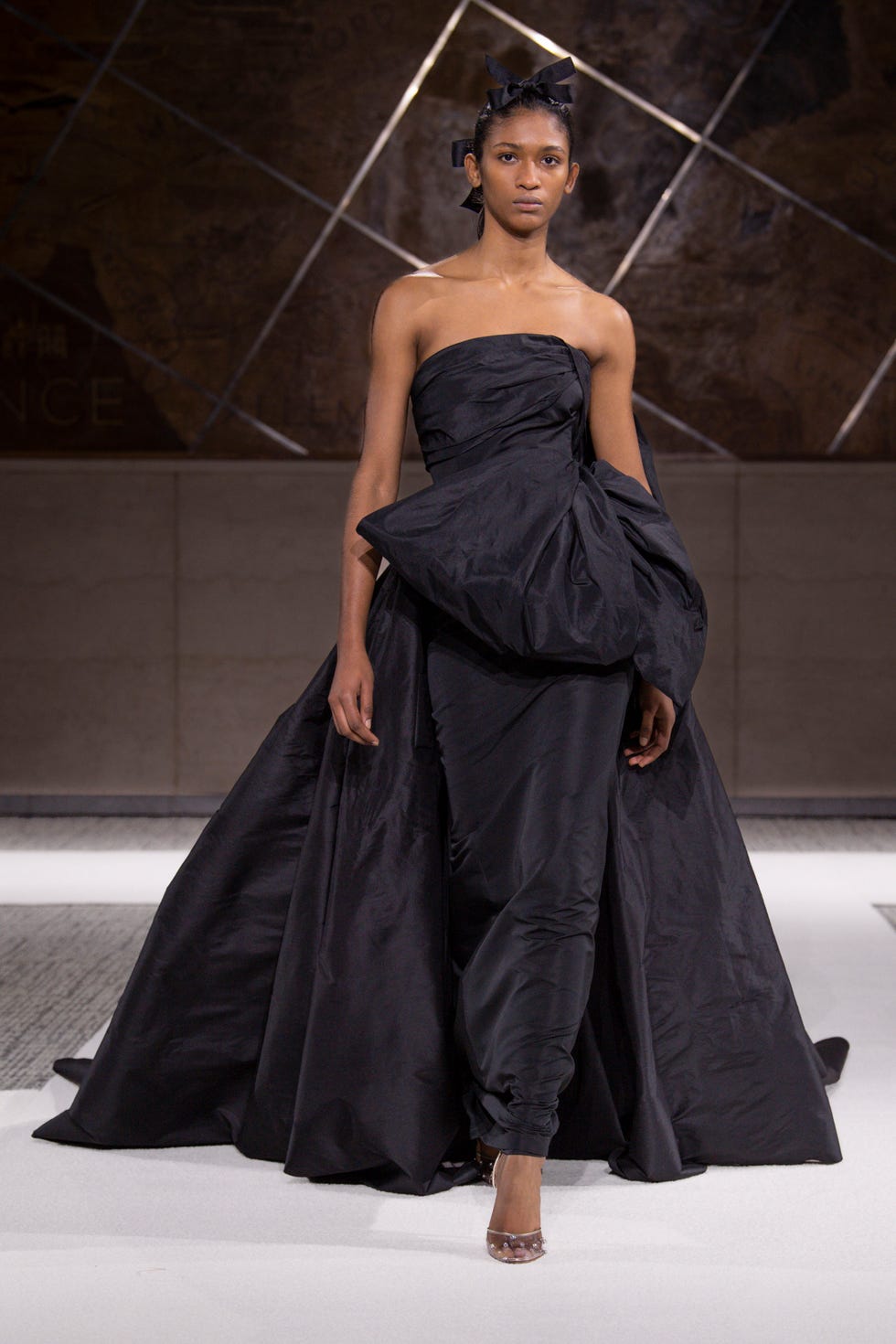 Again, the train reigns! The form fitting dress is just a work of art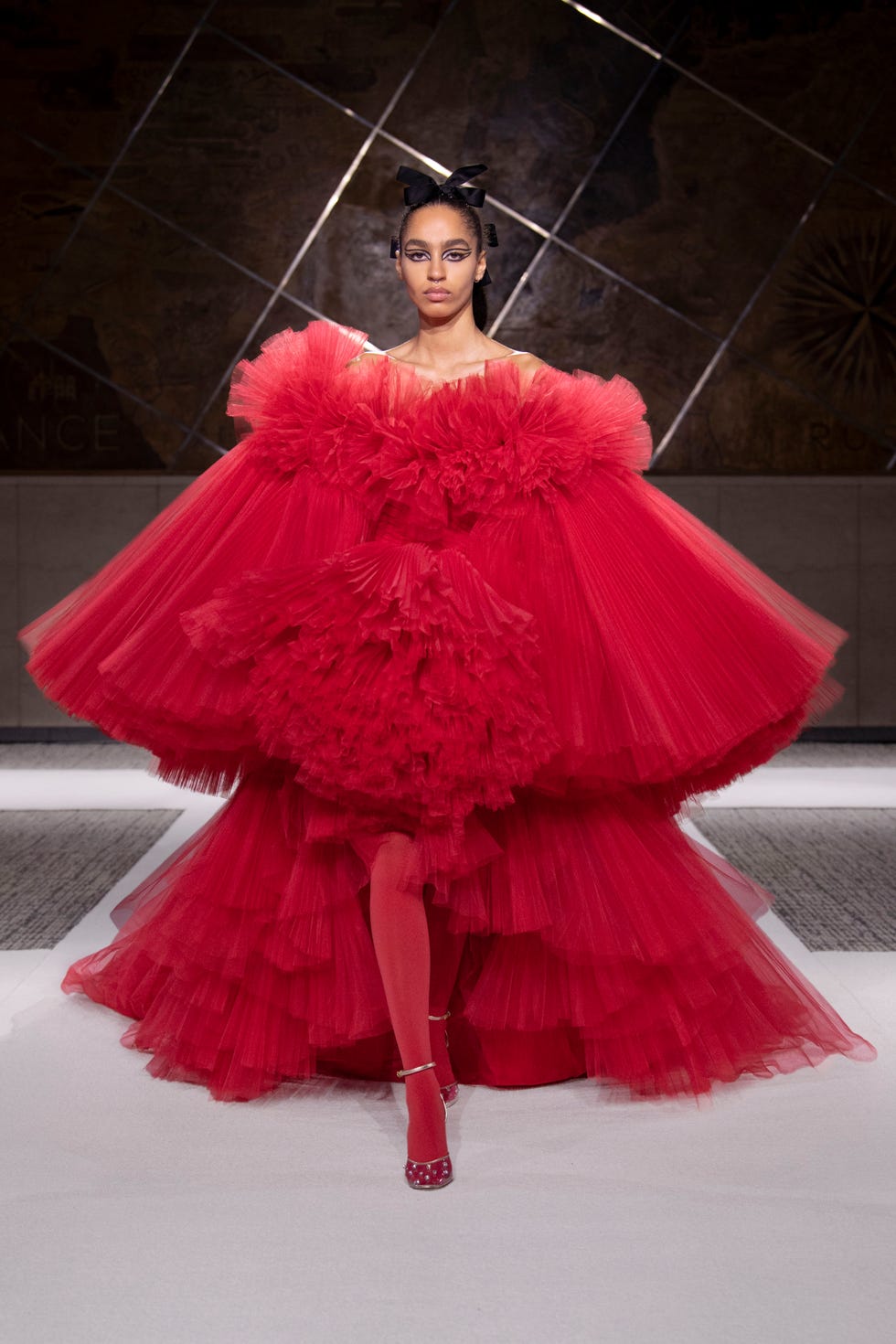 No words other than Giambattista Valli killed it! 
"The idea for the show's décor came from a longstanding desire to work with Xavier Veilhan," Virginie Viard explained of the setting of the SS22 couture show. "His references to constructivism remind me of those of Karl Lagerfeld. I like this similarity of spirit between us, now and across time. In addition to creating the show décor with its references to the avant-garde of the 1920s and 1930s, Xavier wanted to work with Charlotte Casiraghi. His artistic universe is full of horses and Charlotte is a skilled rider. Xavier and Sébastien are friends. Along with Charlotte, they form the kind of Chanel family that I like to surround myself with."
Casiraghi opened the show on horseback, while Sébastien Tellier played oversized instruments imagined by the artist.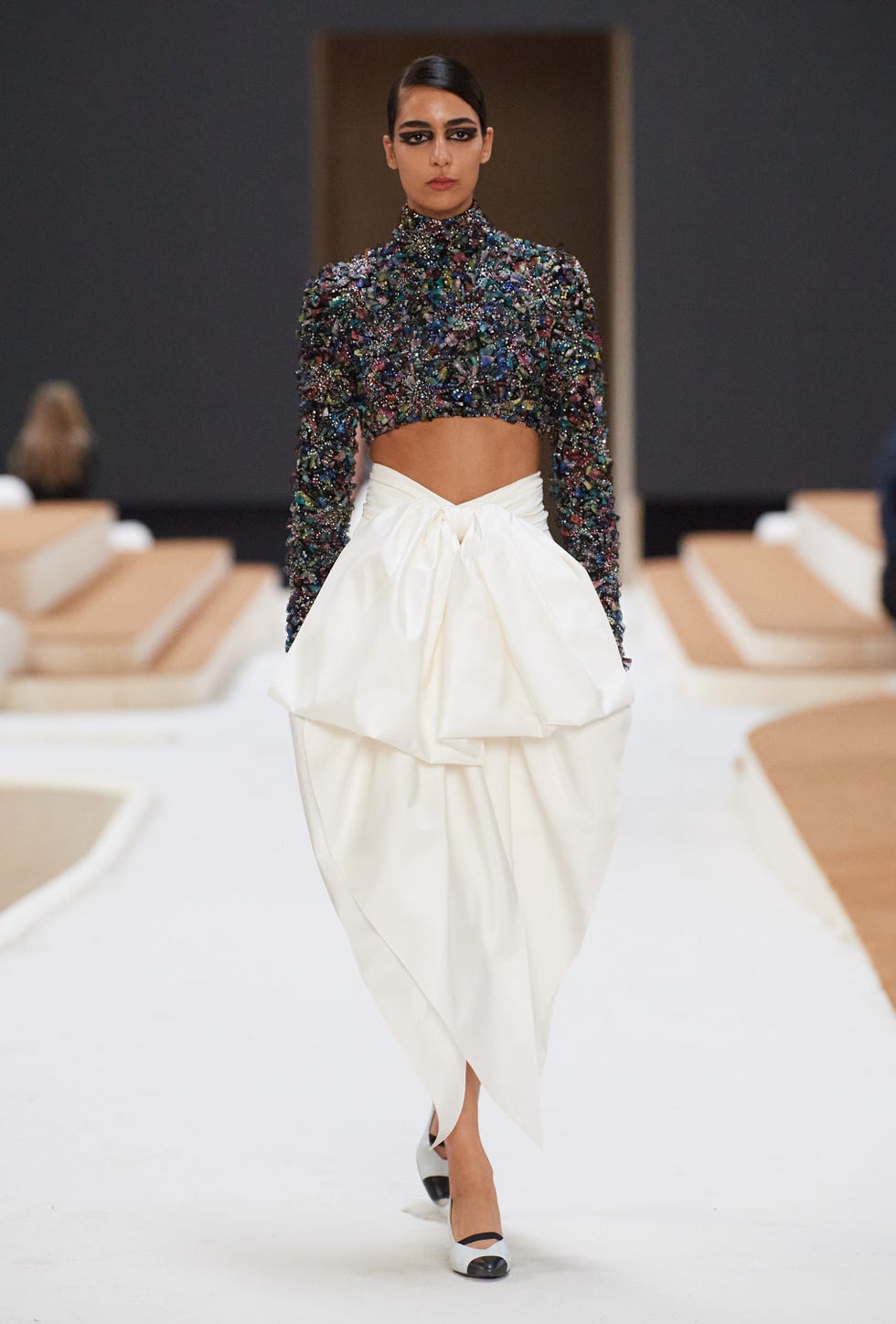 A classic look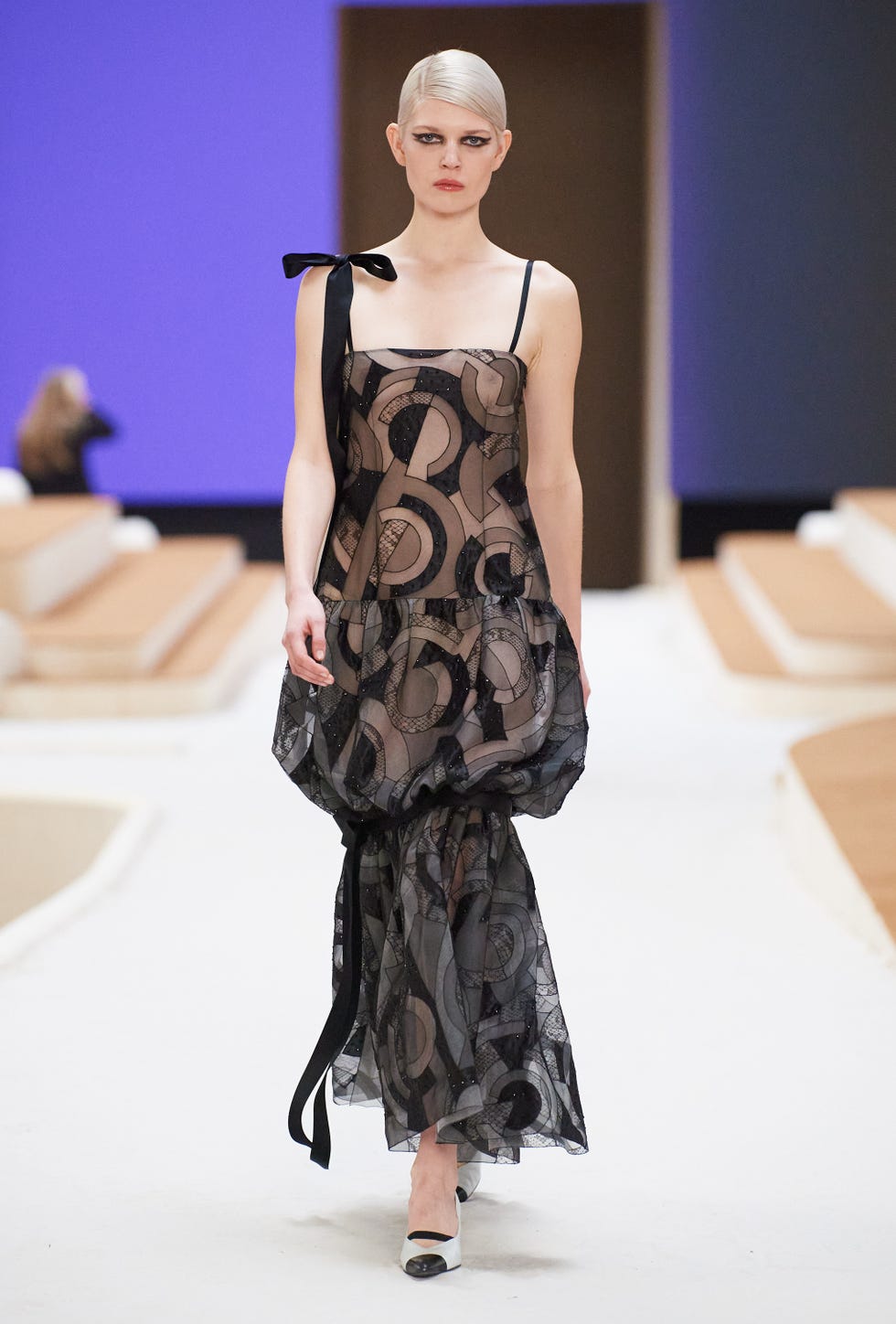 Sheer is definitely another trend that will take over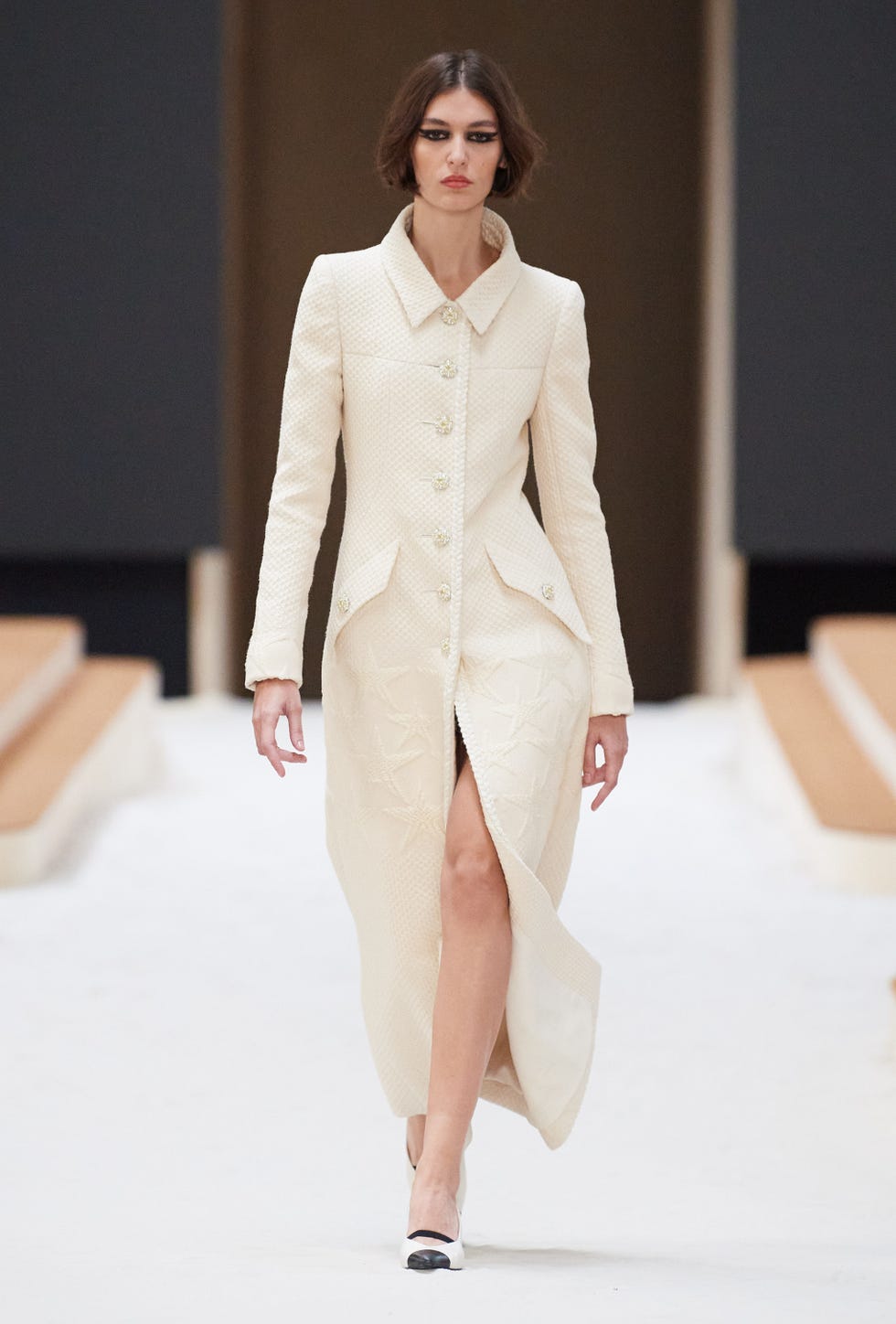 Blazers and buttons, and this look paid homage 
This season's Dior couture collection was a celebration of embroidery: "A symbol of the atelier's original excellence, embroidery is not just a decorative detail. It gives fabric its structure, its architecture." The collection and this celebration featured a collaboration between Maria Grazia Chiuri and the Indian artists Madhvi and Manu Parekh, The Chanakya Atelier and the Chanakya School of Craft.
"An inspiring creative dialogue, collective, exalting virtuoso skills, where embroidery is transformed into a collaborative mode of expression, at the crossroads of art and craft," said the show notes.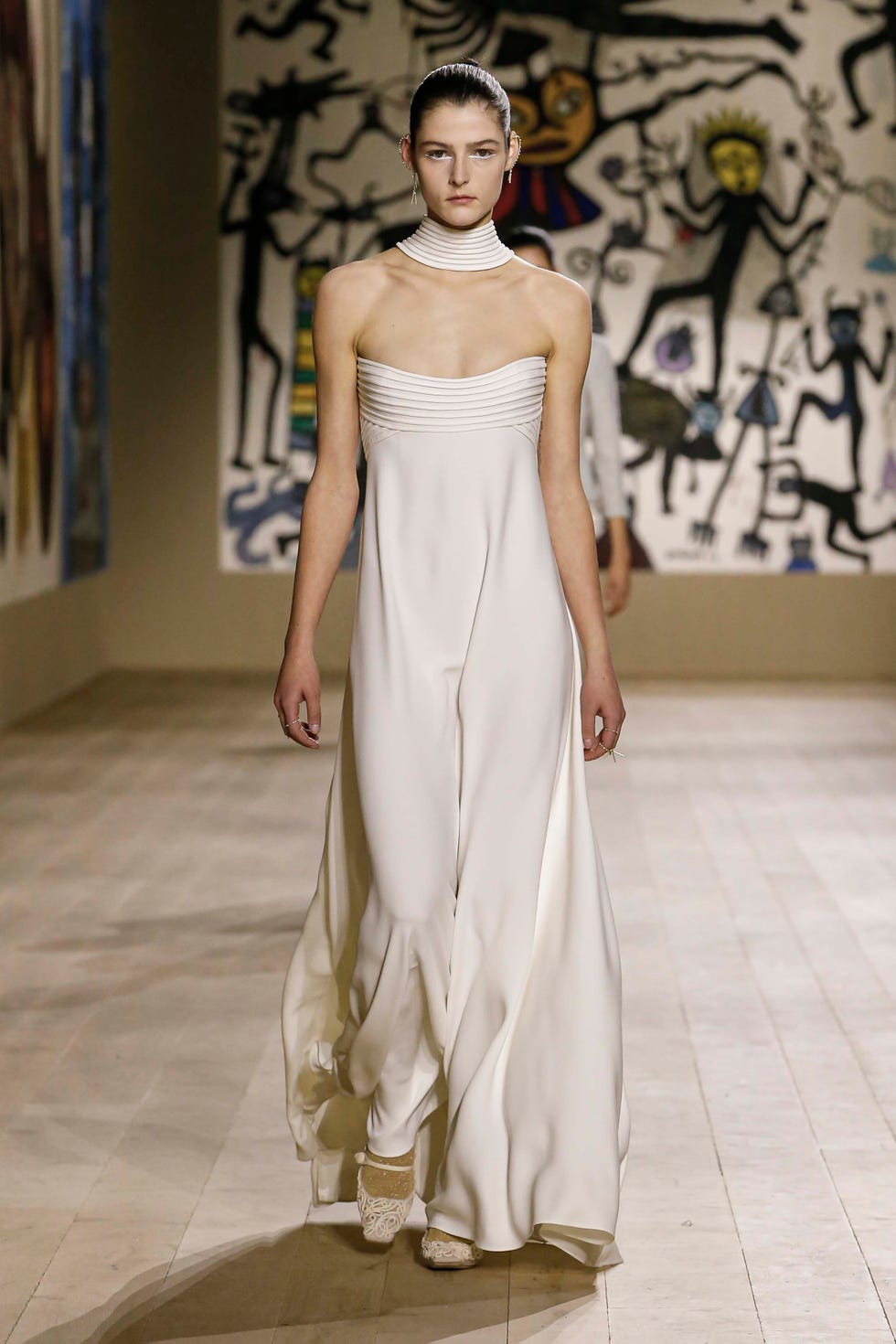 The flow of this dress while still keeping the silhouette is incredible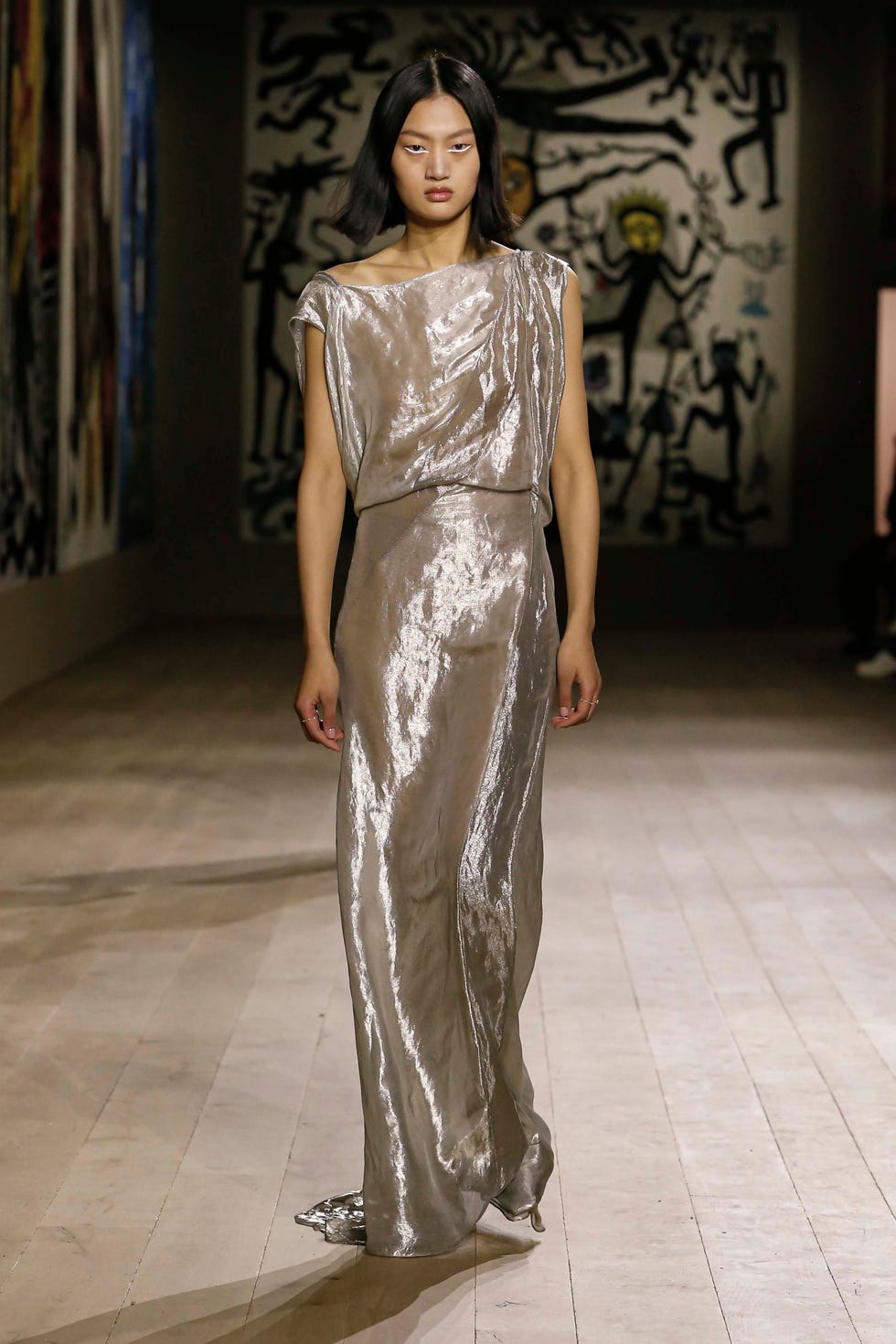 Not "flashy"yet we can appreciate the structure and the way it flows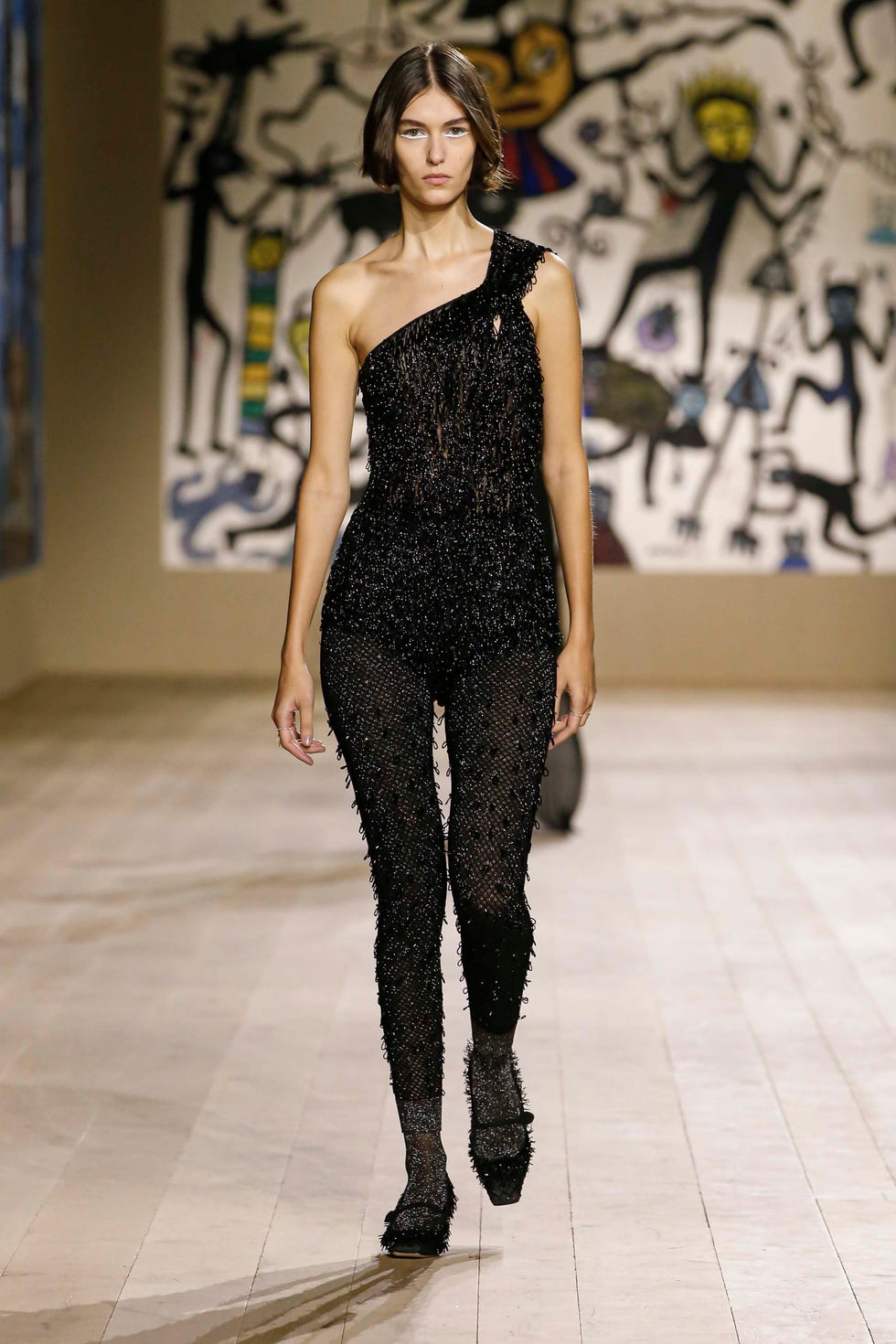 This takes jumpsuits to a whole other level. black with hand attached beads.YES! 
Daniel Roseberry presented his latest couture collection for Schiaparelli, a house which he has made a real favorite on the red carpet. This show, entitled 'An Age of Discipline' was the first real-life presentation since the pandemic began, and Roseberry took it as an opportunity to explore what design really means to him, particularly after this turbulent few years.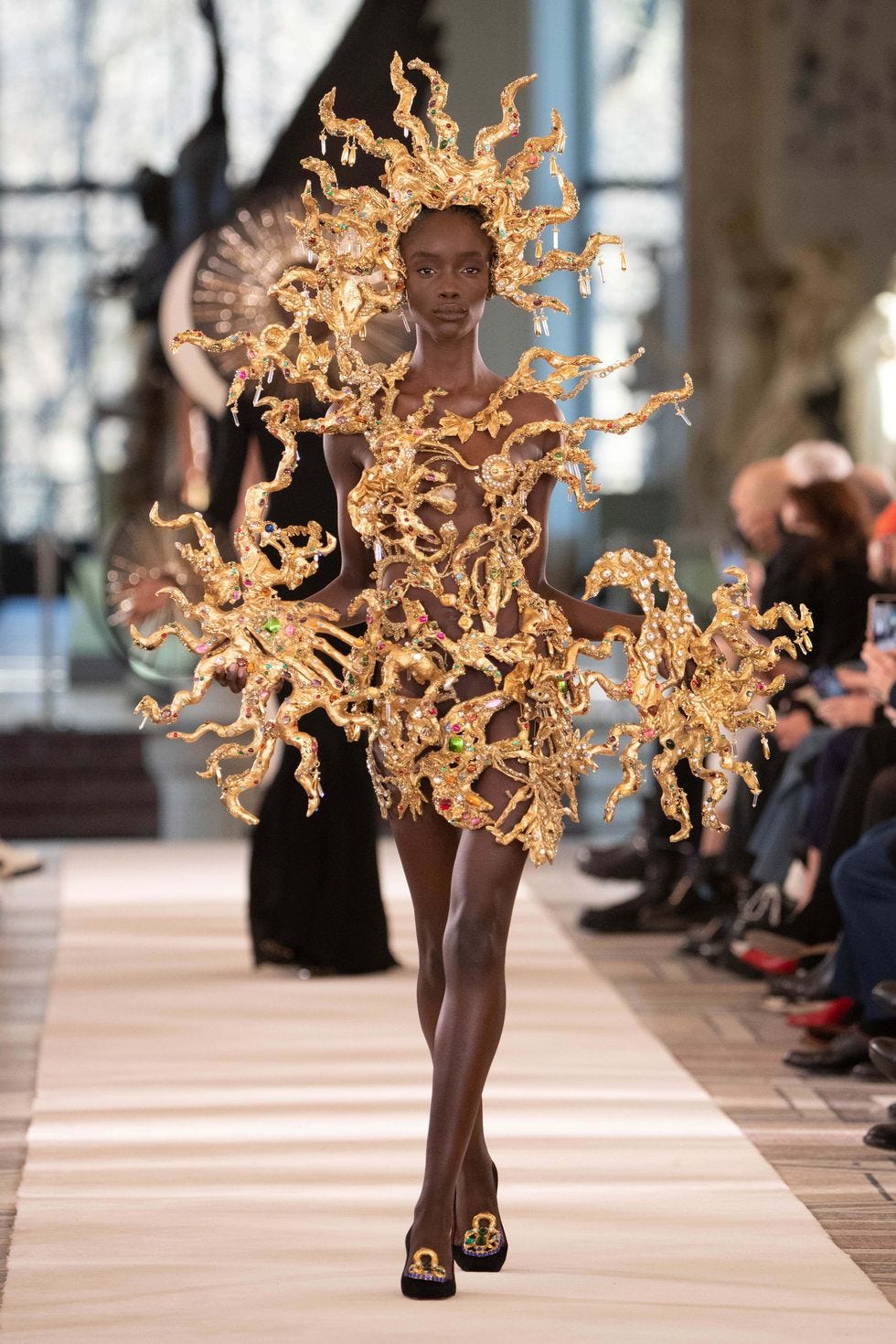 This dress screams beautiful chaos. The gold branches, with the jewels, but also the dress being see-through is a wonderful take of the past year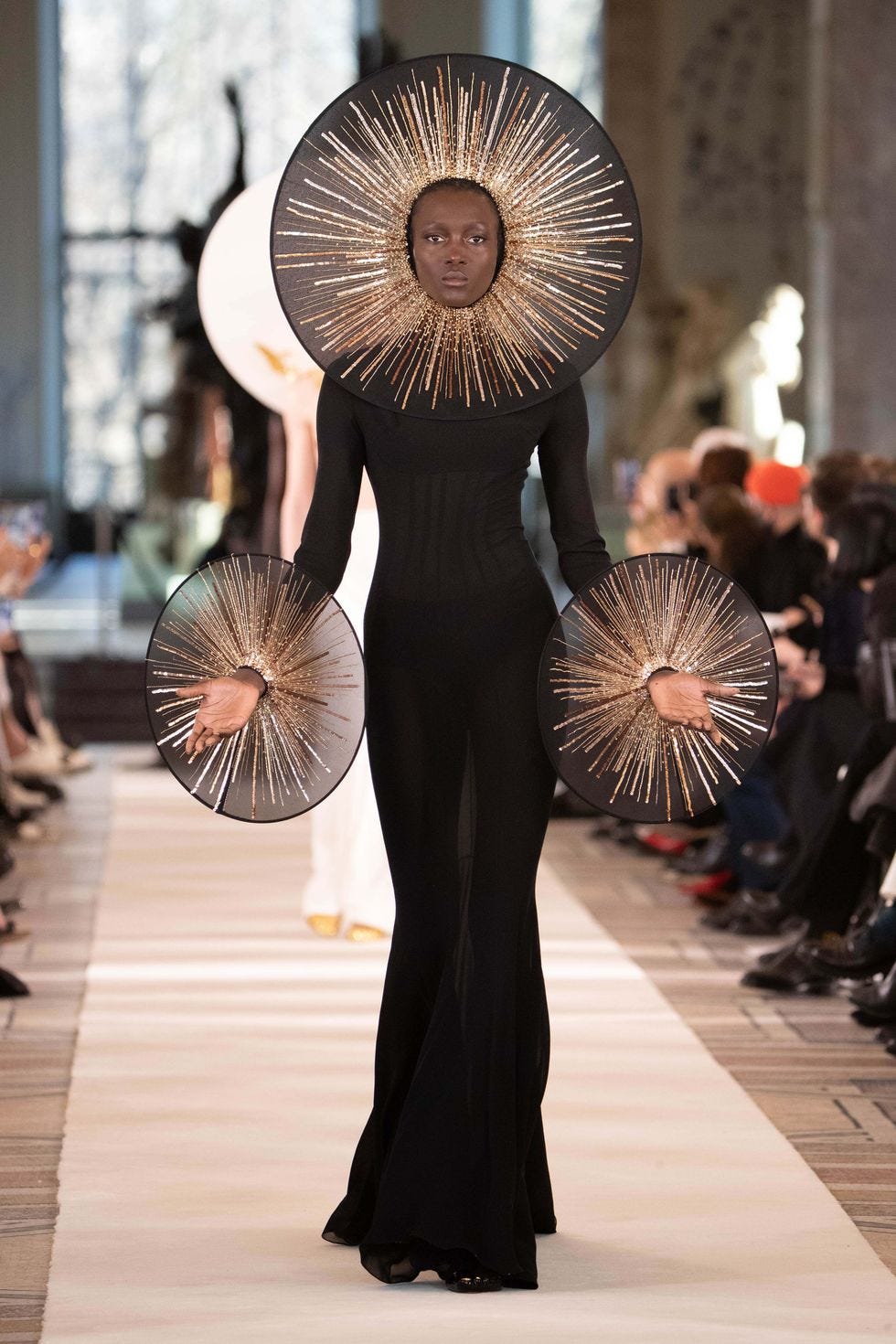 Another elegant design; Long sleeve, structure middle, and floor length- all in black, but what makes this so different is the head piece, and the Golden Sun Rays sleeves.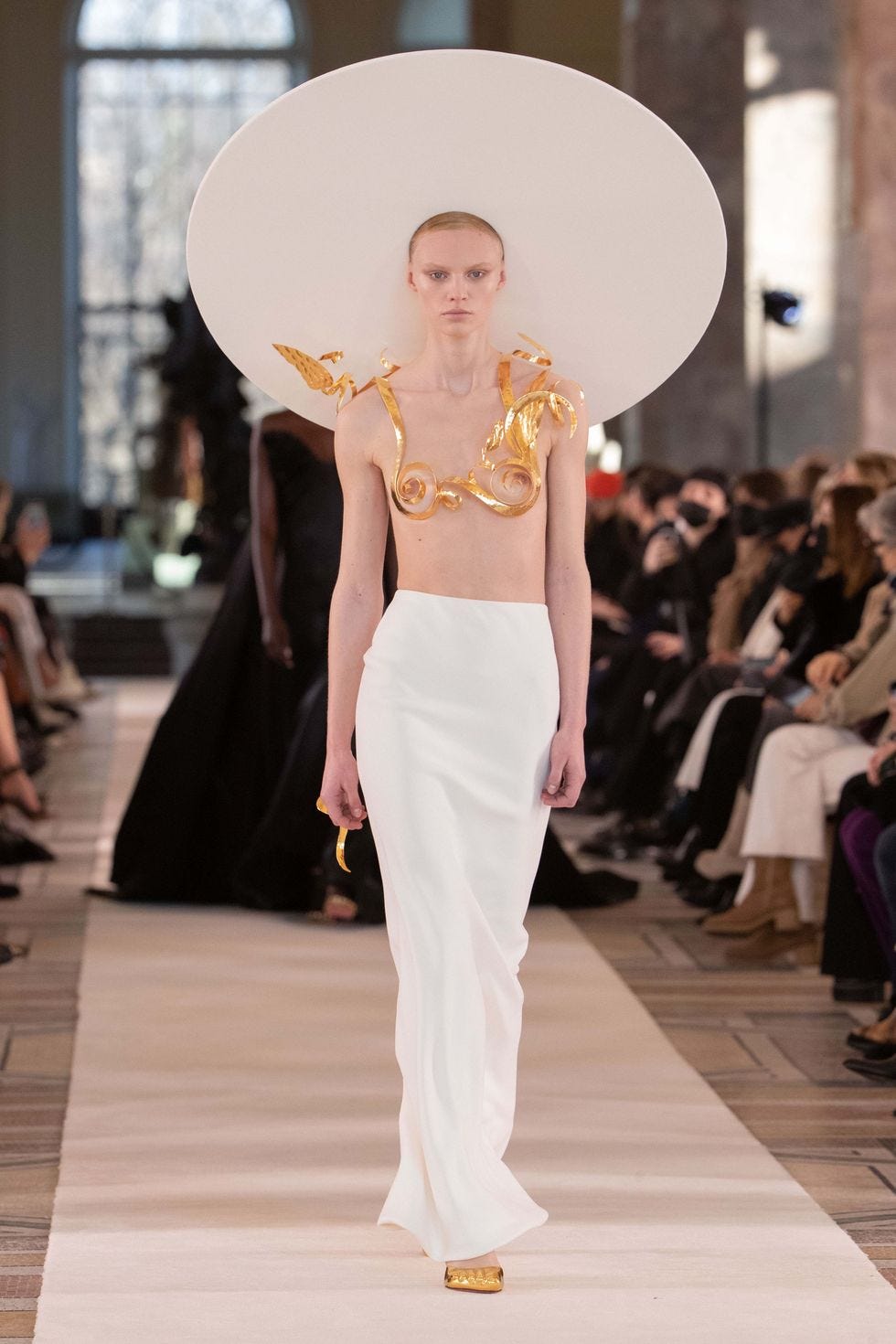 The top of this dress is so simple, yet so complicated! It covers just enough, paired with a maxi white skirt it is a gem.  
Take a look at highlights from 2021 or go to the official website of Haute Couture Week 
Photo courtesy of Harper's Bazaar