In a year where film festivals have gone virtual or canceled altogether, the Venice Film Festival occurring in person surprised the industry. Nevertheless, it persisted, and things went smoothly.
Anyone who knows anything about the Venice Film Festival knows this year looked different. Big Hollywood films were noticeably absent, and so were Americans in general as the U.S. still struggles to combat the Covid-19 pandemic. Despite a smaller lineup than usual, what attendees got was a wide array of films from all over the world. Sometimes a quiet little indie film can be just as enjoyable as a star-studded blockbuster. And of course, fashion lovers still got plenty of looks to scrutinize.
At the end of August we got one of the first red carpets of the coronavirus era with MTV's Video Music Awards. Also small and socially distanced, this gave an opportunity for stars to show off their style in a safe yet entertaining way. Venice certainly was more upscale than the VMAs, a welcome contrast after a red carpet drought.
With some timeless rewears, elegant gowns, and of course, face mask fashion, here are some of the fashion highlights from Venice.
Cate Blanchett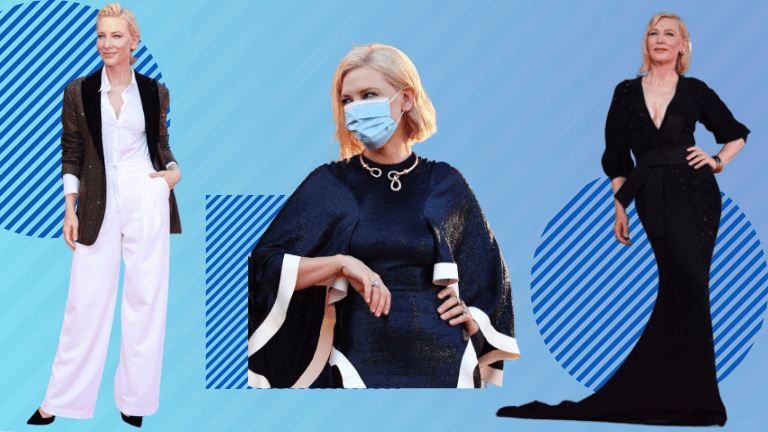 As the president of the jury for this year's festival, Cate Blanchett had a big lineup of different looks for all the events she attended. Her opening night look was lovely, and was actually previously worn in 2015 at the BFI London Film Festival. Dress is by Esteban Cortazar. Pictured above, the sequined navy gown with a dramatic cape and white accents was finished off with a big gold necklace. Cate is outspoken about efforts to dress more sustainably, especially when it comes to events like festivals. It's understandable that anyone would want to wear a gorgeous dress like this again. Cate's stylist posted a picture of this look on Instagram, saying, "beautiful things can come out of sustainability."
We also saw a lot of Armani from Cate, as she is a global beauty ambassador for the brand. One of her more relaxed looks featured a white button up with matching wide-legged trousers, with a bedazzled blazer on top. Another look was yet another rewear of a black gown she wore for Cannes 2015. It's timeless, simple yet elegant with subtle details that elevate the look. Bonus points for this photo where she ties it all together with a mask.
Face Mask Fashion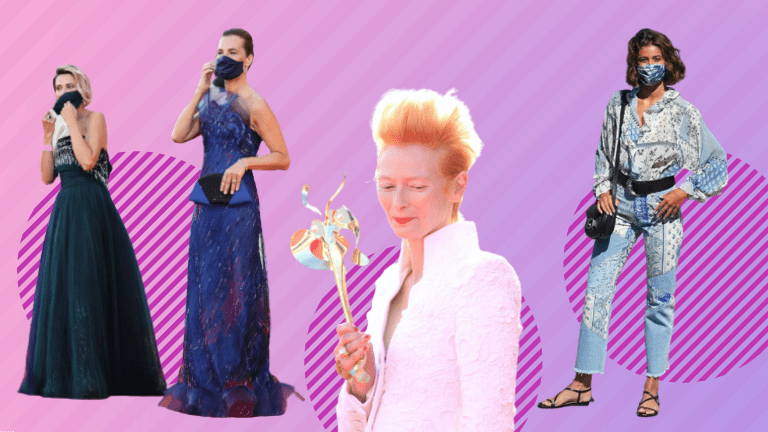 The pandemic is still very much here, and many that walked the Venice Film Festival red carpet were conscious of that. Pictured above, actresses Anna Foglietta and Roberta Armani wore cloth masks that matched their green and blue gowns. Model Taylor hill also wore a cloth mask that matched her paisley shirt and jeans while she was out and about during the festival.
By far the most interesting take on mask fashion comes from actress Tilda Swinton, who was receiving a lifetime achievement award at this year's festival. Although Swinton did opt for traditional cloth masks out and about, she walked the red carpet in two metal custom made masks from designer James Merry. These "custom creatures" are modeled after aquatic sculptures at Venice's Rialto Fish Market. Made from gold and pearls, they certainly aren't practical, but they look incredible.
Although it wasn't packed to the brim, the fact that any event of this magnitude could go on this year was incredible. Even on a reduced scale, Venice brought some great fashion and of course some great films. At the end of the day, that's all anyone can ask for. Here's to hoping there will be more in-person festivals in the future for even more attendees to enjoy.
Photos: Getty Images