Netflix released a charming adaptation of The Baby-Sitters Club and it is just as adorable as you'd expect. Ann M. Martin's beloved children's book series has received a modern remake that has the versatility to appeal to those who grew up reading her stories as well as a new generation that is bound to trickle in.
For those unaware of the premise, the show revolves around a group of seventh graders with a babysitting business. Kristy, the sort-of-leader of the group, forms the plan with her mother and recruits her friends Mary-Anne and Claudia, along with new girls in town Stacey and Dawn. The show's 10 episodes follow the up and downs of the girl's relationships with each other as well as their families, culminating into a feel-good tween show with drama, laughs, and plenty of heartwarming moments. No matter how old you are, there is something to like about it.
On top of the fun storylines and character arcs, a lot is communicated through each club member's fashion choices. Overall, it is less about the outfits themselves- which are still adorable by the way- and more about how each character wears them. The five leads are confident in who they are and expresses that through their clothes. For younger audiences especially, this can encourage them to be their own person, feel confident, and present themselves however they see fit. Even for an older audience, it is easy to find inspiration in the way the girls ooze confidence in whatever they wear.
A Quick Breakdown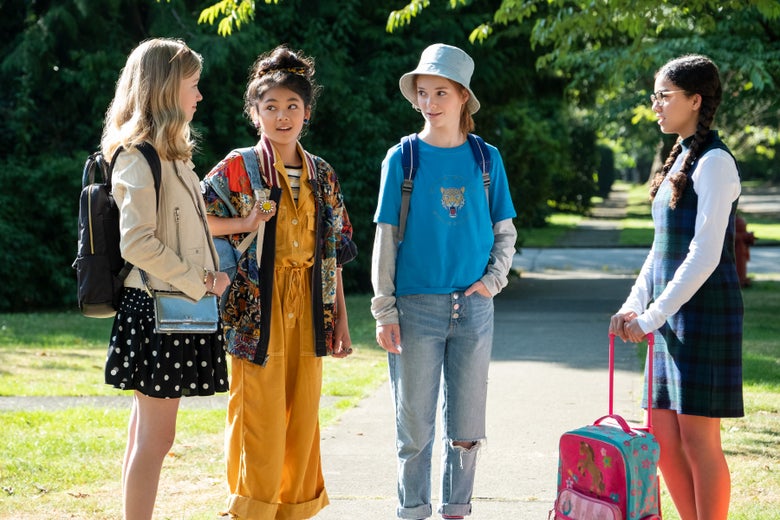 To best understand the influence The Baby-Sitters Club girls can have, it's best to go over their respective styles first.
First, we have Kristy Thomas. Kristy has the tomboy look down to a T, with relaxed fit jeans, sweatpants, sweatshirts, and turtlenecks dominating her wardrobe. She keeps with a lot of blue tones and likes to layer her sweatshirts over other pieces. Also, her messy ponytails and bucket hat (seen above) are iconic.
In one episode, Mary-Anne states that she is "the least cool member of the Baby-Sitter's Club," commenting on her friend's unique styles in comparison to hers. This doesn't quite send her on a complete fashion evolution, rather simple changes to help her grow up a bit. She sticks to collared shirts, sweaters, cardigans, but she's not getting them from the kids section anymore. Mary-Anne also starts to wear her hair in a different style than her normal two braids, allowing more of her true personality to show.
Stacey is from out of town and it shows. Her NYC roots give her a minimalist wardrobe, with neutral tones like black, white, beige, and pale pink shining through. Stacey is often cited as having a "French-girl" look with textures like polka dots completing that aesthetic. One of her most fashionable and upscale pieces is her black moto jacket.
Dawn is also new in town but her outfits are a bit more relaxed than Stacey. Hailing from California, Dawn has a style that can be described as skater girl meets boho. She's sporty, but is also rocking earthy tones and fun beaded hairstyles.
Claudia Kishi is without a doubt the fashion icon of the bunch and she knows it. Her artistic talent shines through in her clothing, which consists of abstract prints and bright colors. Claudia's accessories, especially her large collection of earrings complete her bold looks.
Finding Confidence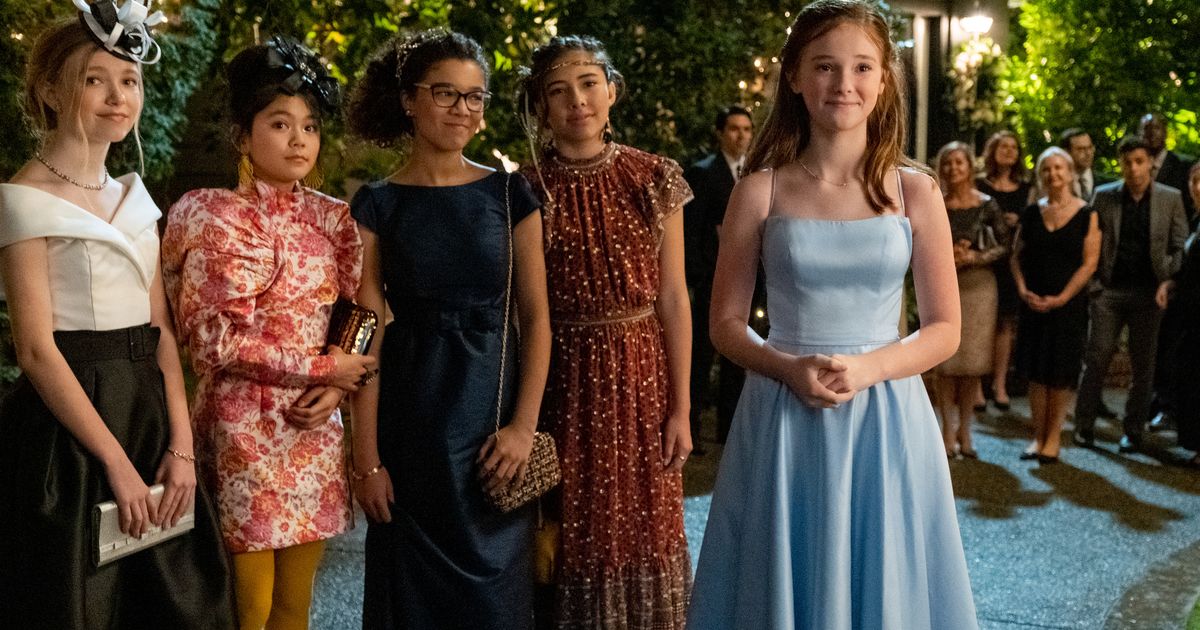 With such an eclectic range of style in the five main characters, anyone watching can relate to or find inspiration in the Baby-Sitters Club. Whether you're a bold artist like Claudia or a chic city girl like Stacey, there are plenty of cute looks to try. Even Sophie Grace, who plays Kristy on the show, put her creativity to the test and dressed like each character for a week.
For so many girls in middle school, fashion can be intimidating. Finding yourself and becoming confident in who you are is a huge part of being that age. Some get there quickly, and for other it takes a little longer. No matter which category you fall in, seeing girls like Kristy, Stacey, Dawn, Mary-Anne, and Claudia so comfortable and expressive of who they are gives a morale boost to anyone.
With relatable characters and situations comes a tendency to emulate. There are plenty of resources to do exactly that. And with pieces this cute who wouldn't want to try to dress like their favorite club member?
Middle school is certainly not too early to start experimenting with your style. Thanks to The Baby-Sitters Club, hopefully more young girls will realize that.
Cover Photo: Netflix