Pets and owners alike will love the new "Pampered Pooch Package" at the LOTTE New York Palace.  Iconic businesswoman Leona Helmsley, sometimes known as the "Queen of The Palace Hotel" made her dog an integral part of  the hotel.  She bought The Palace Hotel in the 1980's and  named the hotel bar, Trouble's Trust, after her dog named Trouble. After her death, she left her entire estate to her dog which made him the richest dog in the world. The Palace has always valued four-legged companions and focused efforts on keeping furry guests happy too.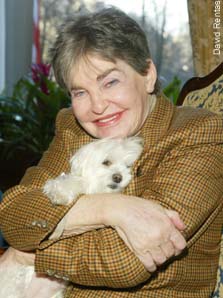 Trouble and Leona Helmsley
Pets can indulge in the same level of luxury as their owners, with the following package:
A complimentary 30-minute WAG! Walk from the new innovative dog walking app, with the option to extend to a deluxe hour-long walk for just $10. In line with The Palace's five-star experience, the five-star rated walkers have also curated several walking routes designed exclusively for four-legged guests of LOTTE New York Palace
A room service menu of refined food & water options to please every pooch's palate and epicurean dog biscuits at turndown nightly
A variety of themed pet & owner itineraries (like a festive holiday stroll by the iconic Rockefeller Center Christmas tree and a stylish strut passed the Fifth Avenue shops)
A beautiful brand new leash and luxurious dog bed from Found My Animal– a New York-based pet accessory retailer committed to the promotion of animal welfare and adoption
The hotel hosts what is called "Palace Hour"every evening from 5 – 6 p.m., during which they offer something special for guests (everything from delicious snacks to complimentary blow outs; offerings change from night to night.) Two of these Palace Hours per week on guests with dogs, inviting them to take part in pet etiquette classes hosted by a representative from  School For The Dogs, which is a New York-based animal training and education center. These will be held in the courtyard (or the lobby, if the weather does not permit) and is available complimentary to all guests traveling with dogs – both those who booked the Pampered Pooch Package as well as those who did not.