Nobu Hospitality, the globally established lifestyle brand founded by Chef Nobu Matsuhisa, Robert De Niro and Meir Teper, proudly announces the preview, first- phase opening of Nobu Hotel Chicago. 
Situated in Chicago's vibrant West Loop, the hotel features: 115 guest rooms and suites; a signature Nobu restaurant and bar on the ground level that offers premier patio seating, The Rooftop at Nobu showcasing on the roof dining amidst unrivaled panoramic views of the city; flexible meeting and event space; a state-of-the-art fitness center; and an indoor serenity swimming pool. Guests can expect the company's signature aesthetic – Japanese influence with an ultra-modern design – to create a zen oasis in the heart of the city. 
Trevor Horwell, CEO of Nobu Hospitality commented, "We are so pleased to introduce our first Nobu Hotel in the Midwest. Chicago is a world-class mecca of dining and entertainment and we are very proud to provide a new and exciting destination for the local community and visitors. This exciting project is a result of our long-standing affiliation with RCD Resorts, with whom we have partnered on our Miami and Los Cabos properties and share the passion for the Nobu brand." 
A much needed respite for the popular neighborhood, Nobu Hotel Chicago brings a new understanding of luxury lifestyle to Chicago's West Loop – one that is reserved, weathered and intimate. In conjunction with Modif Architecture, local design firm Studio K flawlessly blends the hotel's Japanese-inspired aesthetic with the urban style of the West Loop.
Like the weathered beauty of Japan's oldest buildings, natural materials in varying layers are left intentionally imperfect. There is also a dramatic use of proportion throughout the space with unusually high ceilings offset by low furniture. The hotel provides a strikingly simple and tranquil space— anything unnecessary has been left out to keep it free from clutter.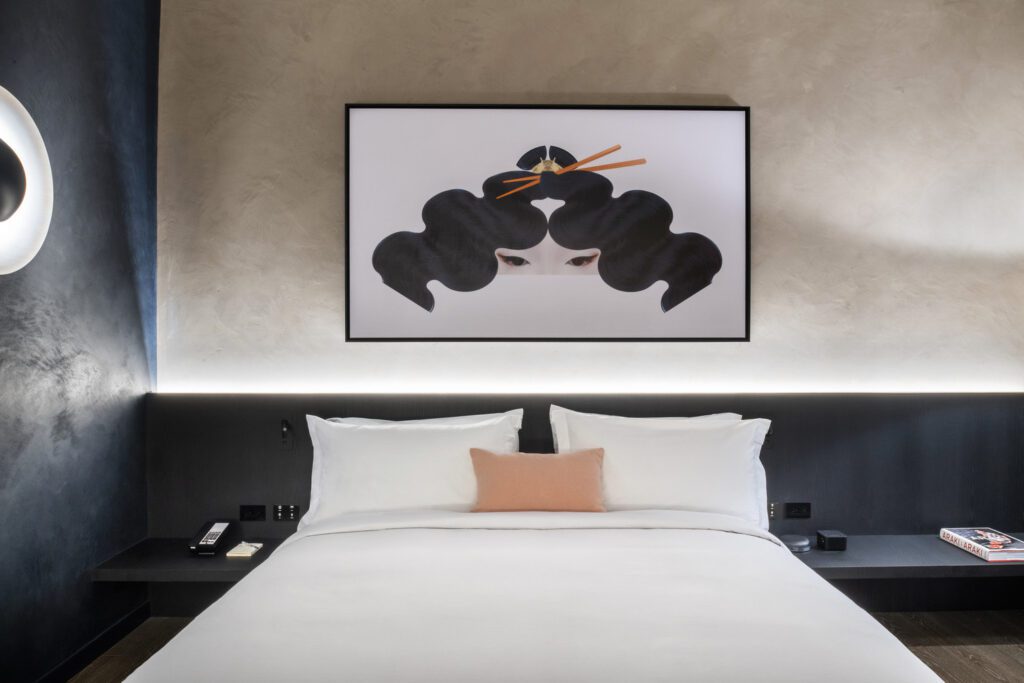 Sophisticated, warm and reserved, Studio K has also created rooms that are linear, high-end and intimate. Sisal and wool rugs, mango wood millwork and indigo accents incorporate textured, natural materials with Japanese roots. Built-in millwork, a feature typically reserved for residential designs, feels high-end and permanent amidst Chicago's bustling energy.
The ultra- contemporary, custom artwork by Dutch artist Noor van Spaendonckn brings in a pop of color. At its core, the humble approach to design emphasizes the luxury of experience through attention to detail. Now accepting reservations, Nobu Hotel Chicago is planning its ribbon cutting ceremony on Wednesday, July 1st at 10:30am CST. The signature Nobu restaurant and bar will open at a later date.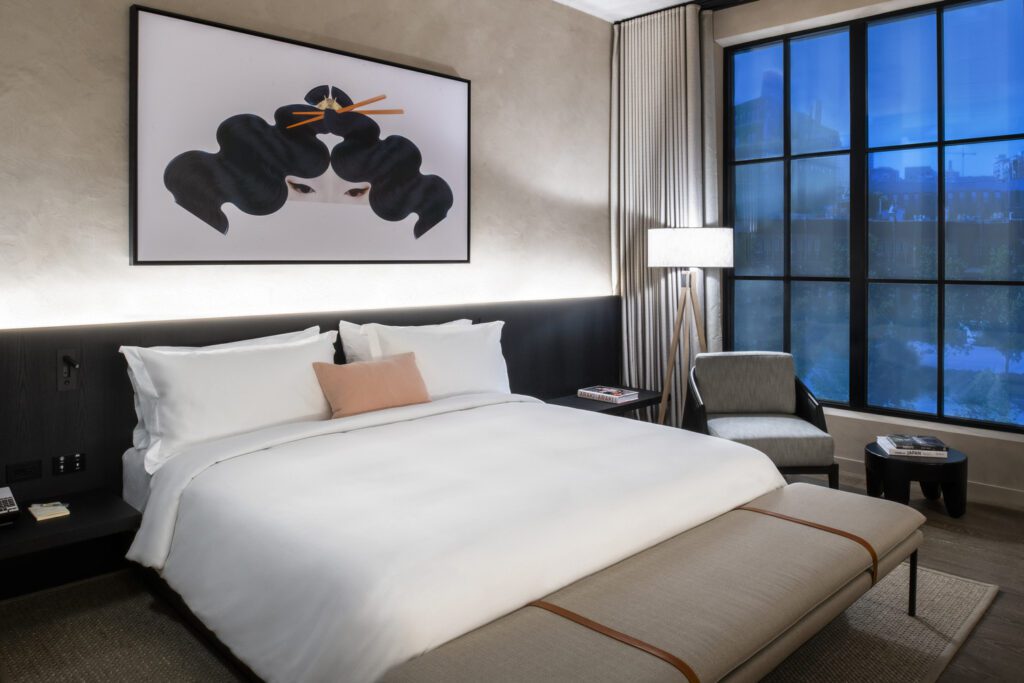 About Nobu Hospitality:
Named one of luxury's 25 Most Innovative Brands by Robb Report, Nobu Hospitality is ranked among an elite selection of global luxury brands. The natural growth of Nobu Hospitality, built on service, image, and reputation, offers the complete spectrum of hotel, restaurant, and residence management for unique projects around the world. Founded by Nobu Matsuhisa, Robert De Niro and Meir Teper, with operations spanning five continents, the Nobu brand thrives in the world's capitals as the ultimate destination lifestyle experience.
Nobu Hotels have been awarded an array of accolades, including Hottest New Hotels by CNN Travel, Wallpaper Best Urban Hotel, Top North America Hotel Opening by Luxury Travel Advisor, Luxury Travel Advisor's Award of Excellence, and Readers' Choice Awards by Conde Nast Traveler. The first Nobu Hotel opened in 2013 as a boutique hotel within Caesars Palace Las Vegas followed by Nobu Hotel City of Dreams Manila in 2014. Since then the brand has opened properties in Miami Beach in 2016, Malibu, London Shoreditch, Ibiza Bay and Palo Alto in 2017 and Marbella 2018. In 2019, Los Cabos and Barcelona opened, and in 2020 the opening of Chicago, Warsaw, Riyadh, and London Portman Square are expected. Nobu Hotels are in future development for Toronto, São Paulo, Atlanta, and Tel Aviv. Nobu is strategically focused on further expanding its global portfolio of hotels through a solid development pipeline. www.nobuhotels.com.