In the era of social media, influencers are both powerful and not at all. Influencers can claim something as their own and get away with it because of how big their reach is. But this is a double-edged sword. If you have a skeleton in your closet, chances are one or more of your followers will notice. We've heard the stories of fashion influencers claiming products as their own, but none have come close to the track record Danielle Bernstein from We Wore What is beginning to build up.
It all started with, well, none other than a mask. Cute, stylish and comfortable masks have become a hot commodity ever since facial coverings have been mandated in public almost country-wide. Big fashion names have proved to be slow to catch up, and many people have turned to a more grassroots source of purchasing masks – Etsy and other representations of small brands.
We have two main incidents here.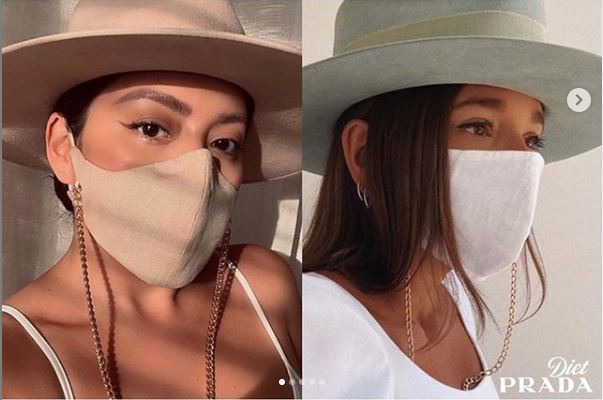 Bernstein is accused of copying a mask from New York boutique Second Wind (Instagram: @bysecondwind) for her personal line, Shop We Wore What. The mask is made of linen, and is adorned with a safety chain in a rose-ish looking gold. According to Diet Prada, she appears to have lifted it directly from the small Latina-owned company, who began offering masks June 1st. On June 29, Danielle Bernstein reached out to the brand via DM, and "hustled some free masks," said Diet Prada. This mask debacle even has her lawyers and a rumoured defamation lawsuit involved…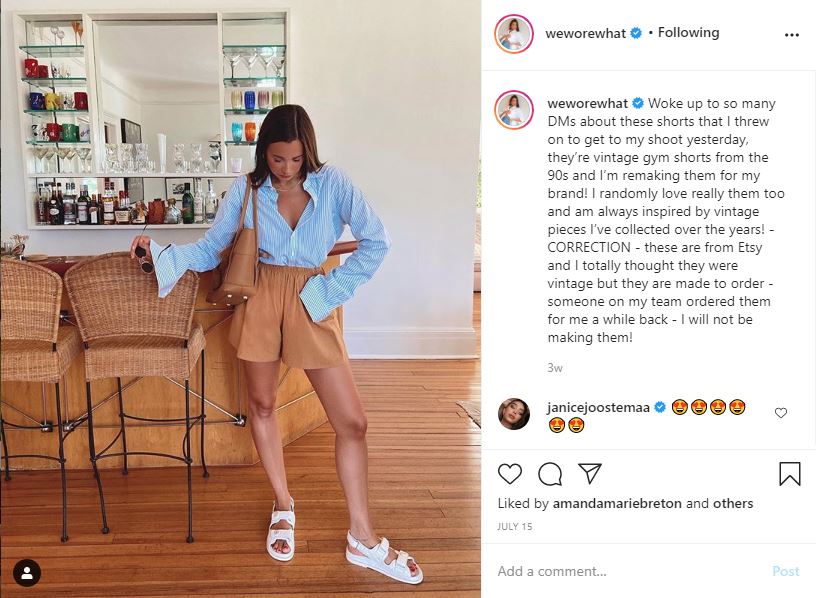 The second time Bernstein was reckless in terms of her outfit's sourcing was on July 15. She sported a pair of oversized 90's style marigold shorts. She claims in an Instagram post that she thrifted them as vintage and is, again, remaking them for her brand. She must have forgotten, however, that the shorts were actually from Etsy shop Art Garments (@artgarmentsau) and are made-to-order. 
A follower of We Wore What tagged the shop in the comments of Benstein's post and the Etsy shop had a big upswing in business. The Australian shop owner Grace Corby searched her previous sales, and found that Bernstein had purchased two pairs in November 2019. After this, Bernstein posted a correction in the caption of her original post about the "vintage shorts," saying she will no longer be recreating them for her brand.
Let me be clear: I'm not saying everything an influencer wears has to be original. In fact, influencers reference vintage items all the time. However, they tweak the look to make it their own and usually don't consciously exploit businesses with a smaller reach. Some of these businesses are owned by BIPOC, and ripping them off is in really poor taste, but even worse timing. Stay tuned, my little gossip queens.
Cover photo courtesy of insider.com