This year, New York Fashion Week was a lot different. Gone were the crowded showrooms and overly RSVP'ed runway shows with, and in their place came visually stunning showcases. Some designers did opt for a runway format, but others got creative with it.
Many collections showcased in gorgeous locations with lovely visuals. Of course, the focus is still on the pieces the models are wearing, but it was hard not to admire the work that went into creating the sets and aesthetics that surround these looks. Whether through music choice, props, backgrounds, colors, etc., these creative teams put their all into making sure even though these drops were virtual, they'd still have fashion lovers excited.
Even better, thank the Council of Fashion Designers of America (CFDA) developed RUNWAY360, a digital platform in which all designers were able to share their collection launch for this virtual Fashion Week. The new platform will continue to serve the fashion industry year-round and supports AR/VR, 360-degree capabilities, live streams, and much more. With the fashion industry facing so many challenges this year, RUNWAY360 allows brands to still thrive even in less than ideal circumstances.
Here are some of the highlights from New York's first virtual Fashion Week.
Rebecca Minkoff
Rebecca Minkoff's Fall 2020 collection is glam rock with a touch of bohemian accents. With lots of leather, plaids, florals, and leopard prints, the collection features fun jackets, big sleeves, and ruffles. These looks are bold, yet effortless and reflect what designer Rebecca Minkoff describes as "the modern woman in all moments of her life…hard and soft, masculine and feminine, and everything in between." There are also plenty of handbags to look at, many with fringe and moto detailing.
New York City and it's music scene are given a nod in the video showcasing the looks. With a rock soundtrack, the models sit on an NYC rooftop, surrounded by vinyl records, leather couches, and a full set of musical instruments. The clothes match the set perfectly
Presley Oldham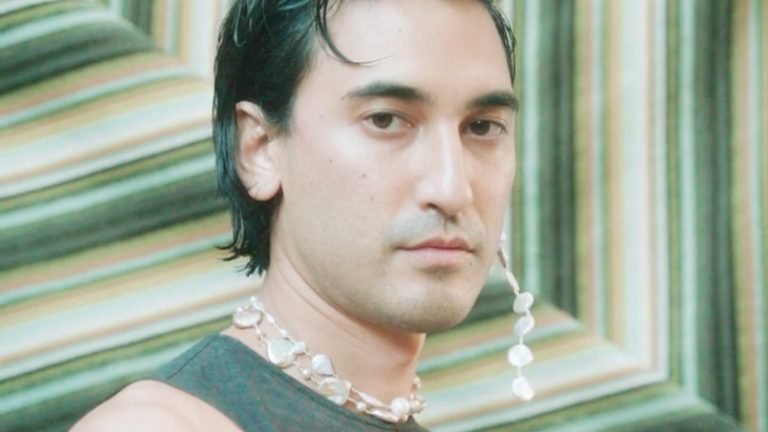 Presley Oldham premiered a new collection of handmade jewelry, and the visuals were so dreamy. With a quiet soundtrack, the designer's friends posed and swayed along, showcasing necklaces, earrings, belts, and bracelets. While the typical white pearls were undoubtedly present, there were also plenty of multicolored options, all tied together with sterling silver. Natural backgrounds focusing on blues, browns, and greens helped communicate a sense of relaxation and ease.
Imitation of Christ
Imitation of Christ returned to NYFW in a big way this year. The collection draws inspiration from the turbulent times we're living in, acts of courage, standing up for civil rights, and promoting unity. To premiere the collection, Tara Subkoff enlisted a group of LA-based female skateboarders to not only showcase the clothing but their own talents. The girls confidently skated with bunches of flowers in their hands while digital flowers pulsed across the screen.
IOC has been built around the concept of upcycling, and these looks certainly continue to showcase the eclectic nature of the brand. This collection is busy but still effortlessly cool. It's all about bright colors and prints, and matching up textures and styles that's different than your typical street fashion (like a sports jersey with a floral dress). The cool, calm and collected nature of the girls wearing these fun looks adds to exactly what the collection is all about, tenacity and fearlessness.
Jason Wu
Jason Wu settled on a standard runway show to premiere his latest. This collection was inspired by Jason's home away from home, Tulum, Mexico. The theme of the collection is escapism, with tropical colors and relaxed, airy, silhouettes. It's casual yet fun, and something created to represent happy memories even in hard times.
Pose star Indya Moore kicked off the show in her runway debut. The setting was like an island paradise, with models walking across sand surrounded by all kinds of trees and plants. Interesting fact, all the trees were donated by Lowe's, and are being moved to the A. Visconti Garden Center, a small local business. More pieces of the set will find a home in a new dining room at GMHC in New York.
Claudia Li
Claudia Li's Spring Summer 2021 collection was unveiled in an interesting film. It felt like a quick look into the collection, and didn't give much away, but it was still captivating. In an old vintage film reel, we see quick cuts between sparklers, fireworks, vintage photographs, and of course pieces from the collection. There were also clips showing the creative process behind the pieces, like color swatches and close-ups on different patterns. The whole video is short and sweet, ending with a black and white filter and the words "Till We Meet Again."
Although the accompanying film only showed a short look at the looks from this collection, normal photos are available right below it. The same blue and pink sequin pattern shows up a lot, in the form of jackets, dresses and jumpsuits. Other pieces have bright holographic elements at the forefront. The textures, colors, and fabrics come together to complete a collection full of stand-out pieces. It's abstract and artsy and unconventional, but it just works.
The virtual format of NYFW 2020 certainly challenged designers, but they did not disappoint. With so many successful launches, it is clear the fashion industry, though in dire times, can still thrive.
Check out all the other highlights from New York Fashion Week here.
Photos: RUNWAY360