Halloween 2020 will not feature the big parties of years past, but that doesn't mean you can't dress up. Whether you're staying in for a spooky movie night, or meeting up with a some friends for a small celebration, there are plenty of ways to get into the spirit without going over the top. You might want to skip on the elaborate and expensive costumes this year, but lets face it, coming up with cool Halloween costumes has always been a struggle anyway.
Here are some cute costume ideas for your low-key celebrations that are still worthy of an Instagram post.
Make-Up Looks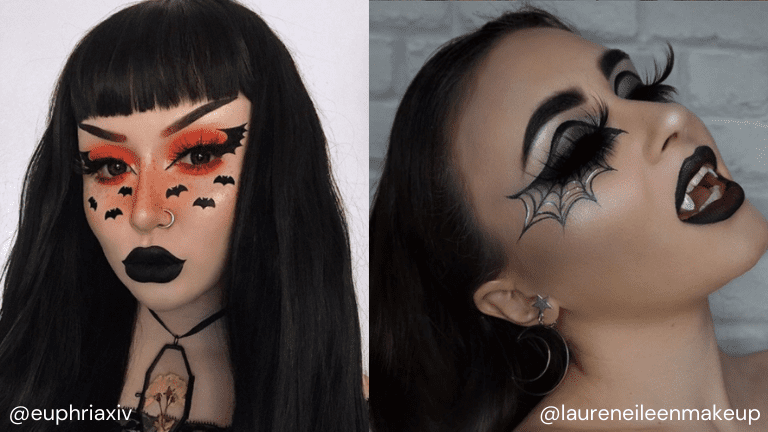 Low cost, low effort, and not too much skill required, a fun make-up look is the perfect way to get in the spirit this Halloween. With this is can really get as simple or as complicated as you like. Maybe pop a bright eyeshadow on and call it a day, or get really creative and go all-out with costume makeup and prosthetics. The choice is yours. For some incredible inspo, check out this Instagram account.
Characters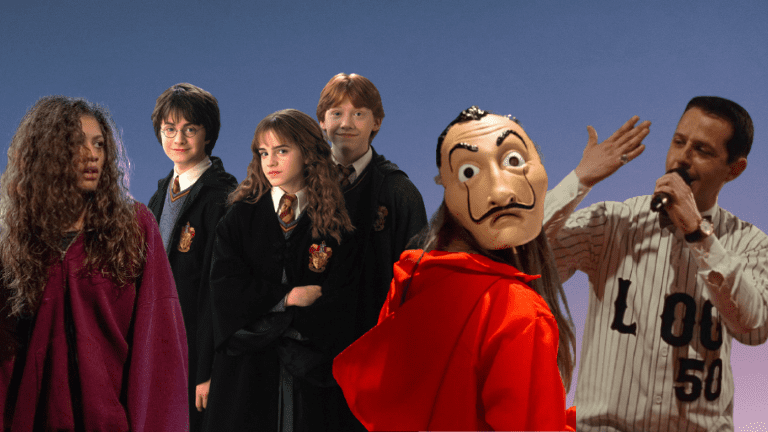 Dressing as your favorite fictional character is always a fun option for a low effort costume. Chances are, you might already have similar pieces in your personal wardrobe, and all you need is a signature piece to top the look off.
If you've binged recent Emmy Award winner Succession, you know all too well the iconic scene where Kendall raps to his father Logan in honor of the 50th anniversary of the family company. All you need is a pinstriped shirt and some letters and numbers to attach to recreate his custom "L to the OG" jersey.
Euphoria is a goldmine for character inspired outfits, with some of the best fashion and makeup on TV today. Although it's just over a year old and season 2 had to halt production due to the pandemic, it has stayed relevant due to its addicting style (and the help of Tik Tok.) The easiest look to replicate is definitely Rue's maroon hoodie and oversized t-shirt. Complete the look with some glitter eyeshadow and you're good to go.
Money Heist is a Netflix hit with an easily recognizable look to channel. Buy a Dali mask, make sure you have a red hoodie or jumpsuit, and you're a member of the gang!
Recently the internet has also fallen into a bit of Harry Potter nostalgia. Costumes inspired by our favorite Hogwarts students are nothing new, but they are perfect for a low-key Halloween look. All you really need is a grey sweater and accessories to match your house colors. You could also take it a step further and recreate a character's look, or make a completely unique look inspired by the story. With a world as vast as this, there's a million ways to go.
Pop Culture
2020 has been quite the year and with it came some unforgettable pop culture moments.
A costume that's sure to be a hit this year is Joe Exotic and Carole Baskin, throwbacks to the Tiger King phenomenon of March and April. These looks are fairly easy to replicate. A flower crown is a must for Carole Baskin, along with some cat prints and flowy silhouettes. All you really need for Joe is a bad mullet and a button up shirt. The choice is up to you on how gaudy you want the prints to be!
For sports fans, a funny take on the NBA bubble situation is as simple as wearing your favorite player's jersey along with a face mask. You could also really go for it and get an actual bubble to wear on your head or body. For Taylor Swift fans, break out a cardigan to honor folklore. For all of those that are still obsessed with Tik Tok like us, dress up as one of the many famous creators or dancers to break out on the app. With so many memorable and meme-able moments from this year, the list goes on and on.
Whether you're staying in or going out (safely of course!) Halloween isn't cancelled. For fanatics it's not the celebration we'd hoped for, but we can keep the spirit alive in an understated way.
Cover photo: Pexels