What is true luxury? For Alex Dordevic, it's not all glitz and glam. As the founder of luxury event 24 Hours of Elegance, he has spent the past 10 years dedicated to highlighting excellence in craftsmanship throughout Europe. I was able to speak with Alex and learn all about his event, the book he's made to commemorate it, and what luxury means to him.
Alex's fascination with classic cars and fashion stems from family. Classic cars started with his uncle, who lived in Sweeden and would bring cool American cars over to Dordevic's home of Belgrade, Serbia. He reminisced on his first time seeing cars like a Chevy Impala or a Mustang, as well as the first classic car he got himself, a Jaguar XJS.
As for fashion, it runs in the family. Alex's mother was a well known news presenter in Yugoslavia and someone he defines as a "lady with particular style." Italy also played a massive role in finding the styles he would become most passionate about. Attending school in Florence led to becoming a trendsetter back in Belgrade. As the years went by he started following more designers, and had a growing fascination with Armani and Prada.
The mid 2000s is when he began to discover classic tailoring and follow that path. It was a lot of work at first. Without the advantages of social media, it was more difficult to get to know insider brands and top-notch craftsman from the small towns of Italy. They kept a low profile, curated their own audience and clientele. "It turned out that these artisans are very discreet people, they are low profile," he says. Despite this exclusivity, Alex's connections gave him the opportunity to meet the artists behind the handmade pieces he was becoming so fascinated with. With these connections, passion, and a distinct vision, 24 Hours of Elegance slowly began to form.
24 Hours of Elegance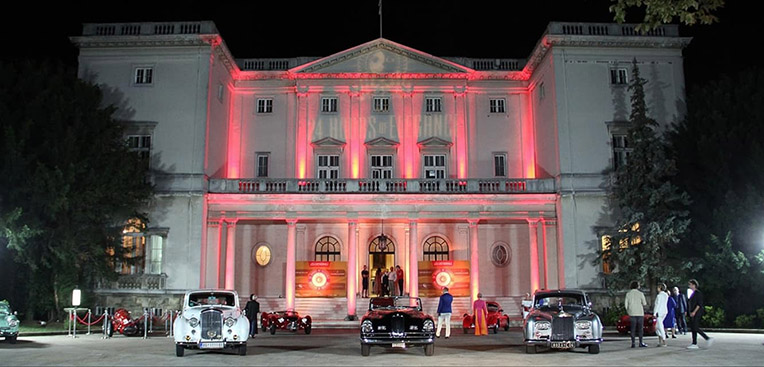 A few key events led to the inception of 24 Hours of Elegance. The 1999 bombing in Belgrade while not relating to style in the least started the chain of events. Alex found himself in Tokyo for half a year trying to figure out what he was going to do with his life. "In Japan I really got to know true craftsmen and the beauty of handmade items," he says, "that and the pride many artisans have when they produce something with their hands."
Once he returned to Europe, he continued collaboration with the network of Italian companies he had built up, beginning to produce shoes and learning firsthand what it means and just how long it takes to produce a single pair of handmade shoes. The deep respect gained over the years finally formed into the event.
24 Hours of Elegance, while a bit longer than 24 hours, starts on Friday evening with a gala. All presented artisans are by invitation only, curated by Dordevic himself. Each year highlights the best of the best from a specific city or country in their respective fields. How did he get the elusive craftsmen to buy into it? He attributes that to the close knit community of artisans. When others share that passion, they gravitate toward each other.
"It's important to show these artisans that you respect them and have the passion, not only the financial interest, to promote something that is not that well known."
Although the event is hosted at the Royal Palace of Belgrade with top notch artisans and a plethora of classic cars, we still need to be conscious of how we're talking about luxury. "The focus is not on luxury in terms of like bling, price, and how to impress someone," says Dordevic, "the focus is really on the craftsmanship, on beauty created by one's hands."
Through my conversation with Alex it was clear the deep admiration he has for the artisans he hand selects for this event. He discussed how he believes it's "quite a gift" when you are able to create something from a piece of cloth or leather or even gold. These craftsmen study all their lives to be able to create such beautiful pieces and that is the true luxury. Each piece is unique, and the time and care that goes into creating these items is what is celebrated at 24 Hours of Elegance.
2020 and Beyond
Despite the current state of the world, the upcoming edition of 24 Hours of Elegance will persist and pave the way for the next decade of the event itself. Dordevic is going international this year, brining artisans from all over to take part. When asked if he has any concerns regarding the fashion industry or the event itself, his statement is simple, "We need to adapt and survive."
"I believe it's even more important now to underline the value of creation by hand."
It's important to remember that even the top artisans of Europe can fall into hard times. "Don't forget some of these people can't survive," Alex says, going further to talk about how people don't need to dress up in fancy shirts and ties to go to the office as frequently as they used to. He sees both his event and the book itself as tools to help spread the word about this under appreciated form of art.
For this year's installment of 24 Hours of Elegance, he has big plans. The key players are organized, including an exhibition of the top ten master tailors that have taken part in the event in year's past. He also plans to award a local artisan with a seal of excellence. In addition there will be event's first ever film premiere, focusing on the creation of Rubinacci bespoke suit titled "54 Hours of Rubinacci".
This film, which shows the 54 hours of handiwork necessary to create a bespoke suit for a client, is a perfect example of why these types of events are important. We live in an age of fast fashion. Everything is made the cheapest possible way and mass marketed. Huge brands produce a surplus of clothing that is used for one season and then is thrown away. The garments you see at 24 Hours of Elegance, whether they're a handmade shirt, pair of shoes or a bespoke suit that takes hours to perfect, are timeless. "The value of any bespoke or handmade product is that it's done just for you and it's intended to last," Alex says.
Even if you can't afford a custom pair of shoes, there is still something to learn from Alex Dordevic's idea of luxury. In times like these, it's important to see the beauty in handmade and sustainable pieces and do what we can to ensure that this type of art doesn't die out.
Cover photo: 24 Hours of Elegance: Summit of Excellence
If interested in the event or to pre order Alex's coffee table book email: alex@degorsi.com