Zurich is the largest city in Switzerland and it is fair to say one of the cities that has quite friendly residents. Upon my arrival to Zurich airport with my four legged travel companion Suzi we immediately made a friend. Lady that lives not far from the city center was quick to share few great tips. She noted that they have a free bike rental system and their public transit is smoothly organized. If you decide to visit ZurichCard is a great option as you get few free perks and discounts on shopping, museums and upon dinning culinary surprises.
As a major contemporary art destination visit of Kunsthaus and The Rietberg Museum is recommended , while those who prefer shopping can indulge on Bahnhofstrasse. Niederdorf is part of Zurich's old town and also has plenty of great fancy stores.
Marc Chagall's stained glass windows in the Fraumunster Church ( Women's Minister in translation) are a must see and only few minutes away is St. Peter Church which is the oldest parish in the city. Until 1911 it was used as a fire watch post. More importantly is has the largest clock face in Europe. The Grossmünster church is another landmark of Zurich. Legend has it that it was built on the graves of the city's patron saints, Felix and Regula.
Bürkliplatz is great for a little relaxation. It has a perfect view on the lake and you can see the Alps. Opera House is near by and even though it is the smallest of the world's large opera houses with approximately 1,100 seats it is one of the best in the world.
Birth place of Dadaism-The Cabaret Voltaire. You can discover all about the mix of art and absurd in the Spiegelgasse street.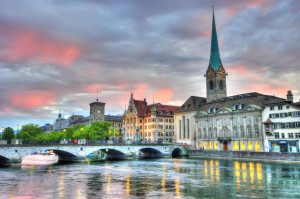 The promenade Limmatquai named after river Limmat is full of restaurants and fancy shops. We do recommend you opt for one of the boat rides on the river where many swans and ducks are their residents. For boat and water lovers there are few other cruise options from lake Zurich.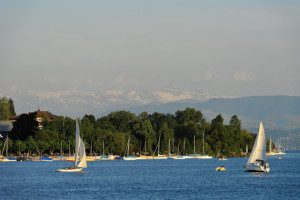 For the view from the top Lindenhof is ideal. Former Roman Fort is now a meeting point for tourist, couples, Zurich's residents and for passionate chess players.
Zurich has something for everyone and for party animals 500 clubs and bars, including several in swimming pools. I believe that will be enough for more than one great night out.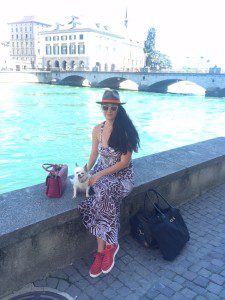 These sights are a must see. I didn't go into details as for my next visit to Zurich I will focus more on hot spots, hotels, restaurants and best chocolate places .
*additional photos goboogo.com