Between Paris Fashion Week and Milan Fashion Week, there were three fashion shows, or should we say videos, that really delivered that extra kick. While other renown menswear brands like Hermès and Prada shot feature videos of detailed tailoring and a simple crossover with sportswear, these designers below really stepped up to the plate with a concept (as well as a fabulous collection of course.) 
Each one, in its own way, told the tale of an increasingly tumultuous 2020. As you may – or, really, should – know, this year's fashion events were all hosted online. Yet the designers we wrote about here showed something more… not just collections pushed into the square peg of a Coronavirus-compliant digital show.
Dior Men – Paris Spring 2021 Men's Fashion Show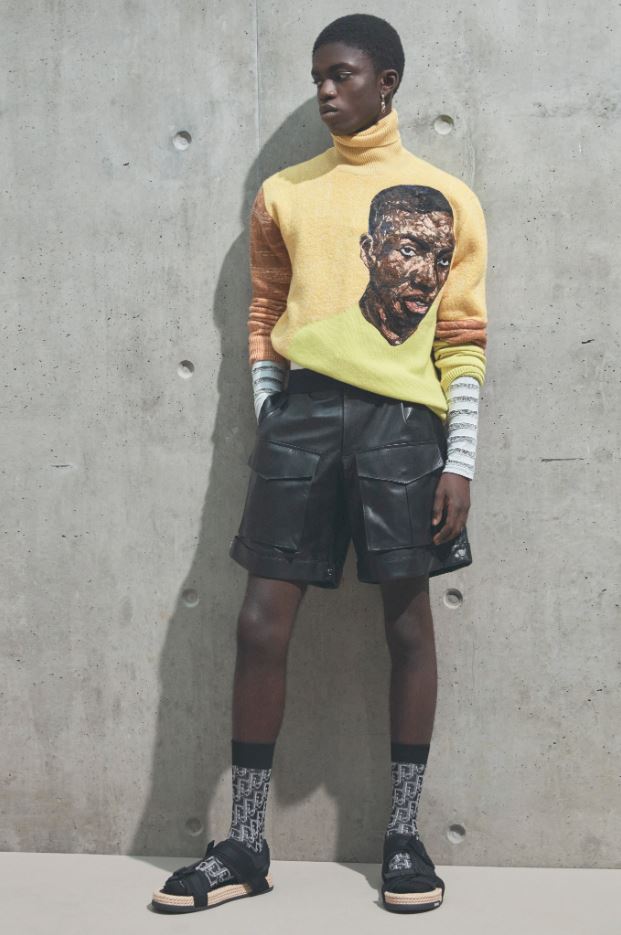 Usually Dior Men would create a large, buzz-worthy runway show – typical since Kim Jones took the reigns of the fashion house in 2018. This year is different, however. As with all of the other brands, the summer of 2020 has forced Dior Men to bring innovation and activism to the table. Let's not forget how the Black Lives Matter movement now holds corporations to a higher standard – rightly so. 
For this year's Spring 2021 Men's Fashion Shows, Jones partnered with Ghanaian artist Amoako Boafo to film a lookbook video with a quasi-documentary style beginning. The Ghanaian artist discusses his stunning huge-scale portraits of Black subjects—partly richly finger-painted. In fact, the whole video was a portrait by Jones of Boafo, and the clothing of the collection reflects that. 
The lookbook includes two intensely embroidered sweaters that transfer some of his finger-painted heads, which are skyrocketing in recognition among the art world. There are also more subtle allegiances to Boafo in the other looks: clothes saturated with uplifting color and print, including the classic ivy print, which was one of Monsieur Dior's symbols, Jones said.
The institution of Dior holds up nicely to the standards created by today's activist movements – it doesn't just feature a Black artist with nothing to back up its claim to fame. Apparently Boafo didn't want a royalty for himself, but instead chose to send help to build a foundation for young artists in Accra, Ghana's capital. According to Vogue, a donation made by Christian Dior (the sum was not specified) backs up Boafo's activism.
"The change needed right now is to support young people through college and training to give everyone equal opportunities," Jones said.
Dolce & Gabbana – Milan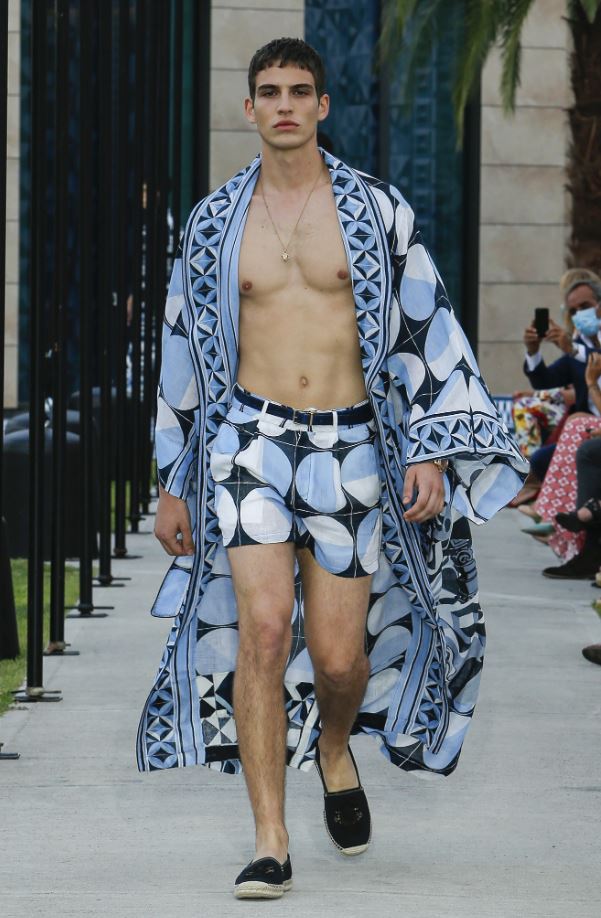 "I don't like the 'digital show' solution," said Domenico Dolce. "The fashion show cannot be substituted with something on a screen."  
This year, Dolce and Gabbana insisted on a live runway show, which they pulled off with a great deal of precaution and detail. The guests were temperature-checked and masked, sitting on very spaced-out benches. 
In fact, the show was conducted at Humanitas University for which Dolce & Gabbana has been funding medical scholarships since 2019. Among other endeavors, the future doctors began to study human's immune response to the coronavirus before it even hit Italy.
That fun fact aside, the fashion was, in my opinion, inspirationally sourced in a very typical manner. Much of it had to do with architecture. Dolce and Gabbana worked to infuse elements of the Parco dei Principi hotel in Sorrento architectural wonder into their collection.
Silk sarongs bore beautiful blue tiling details, and a rib-knit "wetsuit" (modeled with a hilariously small surfboard) followed. The rest of the collection, again, was pretty straight-forward: dressing gowns, pants, and shirting. According to Vogue, the ode to the Hotel was built around a preexisting 17th-century building designed to blend into a Mediterranean context.
Ermenegildo Zegna – Milan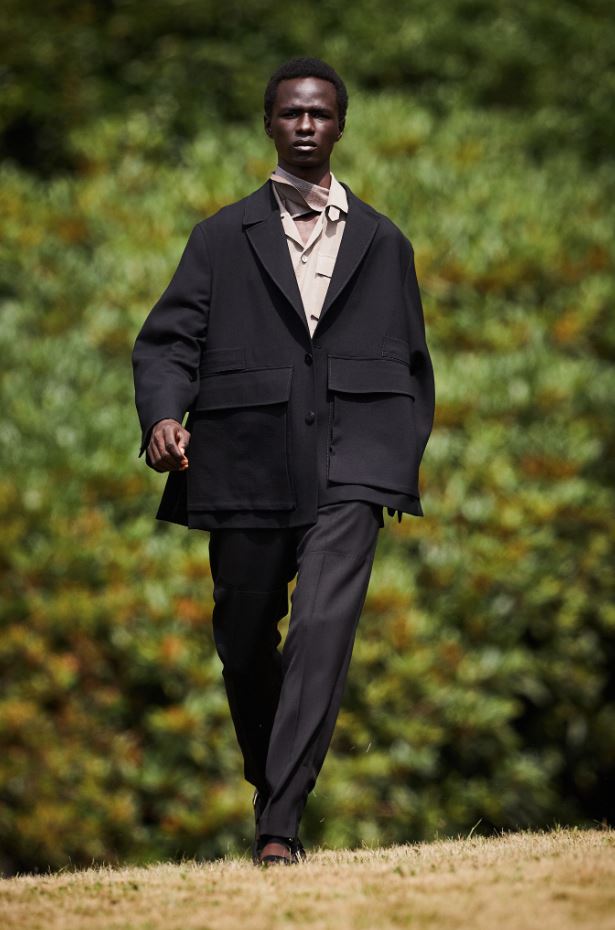 To begin discussing this collection, featured in Milan Digital Fashion Week, I'd have to begin by explaining the drone-shot video of a runway around the actual Ermenegildo Zegna mill grounds. This collection speaks onto itself – Clothes create our own personal environment, yet are manufactured in an industrial environment, inside of the environment we, as individuals, inhabit. Did you get that, or was it too much of a mouthful? 
Alessandro Sartori, the artistic director of Ermenegildo Zegna, wants to draw a connection between these hierarchical environments- the personal, the industrial, and the world we share. Through this collection, he shows a relationship that is not strained as one may think, but rather, mutually sustaining. 
The Ermenegildo Zegna headquarters in Trivero, Italy hosted the runway show, where models walked through the Oasi Zegna terrain, then through the logistics of the factories. Oasi Zegna, has become considered a nature reserve, and is where the company has planted half a million trees since its foundation in 1910.
Drones shot this exclusively digital event, following the models through a total of 3 kilometers. After the natural segment, the models rounded a corner into the fabric mill itself. The digital stream showed, not only the collection, but also the mill's interior containing wooden drawers holding antique fabrics, as well as the mass of spinning machines set to weave the fabrics of the future.
The finale was held on the roof of the mill, complete with a Zegna-branded chimney. The drone flew continuously skyward to reveal the huge facility and the countryside around it. The 42 models and cluster of backstage staff, including Sartori himself, looked tiny.
Now onto the clothes themselves: green tie-dye on leather bags and half-zip recycled cotton smocks were inspired by the shades and textures of the Oasi Zegna reserve. This connection to the land seemed to create pieces for both business and outdoors alike. The shirt-jackets (a hybrid) featured large vents on either side, almost as if to allow free movement. As were the hems of the pants worn below them.
Sartori said that he wanted the clothes to transmit lightness, freedom, and a sense of pleasure. 
"We want these garments to be kept for multiple seasons and multiple usage," Sartori said. "There is also meaning through construction, and care of fabrics and the environment."
According to Vogue, he is confident that soon the brand will hit a 50% raw materials recycling rate.
All photos courtesy of Vogue.com