Hot girl summer is still here. And, in New York City, there's an emphasis on the "hot." You've probably spent one too many weekends sitting in front of that second-hand AC unit, praying for the heatwave to end. But not this one. Here's five fun ways to stay cool in NYC this weekend, whether you want a luxurious night out, a free adventure, or even a beach day.
1. Mr. Purple Rooftop Bar and Pool
The Mr. Purple bar and pool in the Lower East Side is the perfect place to spend NYC's hottest summer nights. They're open every day from 4-11 p.m. and they offer snacks and desert along with an extensive selection of drinks. There's also a DJ. To get into the pool, you need to make a reservation on their website. It's pretty pricey though: each reservation has a $100 per person minimum attached. Unless it's Friday, when the minimum is $75. You can reserve a spot here.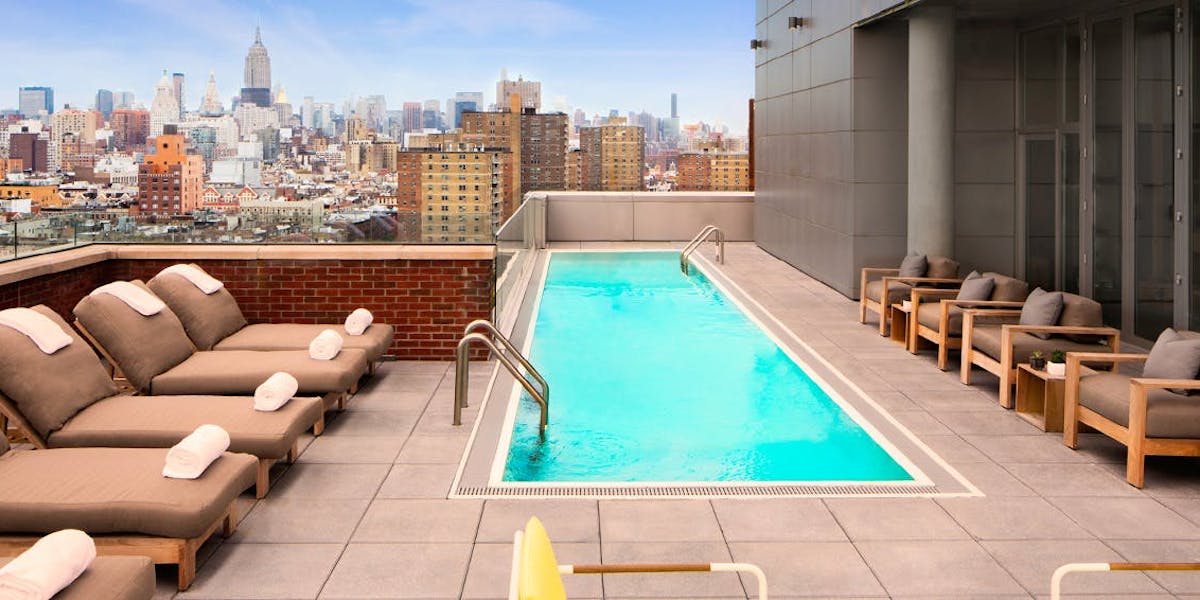 2. Downtown Boathouse Kayaking
For those who want a fun way to beat the heat, but don't want to break the bank, there's also free kayaking at Pier 26. Downtown Boathouse offers "free sit-on-top kayaks for public use," along with free instruction, changing rooms, and lockers. The only requirements? Listen to their instructions, stay within the bay, and come back in 20 minutes. You can get a reservation or just show up, but be careful– the kayaks fill up fast. You can sign up for a spot here.
3. True Sailing Cruises
Come sail away with True Sailing's NYC Classic Cruise, which will take you around the island in style with five of your closest friends. According to their website, the cruise will give you beautiful views of NYC's most famous landmarks, including the Freedom Tower, the Statue of Liberty, Governor's Island, and the Brooklyn Bridge. As you sit back and take it all in, the crew will provide you with drinks and snacks. You can either reserve the Sunset, "a sloop rigged 37 foot O'Day sailing yacht" for a two hour trip, or the Freebird, "a Gemini  37 foot sailing catamaran" for a 6-8 hour trip. The Sunset starts at $595 and the Freebird starts at $600. You can make reservations here.
4. The Beach at Dream Downtown
The Beach at Dream Downtown will give you a taste of paradise with their glass bottom pool, sand beach, lounges and cabanas. It's also got a full service bar and a menu full of beachy appetizers. To get in, you have to reserve either chaise lounges, which are restricted to groups of two, or a private cabana. They're expensive, too. Lounge reservations cost $80 Tuesday through Thursday and $100 Friday through Sunday. You can make a reservation here.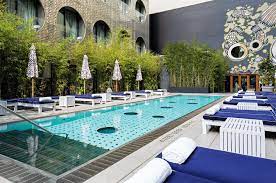 5. Misting Plaza at Flushing Meadows
Last October, Flushing Meadows renovated a "new misting plaza" at the Fountain of the Fairs, according to Time Out. Complete with "specialized jets," the plaza makes a cool cloud of mist that'll stop your heatwave sweat in no time. Overheated kids and panting dogs alike will love the plaza. Or, who knows, it might just be the perfect place to stop by on your way home. The park is open every day until 9.