Looking for a safe and unique way to explore the city this winter? Mrs. Maisel's Marvelous Tour of New York City has just what you need. Brought to you by On Location Tours, this tour takes guests to some of the iconic locations featured in the popular Amazon Prime series, The Marvelous Mrs. Maisel.
Not familiar with the show? No worries, this tour is more than just recognizable locations for Maisel fans, it is a trip back in time to 1950's Manhattan. POP Style TV was able to take a small preview tour, here's what you can expect.
Cruising through the streets of the city in a 1957 Studebaker Commander (that was actually used in all 3 seasons of the show), we started our trip with a look at Washington Square Park, a spot that is iconic in it's own right and was also featured on The Marvelous Mrs. Maisel. In season one of the show, our main character Midge stumbles across a rally protesting the proposal of a roadway through the park. This was in fact a real rally that happened in 1958, and the show does a great job of recreating what the scene would've looked like, cleverly transforming modern New York City.
This historical aspect is present throughout the entirety of the trip, this is a show based in the 1950s after all. Whether it's the site of a historic cafe, old comedy club, or a retro music store, the tour appeals to both diehard fans of the show as well as those who just want to get a taste of NYC's past.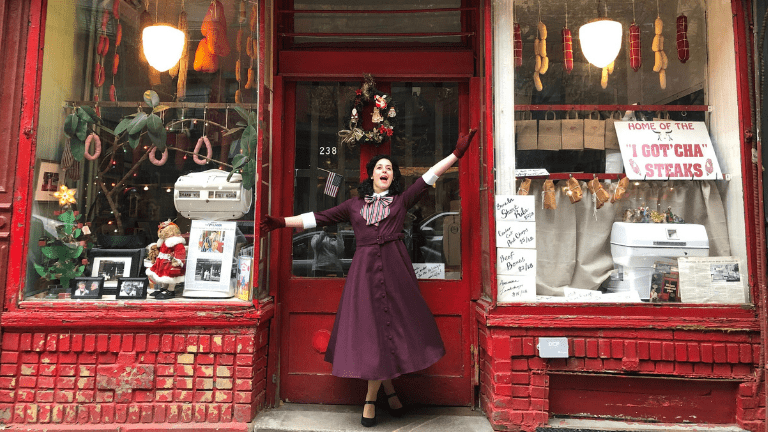 Although The Marvelous Mrs. Maisel makes some tweaks to ensure authentic looking sets, a step into any one of these East or Greenwich Village sites proves there is not much that needs to be changed. Each place visited feels like a step back in time, relics among a modern city.
One of these places is the Music Inn, featured in the show when Midge buys some comedy records. The Music Inn is a piece of history on it's own as one of New York's oldest continually-run music stores. Since opening in 1958, this shop has become home to a vast collection of instruments from a plethora of cultures, as well as plenty of records.
While we only got a small piece of what Mrs. Maisel's Marvelous Tour has to offer, there is plenty more to see. Interested in riding in style while seeing NYC from Midge's eyes? Check out booking options here!
Cover Photo: On Location Tours