Pop Style TV went backstage for Jay Godfrey SS16 Presentation.  Models were getting their hair and makeup done, while others took selfies and patiently waited for the show to start. The mood was "all white".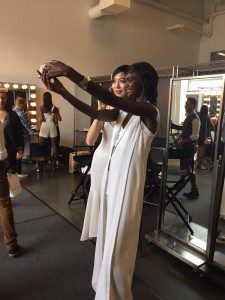 Late David Collins, who was an incredible British interior designer and architect, was the inspiration for this season's collection. Godfrey admired Collins' way of picking the "right blue", his way with texture and how he made the most beautiful white spaces.
He channeled David Collins into his entirely white collection that was modeled by women of color. However white isn't the only color he fancies. Saffron yellow, Godfrey say, is the most exciting color for him.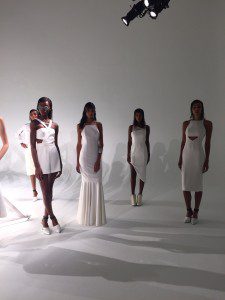 Challenge for this season was how to be deliberately limited to a white palate. Godfrey stated that he now looks at textures and style lines in a way that he never did in the past.
David Collins did things unexpectedly so his favorite pieces from his collection are made out of the most unexpected, stretch lurex tweed. Texture play will change how you look at tweed.
"When most people think of tweed, they think of Chanel or Ladies Who Lunch". Godfrey decided to add a twist to tweed with his culotte jumpsuit with cutouts and a slip dress with flounce that are both sexy and unexpected. Who would think of making a slip dress in tweed?
Spring 2016, here comes Jay Godfrey all in white!