Good vibes and bold designs have arrived in West Chelsea with the opening of the new Elizabeth Sutton Collection pop-up art gallery and active studio at 550 West 29th Street. Last weekend, on Sunday, November 12, Sutton and long-time partner TileBar celebrated the gallery opening by welcoming an intimate crowd of art lovers, tastemakers, and socialites to the gallery for an exclusive opening celebration.
Attendees marveled at the prolific artist's many paintings and prints were on prominent display – as well as her latest TileBar collaboration, the Meta Collection, a series of chevron-inspired glass tiles that marks the tilemaker and artist's fifth joint project to date. Sutton's new accessible rug collection with Rugs America was also on display. The event heralded Sutton and TileBar's joint exhibition at the 2023 BDNY hospitality design event in New York, November 12-13.
That evening, the gallery also played host to the Art Bodega Magazine November Cover Party, celebrating Jane Scher, and welcoming many of Manhattan's leading society figures. Well-heeled attendees included Jose Castelo Branco and Lady Betty Grafstein, Fashion Group International President and CEO Maryanne Grisz, fashion designers Loris Diran and Regina Kravitz, renowned commercial designer James Mansour, as well as Chance Spiessbach, Matthew Semino, David Hochburg, Marco Maranghello, Ian Shapolsky, Tijana Ibrahimovic, and more.
The Elizabeth Sutton Collection gallery space – which also serves as Sutton's active, live studio – is now open for visitors to observe Sutton practice her craft and refine works in progress. Her vast portfolio of pop-inspired fine art and product designs includes tiles, original artworks, prints, wallpaper, furniture, home décor, and fashion accessories.
"I am a New Yorker through and through – so to make my own mark on my home city with the opening of the Elizabeth Sutton Collection pop-up gallery in the world-renowned Chelsea arts district is truly an honor. At a time when the world needs hope and community more than ever, it is my wish that visitors to my open studio and gallery will experience the joy and positivity I convey through my art," says Elizabeth Sutton.
Bold, fun, and positive, Elizabeth Sutton is a force of nature. Only seven years after officially embarking down a new career path as a self-taught artist and designer, Elizabeth Sutton's striking patterns have effectively gone viral, riding a groundswell of organic interest and high-profile collaborations. Her colorful, kaleidoscopic tiles, wallpapers, interior accents, and artworks already adorn countless commercial and residential spaces, including Contessa, The Drake Hotel, Eden Rock St Barths, Rouge Room Las Vegas, One&Only Palmilla, Capital One, Pacaso, and The Fairmont. Sutton has also gained international renown for her Manhattan Park Pool Club design, and her deep stable of collectors includes Pitbull, Pippa Middleton, Iris Apfel, Paris Hilton, Karolina Kurkova, Kendall Jenner, Andrea Bocelli, and more.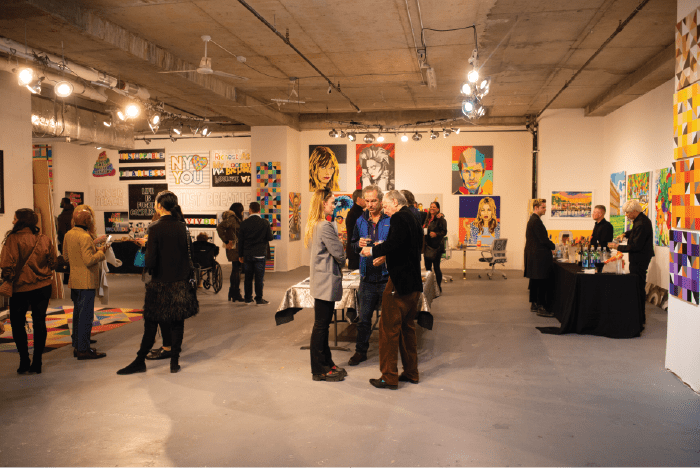 Elizabeth Sutton x TileBar
The Elizabeth Sutton Collection was TileBar's first-ever art-driven tile offering and currently encompasses five distinct tile collections – including the Arc, Art Geo, Wings, Timeless, and Meta Collections – with more to be announced next year. The versatile large format tiles present an array of intricate patterns and hundreds of unique lay options, crafted in marble, glass, and other fine materials.
Elizabeth Sutton's TileBar designs have garnered widespread acclaim and adoption in renowned hospitality venues, including Mario Carbone's Contessa Miami and the new Breakers Hotel in Long Beach, California, and won "Best in Show" at the Architectural Digest Design Show and the HD Expo.
Drawing inspiration from stained glass, the new Meta Collection reenergizes the classic chevron pattern with bold textural and tonal variations in a glossy 17 by 17-inch glass tile format. "I am thrilled to continue my partnership with TileBar and to offer my customers new and innovative ways to incorporate art into their homes through the use of tile," says Sutton.
"With the 'Meta Collection,' we are proud to continue our collaboration with Elizabeth Sutton," said a spokesperson from TileBar. "Elizabeth's innovative designs and artistic vision have consistently pushed boundaries and redefined the world of tile. We believe the 'Meta Collection' will inspire creativity and elevate spaces to new heights of sophistication." The 'Meta Collection' is now available for purchase on tilebar.com.
To explore more of Elizabeth Sutton's diverse fine art and design portfolio, visit her new West Chelsea gallery and studio at 550 West 29th Street, or visit elizabethsuttoncollection.com.
ABOUT ELIZABETH SUTTON
Elizabeth Sutton (b. 1989) is a powerhouse New York City based artist, designer, and entrepreneur celebrated for her bold, vibrant works and good vibes ethos. She is Founder of Elizabeth Sutton Collection, a global art and design brand renowned for its expansive portfolio of fine art, prints, fashion accessories, tiles, wallpapers, furniture, hardware, and furnishings for residential and hospitality design.
Sutton's New York City-based fine art and design firm shapes spaces and creates innovative experiences for clients and partners seeking to make a statement—and have a little fun. Recent Elizabeth Sutton Collection collaborations include TileBar, Sprayground, Janovic, Bloomingdale's, Serendipity Restaurant, Pacaso Homes, One&Only, and many more. Her designs feature in high-concept commercial and residential spaces throughout the country and abroad.
Elizabeth Sutton has quickly emerged as a leading voice in the industry – winning multiple 'Best in Show' awards at designer showcases (including the Architectural Digest Design Show and the HD Expo), and serving as a judge for the 23rd annual NEWH Golden Palm Awards. She was dubbed a Forbes "Artist and Designer To Know Right Now" and was nominated on the inaugural Forbes 'Next 1000' List of "Upstart Entrepreneurs Redefining the American Dream."
Her award-winning work has garnered acclaim in media, high-profile show houses, and ongoing exhibitions, including Eden Rock, St. Barths – and her bright, bold aesthetic has attracted a stable of prominent clients and collectors which includes Pippa Middelton, Iris Apfel, Pitbull, Andrea Bocelli, and Kourtney Kardashian. Sutton's products and designs have also been seen on HBO's "And Just Like That" documentary, "Do Revenge," Netflix's "Cooking with Paris," "Melissa Wood Health," and Bravo's "Million Dollar Listing."
ABOUT TILEBAR
TileBar is an innovative industry leader changing the way consumers and trade customers shop for tile. As a national interior design resource, we stock more than 6,000 unique, ready-to-ship tiles for projects of any size or scope. We are known for our competitive pricing and exceptional customer service. TileBar is driven by creativity and a passion for developing long-lasting relationships with both buyers and suppliers, consumers, and trade partners. We inspire designers, builders, architects, and homeowners—and they inspire us.