Whether you love or hate them, Crocs have been around for ten years and with more than four hundred stores around the world, they don't seem to be going away anytime soon. Yesterday the well-known shoe brand hosted Crocs Funway Runway at the rooftop of the Holiday Inn to launch their new line. Pop Style TV was there to cover the funky outfits, performance by the Aqua Lilies, and of course- the new designs of Crocs.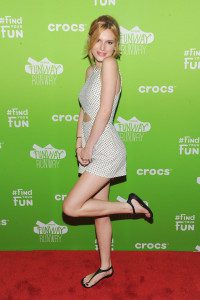 Actress Bella Thorne kicked off the show wearing a summer jumper styled with her favorite pair of black Sexi Flip Crocs sandals. The seventeen year old, who is in town doing press for her new TV and film projects, was overheard talking to guests claiming crocs are her favorite summer accessory. The outfits worn by the models following Thorne became more aligned with the name of the runway show. From an astronaut, cowboy, scuba diver to even a sunflower, Crocs matched each new design of crocs with a creative outfit. This new line of crocs featured brand new styles allowing the brand to reach a larger consumer audience. After the show guests enjoyed a unique synchronized swimming performance by the Aqua Lilies, also decked out in the latest styles of crocs while dancing gracefully through the water to pop songs. Crocs really meant it when they titled the event Funway Runway, as throughout the evening there was also an open bar. Pinot Grigio, please!
After the performance the models interacted with the audience demonstrating the new #FindYourFun campaign, which launched in April and is being executed in the U.S., U.K., Germany, Japan, China and South Korea. It encourages consumers to #FindYourFun through innovative imagery featuring Crocs' iconic clog. The Crocs Funway Runway experience was built in collaboration with Twitter, and allows users to style their own water slide fashion show by choosing a model, outfit, Crocs shoes and music track. Once all selections are made, the user gets a 30-second video of their model splashing down a water slide, which they can share on Facebook and Twitter.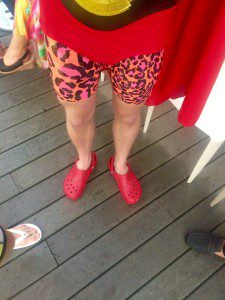 At this point a little tipsy, I was too busy staring at the model (his name might have been Steven) in front of me to be paying attention to the one on the app going down the slide. The evening ended with guests being surprised with wonderful gift bags but to my disappointment, my gift bag did not include Steven's number.
-Jamie Valentino
*photos: Bella Thorne photos by Craig Barritt/Getty Images for Crocs