If you are looking for a truly special and unforgettable dining experience in New York City, look no further than the Bateaux New York Premier Plus Dinner Cruise. With its stunning views of the Manhattan skyline, impeccable service, and delectable cuisine, this luxury dinner cruise is the perfect way to celebrate a special occasion or simply enjoy an unforgettable night out in the city. POP Style TV visited twice. After a delightful Fall 2022 tour we had to go back again for a night of fine dining and gorgeous views.
The Bateaux New York Premier Plus Dinner Cruise sets sail from Chelsea Piers on the west side of Manhattan, offering guests an unparalleled vantage point from which to take in the city's iconic landmarks. As you board the boat, you'll be greeted with a glass of champagne and ushered to your table,  while enjoying piano tunes. Seated in comfortable chairs with plenty of room to enjoy the view, we were lucky to have a window table so it certainly added to the experience.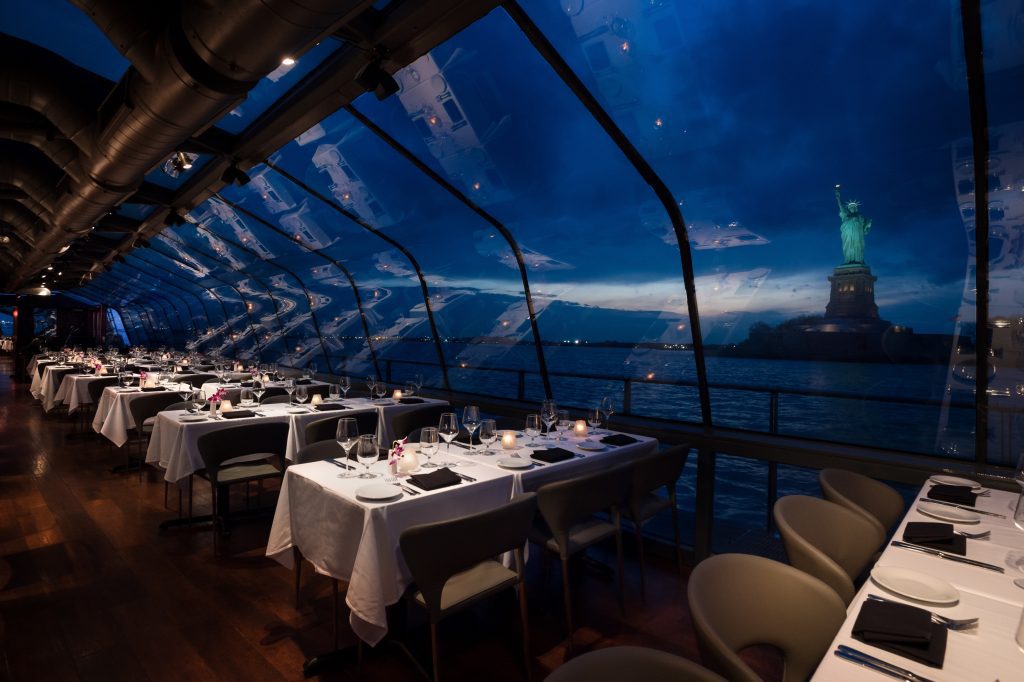 People come to the boat to enjoy unbelievable experiences. From the scenery, live band, food and service. We create great memories. For lot of our tourists it is the highlight of the stay in NYC. Even New Yorkers that are born and raised here in NYC tell me they never saw the city so beautiful. Manhattan by night is magic.

-Mr. Swan, restaurant manager
Once the boat sets sail, we were treated to a four-course meal prepared by the boat's skilled chef. You can choose from a range of dishes that showcase the best of contemporary American cuisine. From fish to perfectly cooked meat dishes to decadent desserts, there's something for everyone on the menu.
We tried delicious signature seafood chowder soup and beet and baby arugula salad to start.  For our main course we had one of the best braised beed short ribs with Fresno pepper demi-glace for our main course. Our amazing server, Nichy made the night even more special. He kept our drinks flowing and even brought us an extra dessert, a decadent New York style cheese cake.
As the boat glides up Hudson to Intrepid museum then towards East River, under the Brooklyn Bridge, Manhattan Bridge and Williamsburg Bridge and past the sparkling lights of the city skyline, making a last stop by the Statue of Liberty. It is a great photo op. You'll be treated to an ever-changing panorama of one of the world's most beautiful city. With floor-to-ceiling windows offering unobstructed views from every table, you'll be able to take it all in from the comfort of your seat.
As the night was coming to an end, even a marriage proposal happened. A lovely couple from Portugal, Paula and João got engaged in front of our eyes. The whole restaurant cheered. It was a very happy moment we shared with them.
In addition to the stunning views and exceptional dining, the Bateaux New York Premier Plus Dinner Cruise also offers live entertainment to enhance the ambiance. You'll enjoy a variety of music throughout the night to keep you in high spirits or to show your moves on the dance floor.
Whether you're celebrating a special occasion or just looking to indulge in a truly exceptional dining experience, this luxury dinner cruise is sure to exceed your expectations. From the impeccable service to the delicious cuisine to the stunning views, it's a night out in New York City that you won't soon forget.
For more information on the Bateaux experience and all of City Cruises' dining, sightseeing and private event offerings, please find visit CityCruises.com
About City Experiences
City Experiences represents Hornblower Group's expansive portfolio of water- and land-based experience companies and includes two sub-brands: City Cruises and City Ferry.  City Cruises companies operate dining, sightseeing and private events across 22 destinations in the U.S., Canada and the UK.  City Cruises companies also operate cruises on behalf of the National Park Service and the Niagara Parks Commission and currently hold service contracts to provide ferry service to the Statue of Liberty National Monument and the Ellis Island National Museum of Immigration, Alcatraz Island and Niagara Falls.  City Ferry companies offer specialized knowledge and expertise required to transport passengers, vehicles and other cargo safely across inland and coastal waterways, serving as operator of NYC Ferry and Puerto Rico ferry system, among others.  City Experiences' portfolio of companies also offers a range of water- and land-based experiences including shore excursions, partner-offered experiences, multi-port packages, with companies including Venture Ashore, Niagara Jet City Cruises, Walks and Devour Tours.  For more information visit cityexperiences.com.