POP Style TV visited a very special restaurant with absolutely delicious food, great atmosphere and a charming host – Parma Nuova! Located in New York City on Upper East Side, it is a historic location since original Parma restaurant was first opened in 1977 by Joe Piscina. Those familiar with rich, Italian food scene in New York City know that lots of best Italian restaurateurs who now own well known restaurants worked at the original Parma. One could say there is a "good juju".
Giorgio Manzio, who is the current owner decided to carry on the legacy:
" I won't let it die. Back in the 80` Parma was a very hot spot, all the very famous people from the movie industry, fashion and many politicians used to eat at Parma. This is the reason why I kept the name and the phone number, the strong name recognition" . 
Mr. Manzio was born in Sicily and even though it is the biggest Mediterranean Island it felt too tight for him. He started working as a sommelier and a server on a Princess cruise line and later on, on the famous Queen Elizabeth 2 cruise line until he landed in New York City in the 90`s. His resume includes Le Cirque, Da Silvano and La Masseria, where the dream of him owning a restaurant was realized. They partnered up and Parma Nuova now proudly operates.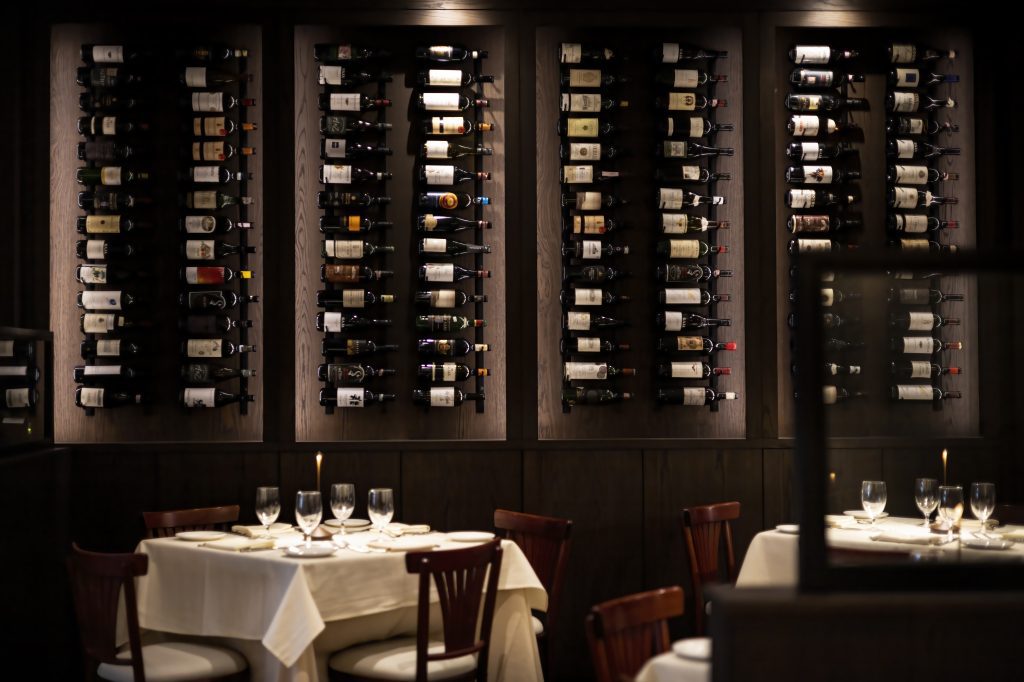 Since many items on the menu look delicious we needed to open up our appetite with aperitivo. Negroni and Vesper Martini were well made and gone quickly so Giorgio immediately sent us some flavors of Parma. Located in the Emilia-Romagna part of Italy, Parma region is famed for Parmesan cheese and Parma ham. What is special is that Giorgio very thingy slices prosciutto di parma, in front of the table, which is very unique to this restaurant. Oh it absolutely melted as we tasted this delicious treat along with some traditional crispy fried zucchini Chef Pino style and parmigiano cheese. Well known executive Chef Pino Coladonato, incorporated some of his well know recipes along with some Parma inspired dishes. We started with grilled baby octopus and cuttlefish with broccoli rabe on a bed of fava beans puree which is a great paired with a glass of dry Pecorino, white whine.
There is no way of visiting an Italian restaurant without trying their pasta, so we ordered Tonnarelli Cacio & Pepe "Alla Parma". There is a traditional recipe for this dish but Parma had to give it a "Parma twist". Homemade fresh spaghetti with parmesan cheese and crushed pepper sauce served in a parmesan crust. We were floored by the rich flavor, unique presentation and absolute delicacy. This is a plate you keep coming back for and dream of it in between visits. When you visit "Parma Nuova" it is a dish not to be missed.
We decided to try chunks of boneless and skinless chicken with Italian sausage, mushrooms and roasted peppers in a red wine sauce, and a veal osso buco in saffron risotto special. Highly recommended! Don't forget the bone marrow.
Of course we squeezed in the dessert too. Traditional ricotta cheese cake is Chef Pino staple therefore you should always have it but if you do not try delizia al limone, lemon glazed custard sponge cake, you would miss out.
We asked Giorgio what is his idea of perfect dining experience? With a smile he responded:
It is one in which I picture myself seating in a restaurant having dinner with family, friends or a date and what my expectations would be. My father taught me that using a metaphor if I ever wanted to be a great cop I had to start thinking like a thief and that's exactly what I do. I started thinking like I am a guest in my restaurant. Starting from answering the phone, when guests call and make a reservation all the way to the greeting at the door, accompanying guests to their table, and so on…… until we say goodbye, or better Arrivederci which in Italian means see you again ……till next time. The quality of the food has to be checked and rechecked constantly. The presentation, every detail counts, and most of all my presence. This is a hands on job, you cannot let others do it for you, that's my policy. Top quality food, fair prices, friendly, yet professional service. You don't want to walk into a museum…… guests need that warm and sincere greeting. I can provide all of that. 
Arrivederci Giorgio, thank you for such a great experience.
Parma Nuova | 1404 3rd Ave | New York, NY 10075 | Phone: (212) 535-3520