It's official: NYC is back, and this year promises to be better than ever. The city is opening back up, and there are plenty of exciting things to do outside this summer, whether it be going to a festival, a brand new park, or a cool rooftop. If you're a tourist looking for something to do in the city or just a local looking for a COVID-safe way to have fun, these outdoor spaces will be perfect for you.
1. Little Island at Pier 55 In NYC
Little Island at Pier 55 is NYC's newest and, probably, coolest park. Designed by Barry Diller and architecture firm MNLA, the park's website says it is meant to be "an immersive experience with nature and art." It looks it too, with a sleek design modeled after wood piles left behind after Pier 54 was destroyed by Hurricane Sandy.
And it doesn't just look pretty. There's lots to do there, including performances in the park's amphitheater, art workshops for kids and families, and much more. There's even food and drinks from local vendors or from their own restaurant, Bites and Sips. They're requiring visitors to reserve entry time slots, but it's free. There's no limit to the length of your stay. To go, all you need to do is visit their website and reserve tickets 30 minutes prior to going here. From 6 a.m. till noon, though, no reservations are necessary.
2. The GREEN at Lincoln Center
Another park, The GREEN at Lincoln Center, just opened as well. It was previously the Josie Robertson Plaza, until Mimi Lien, a "celebrated set designer," transformed it into a "participatory public art installation," according to their website. The GREEN is part of Restart Stages, which is the "Lincoln Center's initiative to help kickstart the arts sector and New York City's revival."
As advertised, the park is a bright shock of green in the middle of the city. It has chairs, benches, and arches covered in recyclable synthetic grass along with a sleek fountain in the middle. Like Little Island, it will feature live performances, workshops, and plenty to eat and drink. Masks are required for those ages 2 and up, but no appointment is necessary. The park is open every day at 8 a.m. until September 2021.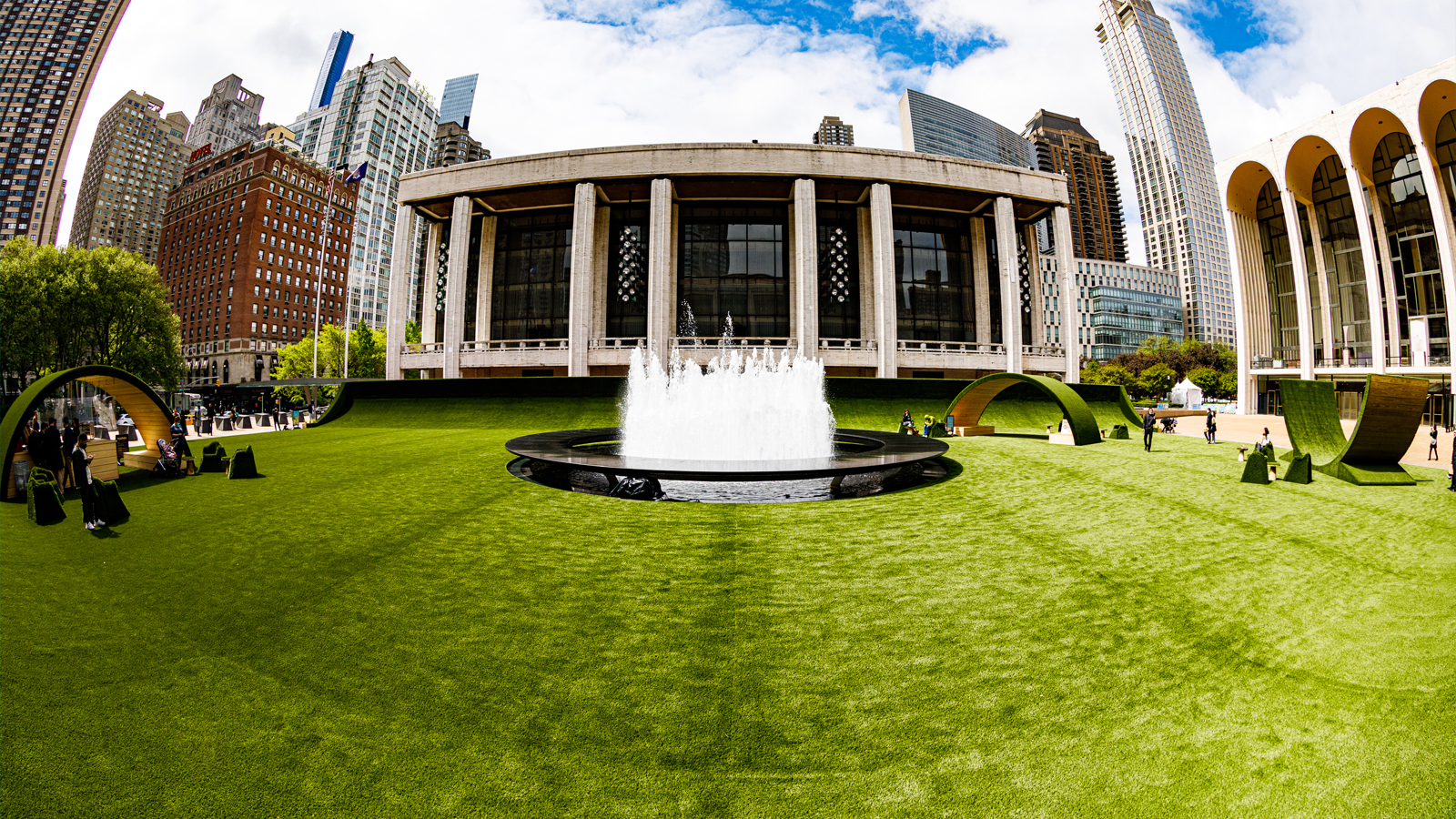 3. Radial Park's Drive In Theatre NYC
Radial Park at Halletts Point became well-known for its "Broadway At the Drive-In" series, which has featured Phantom of the Opera, Purple Rain and Rocky Horror Picture Show. In the experience, the movie version is played, accompanied by live performances by Broadway performers. There's parking spots available for those who have cars and picnic benches for those who don't. According to their website, they also have movie theatre-style snacks and themed food trucks at every performance. One ticket gets you one parking spot or picnic bench, and you can bring up to four guests with you. General admission tickets for either option are $125 and premium tickets are $150. They're now featuring The Blues Brothers every Friday and Saturday until June 26. You can buy tickets here.
4. Sea the City Hot Tub Boat Tours
Sea the City's hot tub boat tours, which went viral on TikTok, feature a tour around the city from a hot tub. It's pretty, but a little pricey, starting at $449 for a weekday tour with two people, and an additional $109 for each additional person. Private tours with up to 20 guests start at $2,199. Tours are 90 minutes long, traveling along the Hudson River with "breathtaking views of the Manhattan skyline," according to their website. Guests over 21 can bring beer or wine, and the tour provides coolers, ice, and cups free of charge. Each boat has a bathroom and changing room and towel rentals are available. Tickets are available here.
5. Roosevelt Island Tram Ride
For those who want a great view but don't want to break their wallet to get it, the Roosevelt Island tram ride is perfect. For only $2.75 (the same as subway fare) each way, riders get a breathtaking view of the city. The tram's website says it runs every 7-15 minutes and travels from 59th Street and Second Avenue in Manhattan to Tramway Plaza on Roosevelt Island. To pay, passengers use their MTA MetroCards, which are available for purchase at the Tramway Plaza. They're open Sunday through Thursday from 6 a.m. till 2 a.m. and until 3:30 a.m. on Friday and Saturday. No reservation is necessary.
6. The Greens Rooftop at Pier 17
At The Greens rooftop at Pier 17, (not to be confused with The GREEN, above) summer backyard meets country club-style service. A $20 reservation fee gets you a mini lawn area, complete with an umbrella, love seat, lounge chairs, and contactless food and beverage service. During dinner are brunch, however, the lawns are $40 to reserve. You can have up to eight guests, and you can't bring any outside food or drinks. New reservation time slots are released every Monday at 10 a.m. and you can reserve yours here.
7. The Edge
The Edge observation deck is, according to their website, the highest outdoor sky deck in the Western Hemisphere at 1,100 feet in the air. It has a 360 degree view of the city, and its angled glass walls will make you feel like you're flying. It's the perfect place for a new Instagram picture, and you can also get food and drinks from the Edge bar. General admission starts at $36 per adult, and there's a $2 discount if you're a NYC resident. You can buy tickets here.
Cover photo Jetsetter