There are key accessories and pieces  that have stood the test of time and decades later they still set powerful impressions. Here are the key pieces and accessories that we think are essential
Little Black dress
Who would have thought that a garment color that used to be exclusively associated with grief and religious attire is now one of the most elegant and safe fashion statements? Chanel introduced what we know now as the Little Black Dress, LBD, in the 1920's. Originally made with velvet or georgette chiffon, this piece is the smartest option for evening and cocktail dresses due to its simplicity, versatile length and the chic message that communicates.
Examples of fashion and luxury brands that make powerful LBDs include Versace, Prada, Vivienne Westwood, Givenchy, and Valentino.
Jewelry
A monochromatic outfit can be seen as plain, but it can be elevated with just the right jewelry. Pearls, especially drop earrings and necklaces are your shiny equivalent of the LBD. A single or double strand pearl necklace turns whatever you are wearing into pure elegance.
One often overlooked piece of jewelry is a brooch. You see brooches on royals and high society, but anyone can stand out with one. Just like pearls, it adds sparkle to your outfit whenever you want to be minimalistic but impressive.
White shirt
Shirts, t-shirts, and polo shirts in White, like the LBD, are essentials that you need to always have in your closet. These pieces are equally important for all genders. Easy to match,  dress up or down and several shapes to experiment a little. White t-shirts were undergarments that became workwear. As decades passed, white shirts became popular thanks to Chanel and James Dean, today it is a minimalistic, chic piece of garment.
A few fashion brands that have some great white shirts are  Sunspel, The Row and Theory.
Navy Blazer
Navy blazer is perfect for the office, cocktails, brunch with friends, ideal for those days that you do not go straight home after work. Complete your look with a blazer, pair of jeans, white sneakers, comfy no? For blazers check Thom Browne, Ralph Lauren, and Balmain.
Leather Jackets
Leather jackets almost always enhance your presence, however the most stylish and versatile are biker and bomber jackets!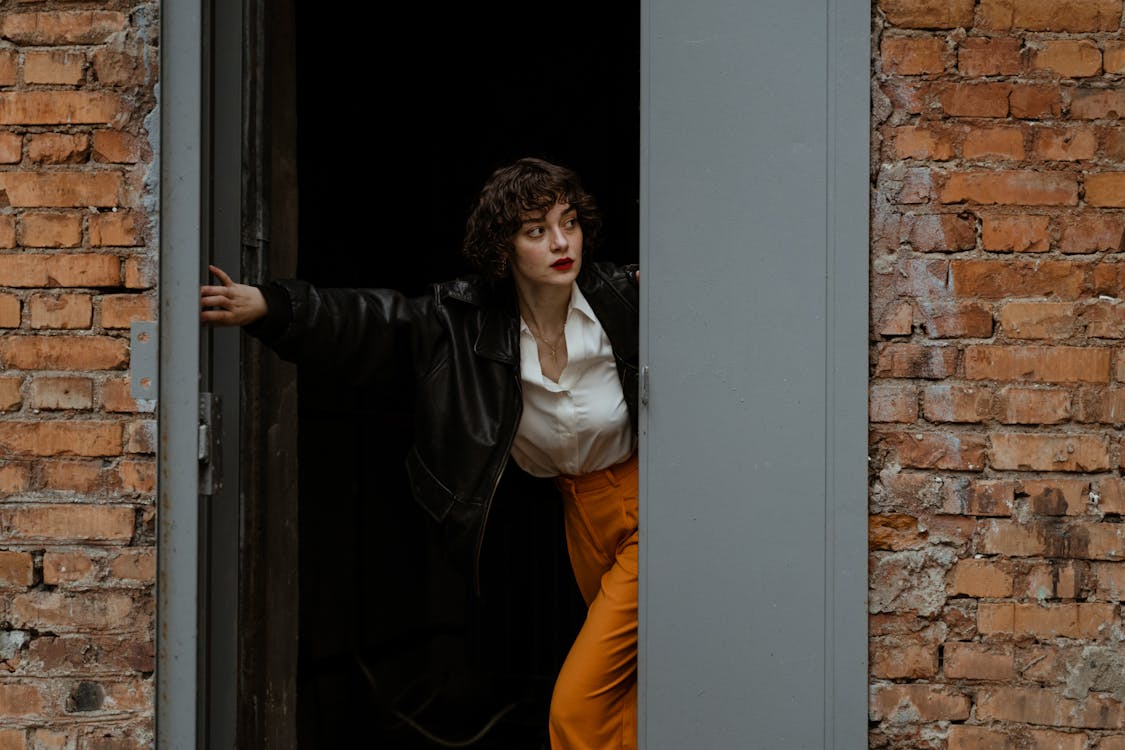 Leather Jacket
Bomber jackets are usually more minimalistic, less pockets and more elegant. Brands to check out for leather jackets include Saint Laurent, Tom Ford, and Levi's.
Dress Pants and Denim
Just like a LBD, black dress pants are a safe option when in doubt. Celine and Alexander McQueen have some good selections.
Dark colored jeans are more versatile than they look. You can literally run from home to work and then to a dinner date, since they are elegant, comfortable, and usually a bit elastic. When buying jeans, choose the right pair for your body type and the statement you want to make.
Levi's is always on top of the list, but you can also check Madewell and Mango.
Smaller Key Accessories
Choosing the right pair to your head shape will make you stand out and send a cool vibe. A few luxury and fashion brands to check include Ray-Ban, Gucci, and Tom Ford.
Perfume
The last accessory we recommend is an invisible one: a signature perfume/cologne. Scent tell stories and leave impression on people, so make sure to pick one that goes with your skin; never buy a fragrance without trying it first. Brands like Guerlain, Chanel and Acqua di Parma make excellent fragrances.
What image do you want to communicate?  For dates, dinner parties and special occasions, do not forget your LBD, pearl accessories or a navy blazer .  To highlight your face, wear a white shirt and set a powerful impression right from the start with a good fragrance.