The VMAs have been the site of some of pop culture's most iconic looks, performances, and moments since the first ceremony in 1984. Despite being in the midst of a pandemic, the show must go on, and this year's ceremony aired on Sunday.
Usually hosted in a packed arena, things looked a bit different this year. However, this wasn't a glorified Zoom meeting. The show was filmed all over different spots in New York City, with many performances looking like music videos. Although none of the show appeared to be live, it was fun nonetheless.
In more recent history, the VMAs have certainly not been the powerhouse show they were once known as, with the 2019 ceremony hitting an all time ratings low. Outlets like Huffington Post have suggested this decline may come from a lack of diversity, credibility, and celebrity. There could be some truth to this, as the show hasn't had many huge performers in recent history. This year's lineup is certainly one the better ones of the last few years, with performances and appearances from Lady Gaga, Ariana Grande, and The Weeknd.
Although their options were limited, the VMAs put together a solid slate. Here are some of the best fashion and music moments from the night.
Fashion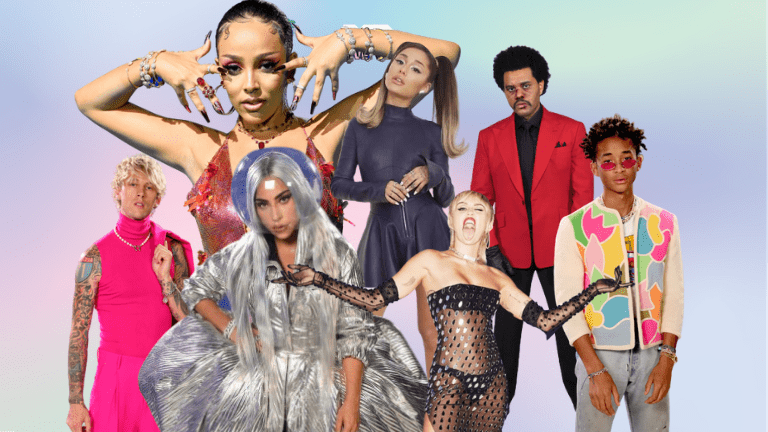 For those thinking there wouldn't be a red carpet this year, the VMAs surprised us. It certainly wasn't the packed carpet we're used to, but stars still showed up in some great looks.
Machine Gun Kelly, who had a solid pre-show performance and snagged a moon man for Best Alternative was dressed head to toe in hot pink. His mock neck shirt, with matching jacket and trousers was complimented nicely by a simple pearl necklace. Jaden Smith was another man in attendance that didn't settle for your usual boring suit look. Jaden kept it casual but cool with a color blocked blazer, light wash jeans, and chunky sneakers.
Doja Cat looked absolutely stunning in her red carpet look, a short metallic red dress with a deep-v, fringe, and floral accents. Her accessories were everything, with layered rings, bracelets, a long jeweled necklace, and big hoops. It all came together with some bold pink eye makeup and a long braid down her back.
Of course if Lady Gaga is attending the VMAs, all eyes are on her. Some of her most iconic fashion moments have come during the VMA awards – like the unforgettable meat dress. Her red carpet look was classic Gaga, complete with a fishbowl on her head. The looks didn't stop there though, as she had several outfits throughout the night whether she was performing or accepting awards. She wore multiple elaborate face masks as well. One great moment came during an acceptance speech in which she wore a silver bedazzled body suit, matching face mask, and a long white fur coat.
Performances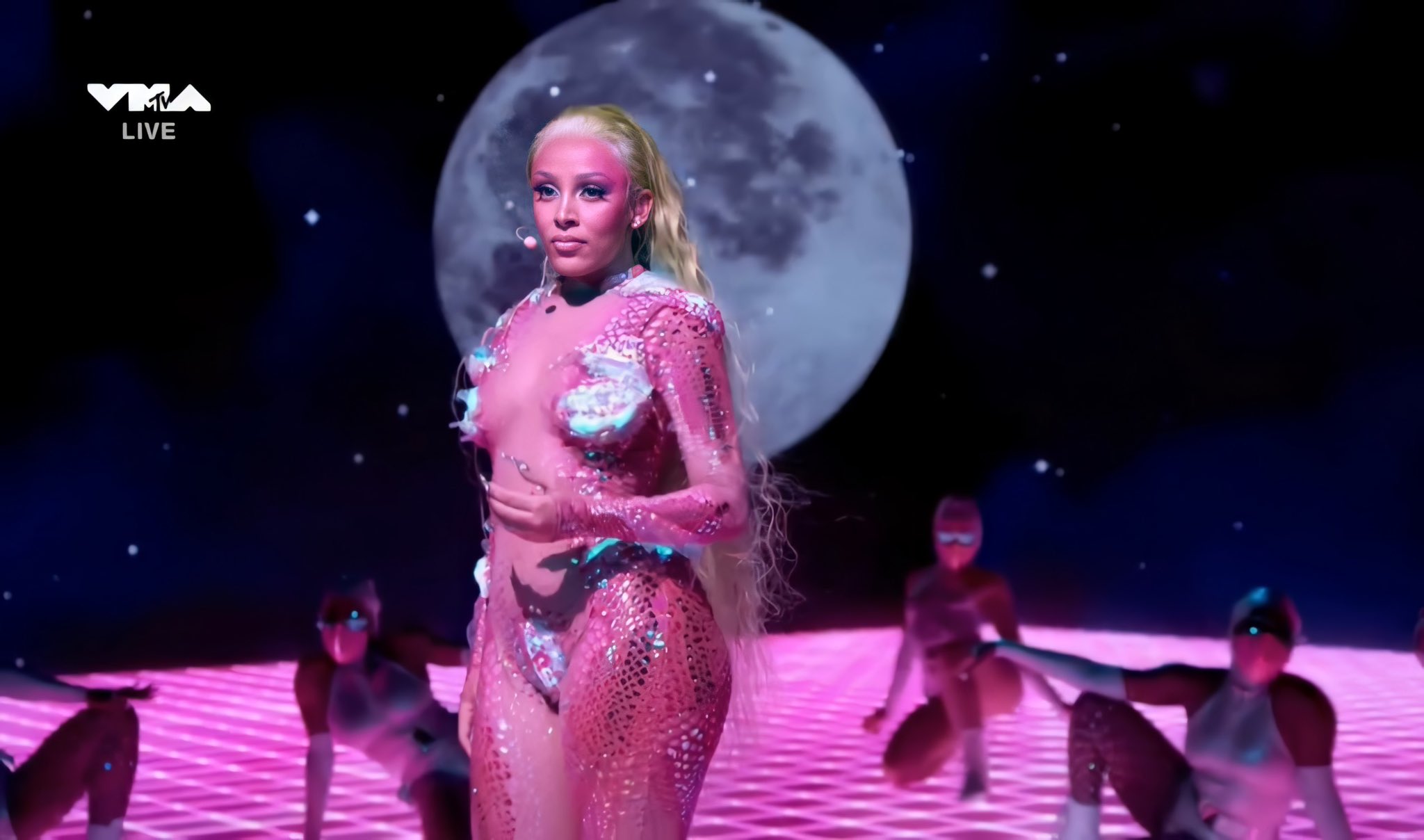 Performances were the highlight of the ceremony and these artists did not disappoint.
The Weeknd opened up the show performing his hit single "Blinding Lights" from a rooftop over NYC. With a spectacular light show, smoke, and a helicopter circling him, it was controlled chaos in the best way. His vocals were stellar, and it was an electrifying way to begin the night.
Miley Cyrus also gave a performance of her newest single "Midnight Sky." She started off simple, with a microphone stand, a black dress and intense red and blue lighting. It culminated in her walking the steps to a huge disco ball, which she used to recreate the iconic image from the music video for her 2013 smash hit "Wrecking Ball."
K-pop group BTS also had their first ever VMAs performance, all the way from South Korea. They performed their newest single "Dynamite" which broke records for YouTube's biggest music video premiere just a couple weeks ago.
One of the most anticipated performances of the night was Lady Gaga who was also joined by Ariana Grande during her performance. With an elaborate set, killer costumes, and incredible vocals, Gaga and Grande gave what everyone expected of them and more.
Arguably the best performance of the night, Doja Cat sang her two hits "Say So" and "Like That." Starting off with a retro MTV News announcement, the audience was then transported to a futuristic set with Doja in green hair and a sparkly body suit. The visuals for this were captivating, with bright blues, pinks, and greens illuminating the room.
Although none of these performances could be done on a standard award show stage, that actually heightened them, challenging the artists to give captivating visual performances to compensate. What we got were some memorable looks and sets.
Awards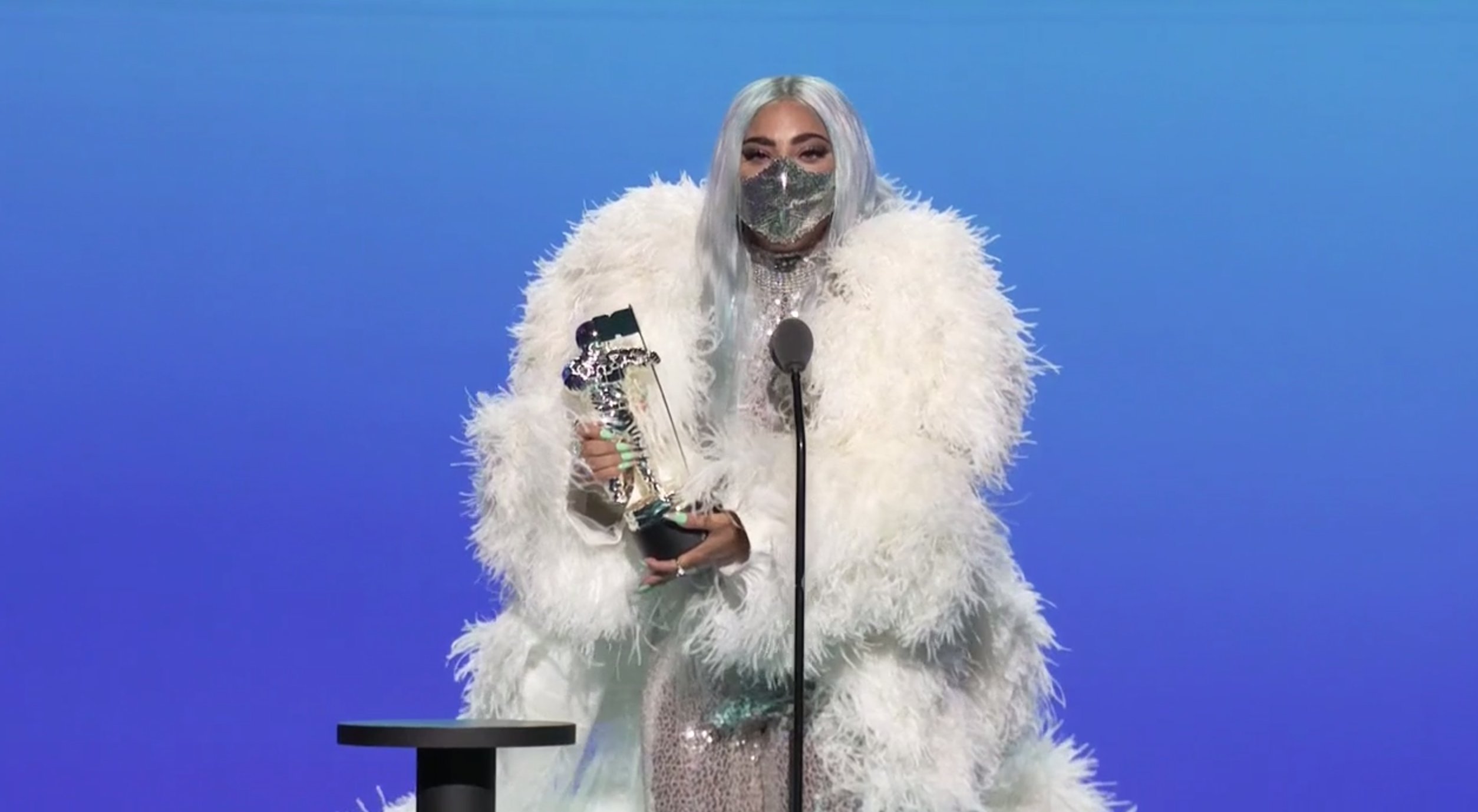 In terms of awards, this was truly the night of Lady Gaga. She received the show's first ever Tricon Award honoring her for her accomplishments. She also received Artist of the Year, and accepted two awards for "Rain on Me", her collaboration with Ariana Grande.
The Weekend also walked away with the night's biggest award. His song "Blinging Lights" took home Video of the Year. His acceptance speech was short and pointed, calling for justice for Jacob Blake and Breonna Taylor in a simple yet memorable way.
Pop superstar Taylor Swift also made a cameo, with a video acceptance speech for the award for Best Direction, which she won for her video for "The Man."
Best New Artist went to Doja Cat, and after that performance it's no wonder why. Her catchy music and stage presence proves she's here to stay. Megan Thee Stallion was another female hip hop artist that came out of the night a winner, winning Best Hip Hop for her hit song "Savage."
The VMAs certainly looked different this year, but props to MTV for putting on a good show given the circumstances. Perhaps this format will become the new norm for award shows for the foreseeable future. If performances continue to be this elaborate and captivating, it will be a treat for audiences.
Check out the full list of winners here.