Six YouTubers and six TikTokers faced off in boxing matches Sunday. It was just like the other influencer boxing events we've seen this year: they all came away bruised, sweaty, and millions of dollars richer.
Social Gloves' Battle of the Platforms boxing event took place less than a week after another big pay-per-view boxing event. The weekend before, infamous YouTuber Logan Paul went head to head with equally (albeit, for much different reasons) infamous professional boxer Floyd Mayweather Jr.
Paul and Mayweather went eight rounds without a knockout, a judge, or a declared winner. The New York Times called it a "a moneymaking spectacle pandering to the general public." Other news outlets called it much worse. 
But, pandering or not, there's no denying that the fight made some serious money. USA Today said the fight "sold one million pay-per view buys," which cost $49.99 each. Both Mayweather and Paul were already multi millionaires.
Paul started the influencer boxing trend when he and fellow YouTuber KSI fought in Manchester in Aug. 2018. He was probably inspired by Mayweather himself, who fought MMA Champion Conor McGregor one year earlier. Mayweather and McGregor reportedly each brought home $100 million.
Paul and KSI's fight ended in a draw, which prompted a rematch, which KSI won. Jake Paul, Logan's younger brother, fought KSI's younger brother Deji in the undercard and won by technical knockout. Jake Paul went on to box former MMA fighter Ben Askren in April, which he also won by knockout.
Neither of the Paul brothers competed in the YouTubers vs TikTokers event, though. The main card featured family vlogger Austin McBroom and former Sway House member Bryce Hall. The other matches are AnEsonGib vs Tayler Holder, Deji vs Vinnie Hacker, DDG vs Nate Wyatt, Faze Jarvis vs Michael Le, and Tanner Fox vs Ryland Storms.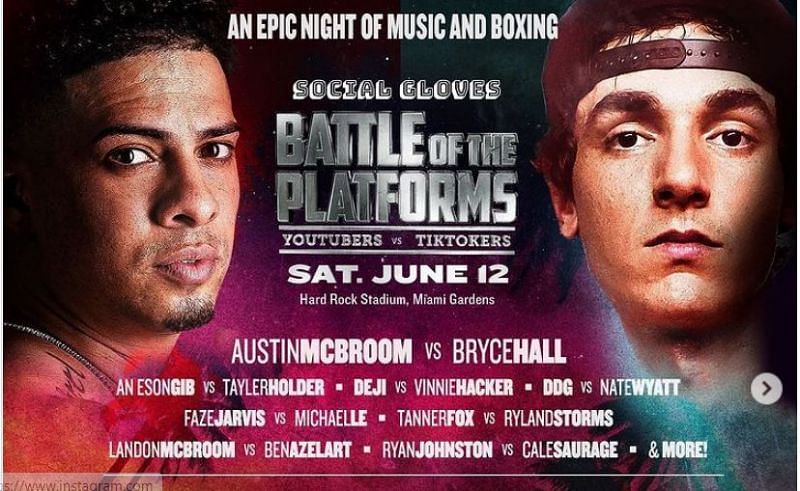 It also had performances from DJ Khaled, Lil Baby, and Migos. As for the fight results, YouTubers beat the TikTokers 4-1. Vinnie Hacker was the only TikTok star to win his fight and AnEsonGib vs Tayler Holder ended in a draw. But it was probably still worth it; Pay-per-view tickets were $49.99 each and, according to Distractify, both Hall and McBroom made millions.
Cover photo courtesy of The Mirror