The 7th Worldwide Talks Gathered International Speakers on The Digital Event & Celebrated Connections at a VIP Cocktail Reception
The Fashinnovation's 10-hour digital event, in partnership with Spring Studios, addressed important conversations on entrepreneurship, inclusivity and more & to celebrate Fashinnovation's community, the VIP Cocktail Reception reunited industry leaders & created remarkable connections
On September 7th, global platform Fashinnovation organized the 7th Worldwide Talks with international speakers joining from Paris, Dubai, London, São Paulo, Chicago, Miami and more. The world-known digital event, hosted by Spring Studios in New York City welcomed an online global audience.
Among the 60+ speakers, the event's lineup hosted Ayo Tometi, the founder of Black Lives Matter; Moishe Mana, Founder of Mana Common, Founder & CEO of Mana Common, Calvin Klein's Vice President, Sustainability & Inclusion, Rohit Burman; Ronen Samuel, CEO of Kornit Digital, Artist Ian Berry, CeCe Vu, Tik Tok's Lead, Fashion & Beauty Partnerships; Fashion Designer Rami Al Ali; Tracey Mancenido, Tommy Hilfiger's Director of Digital Product Creation; Zepeto's CEO, Jay Lee, and many more.
Worldwide Talks 7th had subtitles in English, French, Spanish, Italian and Portuguese.
Discussed Topics
This edition also highlighted some of the industry's issues, where it needs to improve and people who are making a difference. Conversations were tailored around functional clothing, inclusive businesses, Gen Z, Web 3.0, metaverse, menswear, community and content creation, the business side of fashion, fashion law, retail, wholesale, fashion law and more.
According to Fashinnovation's Co-founder Jordana Guimarães, the Worldwide Talks is definitely about connecting and sharing: "We believe in the power of education, that's why we will bring these amazing people that have so much to inspire and teach with their incredible experiences."
VIP Cocktail Reception at Spring Studios
The 7th Worldwide Talks was the 11th summit organized by Fashinnovation since its launch, in 2018. With a community of over 500 industry leaders, the global platform decided it was time to return to physical events, without leaving its international audience aside. The talks were held digitally on September 7th and, in the evening, Jordana Guimarães and the Fashinnovation team welcomed part of the community on a casual VIP cocktail reception, at Spring Studios.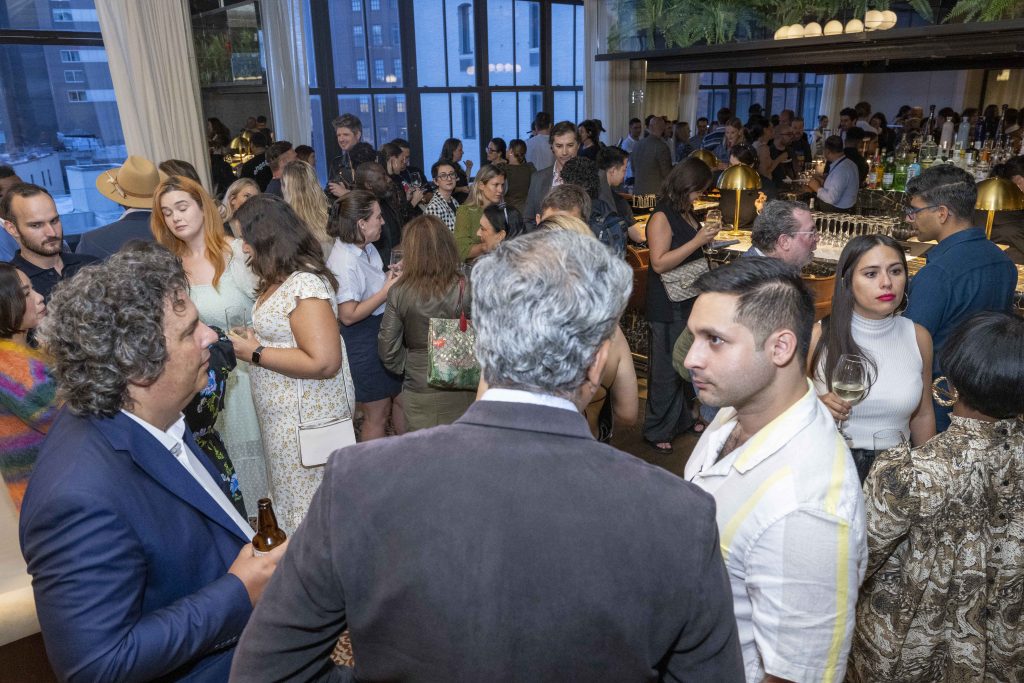 Amongst the guest, the cocktail reception received fashion designers such as Romeo Hunte and Bibhu Mohapatra; Frederic Fekkai; Gabby Hirata, President at DVF; Federica Marchionni, CEO of Global Fashion Agenda; Moishe Mana, Founder of Mana Common; fashion models Anne V and Brana Dane; Founder of NYFW BLK, Nichole M. Bess; Luca Tonello, General Manager at Dedagroup Stealth S.p.A. & C.E.O. at Zedonk; Simone S. Olivier, Global Editor-in-chief at Refinery29 and many other amazing leaders.
The event had an art installation done by Ian Berry, which offered the guest an exclusive preview of his new documentary "Fast Fashion Graveyard." There was also a brand exhibition, with pieces from By Sabrina Jade, SmartSwim Suits, Doussou, 1 People, Liandra, Karl Breizner, Sylven New York and Omi Jewelry.
In addition, Kornit Digital won over the guests with a room dedicated to the company, showcasing its on-demand technology and highlighting its importance for sustainability. Mana Fashion was also present with his team and the founder of Mana Common, Moishe Mana, demonstrating the importance of creating strong communities and an innovative vision.
With a room dedicated to Fashionnovation partnerships, the platform officially launched its collection in partnership with YesAnd, the sustainable collaboration brand founded by Marci Zaroff. In addition to highlighting the launch of Fashionnovation Ventures, a company focused on helping startups to scale in the global fashion market.
This global platform connects voices from the fashion & innovation ecosystems, inspiring an entrepreneurial mindset, combining creative minds, and encouraging a more sustainable & inclusive industry.
The Fashion Industry inspires. Technology Facilitates. Entrepreneurship Makes It Happen. Together, they multiply their effect. When these universes join, the impossible becomes possible. To be avant-garde, you must join other restless minds to achieve a stronger impact. The place where all changemakers & entrepreneurs come together to rewrite the future of fashion is here.