Puerto Vallarta's rich culinary scene could be explored for days but since we stayed at Villa Premiere all inclusive hotel with already delicious food it was ideal to try something different.
We took a nice walk around the most popular shoreline in Puerto Vallarta, Zona Romantica full of  excellent restaurants and bars to check out. We decided to go to a place with sublime atmosphere right on the Pacific Ocean, Noroc, fusion cuisine.
The layout of Noroc is pretty unusual. Seated in a comfy booth surrounded by water, almost feels like floating in the ocean which after a few drinks, feels even more realistic. This place is perfect for group dining and special occasions, especially birthdays since a group of servers shows up with sparklers to a louder music.
We were greeted by Malberto Mendoza who gave us a quick tour and said he has a special pre-fix menu for our group. A portable bar was brought in front of our table and Malberto, and two men from his team presented our first drink. It was light punch-like non alcoholic aperitif  topped with walnuts. While expecting someone to come and ask what next drink we would like to have we shortly learned  cocktails are paired  with four courses to come. How exciting and unique!
They brought back the bar and in sync prepared a delicious, raicilla based cocktail with fermented red fruits and a touch of cheese umami. A drink with cheese? It was a drink called God Eye, served with a lucky charm which according to huicholes, who live in central northwest Mexico brings good luck. Color and taste were paired with the meal: deep fried, artisan brie cheese with cranberry jelly and crispy serrano ham.
Second course was even more presentable. Drinks were of course served in front of us and this time drink glass was garnished with flower petals. Vaitiare, Flower of Water made with Mexican raspberry gin, jasmine and chamomile infusion and passion fruit liqueur, scented with roses perfectly matched flavors of our catch of the day, white fish, saffron sauce second course.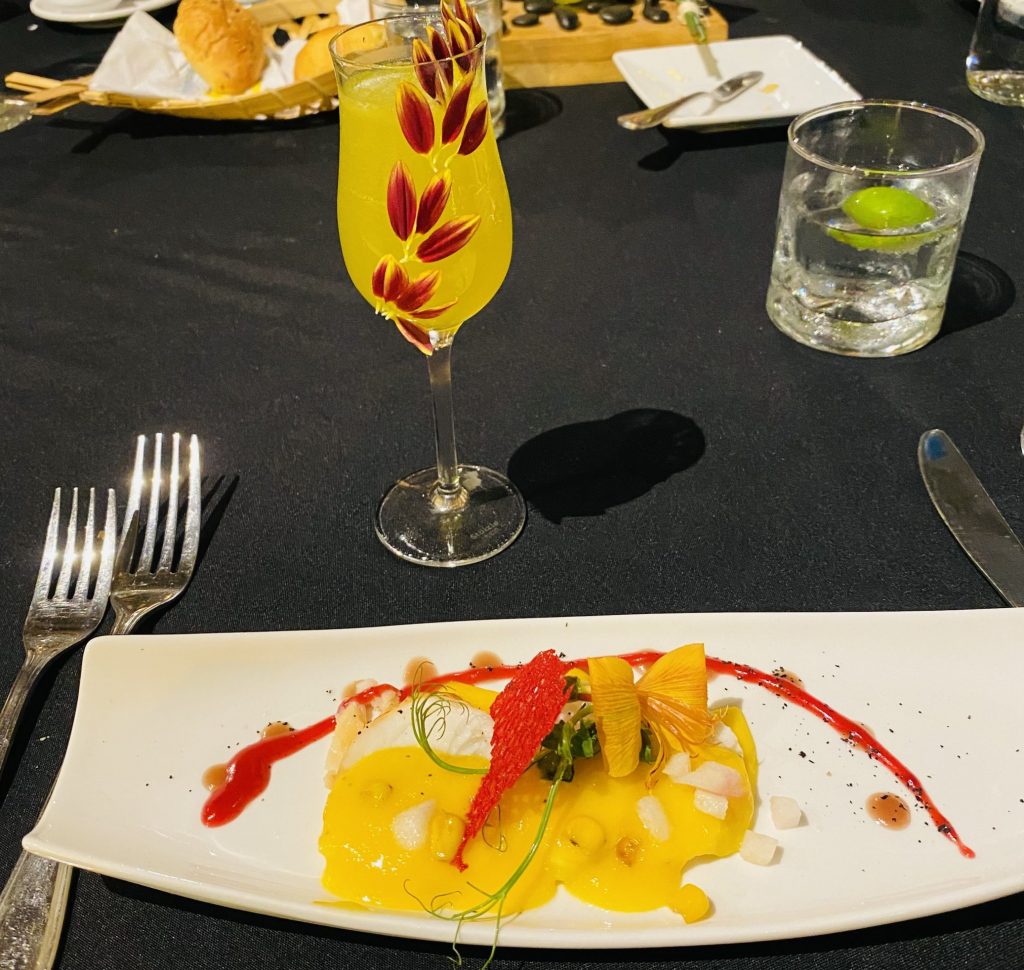 Next, perfectly plated rack of lamb with hand picked seasonal vegetables and a dash of mint jelly was paired with a delicious red wine, 2014 Casa de Piedra 'Vino de Piedra' Tinto.
Luckily someone in our group had a recent birthday therefore we had an excuse to order all the dessert on the menu. Of course Noroc mixed up a delicious cocktail to top the already spectacular dinner. Praline tartlet was table's favorite however the Foot of the Lucky Rabbit cocktail was a true experience.  Annis, cinnamon, vanilla and cream of raicilla completed the Noroc flavors party!
To learn more about Noroc click here