The Order of Malta might sound like an overtly romanticized name a group of nobility assigned to themselves in the Medieval Period. That is only because the organization has been around for 900 years, globally assisting the sick, the poor, and the suffering in over 120 countries.
This past Saturday The Order of Malta carried for the 35th year the Inaugural White Cross Ball of New York, proceeds being donated to three specific projects.
The first, the Holy Family Hospital in Bethlehem, which is the only place in the West Bank where mothers and babies can receive first-world standards of maternal and neonatal care, regardless of their ability to pay. Second, proceeds will support ongoing relief efforts among the victims of the Syrian Civil War and the Nepalese Earthquake. Third, proceeds will help fund participation of disabled American youth at the Order's International Summer Camp for disabled youth. There is no better reason to drink and dance than for charity.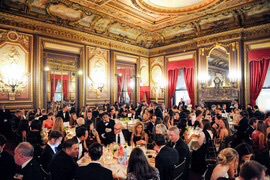 Additionally, I had a chance to ask Niccolo Falez, ball committee chair of The Order of Malta, a few questions, such as what he feels has contributed to the continued annual celebration and allowed The Order of Malta to survive 900 years (maybe The Ottoman Empire should have taken notes). "It is incredible how many people really want to be part of this, to grow together with us and see year-by-year how much good we can do." Falez attritubed the growth and continued success to the fact they are basically saving the world. He didn't directly say that, but I can't think of a better phrase to describe their work.