The shows and movies that have dominated the past year of pop culture were center stage at the MTV TV & Movie Awards. Though it was a relatively small affair, the winners certainly reflected the most popular media of the past year and the people that starred in them. Here are some highlights from the night.
Fashion
If one thing's for sure, the MTV red carpet is not the place to go for risky looks. However, good doesn't always have to mean risky. Despite a rather casual red carpet, here were a few stars that still managed to catch our eye.
When it comes to guys, the Outer Banks boys all had fun looks. Chase Stokes was head to toe in bright red by Fendi, while Jonathan Davis wore a long line tan coat over a printed shirt and leather pants. Rudy Pankow kept it simple in a black suit that was elevated by it's textures, a silk top and velvet jacket added some dimension and personality to what would be a standard awards show fit.
The Outer Banks women also looked lovely in their respective dresses. Both in Versace, Madelyn Cline donned a red mini dress with padded shoulders, while costar Madison Bailey went the more dramatic route with a colorful printed high low skirt with a black cardigan on top.
In other stars that had nice looks, Elizabeth Olson kept it simple yet cute in Miu Miu. Wearing a simple black dress with buttons and pearl detailing throughout, she looked classy. Yvonne Orji also had a fun look with a strapless dress from Mimi Plange. The deep green base of the dress was overtaken with pale rainbow fringe on top.
Awards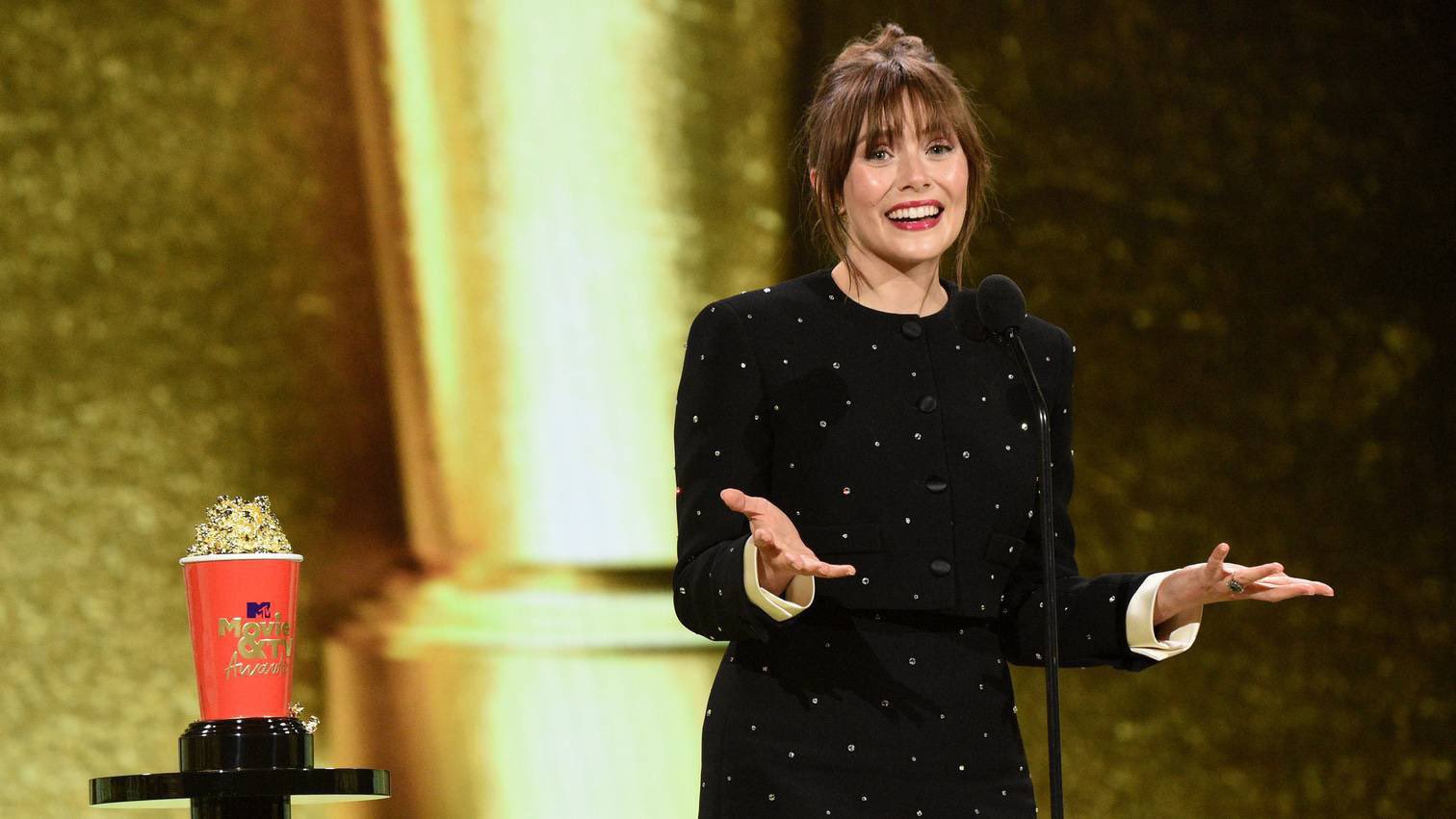 Last night's award recipients weren't surprising, but still deserving.
Marvel was center stage, with shows like Wandavision and stars like Anthony Mackie and Elizabeth Olsen all getting recognition, whether that was for Performance in a Show, Best Hero, or Best Duo. Scarlett Johansson also received the Generation Award and ended her acceptance speech with an exclusive look at the upcoming Black Widow film. (Also got slimed)
Regé-Jean Page received an award for Breakthrough Performance in Bridgerton. Despite the announcement that Page will not be appearing in the next season of the show, it seems that both he and the Bridgerton hype are here to stay.
Check out the full list of winners here.
Photos: MTV