The Tribeca Film Institute showed us a promising glimpse into the future generation of filmmakers with the 2019 Sloan Foundation winners.
Partnering with the Alfred P. The Tribeca Film Sloan Foundation since 2011, it joined the foundation's nationwide program to encourage student filmmakers to "create more realistic and compelling scripted films about science and technology." To date, the Sloan Foundation has awarded more than $4.75 million in grants to student filmmakers across the country.
"The coolest thing you can be is smart and a hard worker," said Anderson Cook, upon being recognized with Sloan Student Grand Jury Prize for his screenplay, "James Thomas Thinks The Earth is Flat." The film follows the journey of a 12-year-old aspiring physicist and NBA All Star James Thomas in their attempt to convince the young boy's neighbors to care more about science.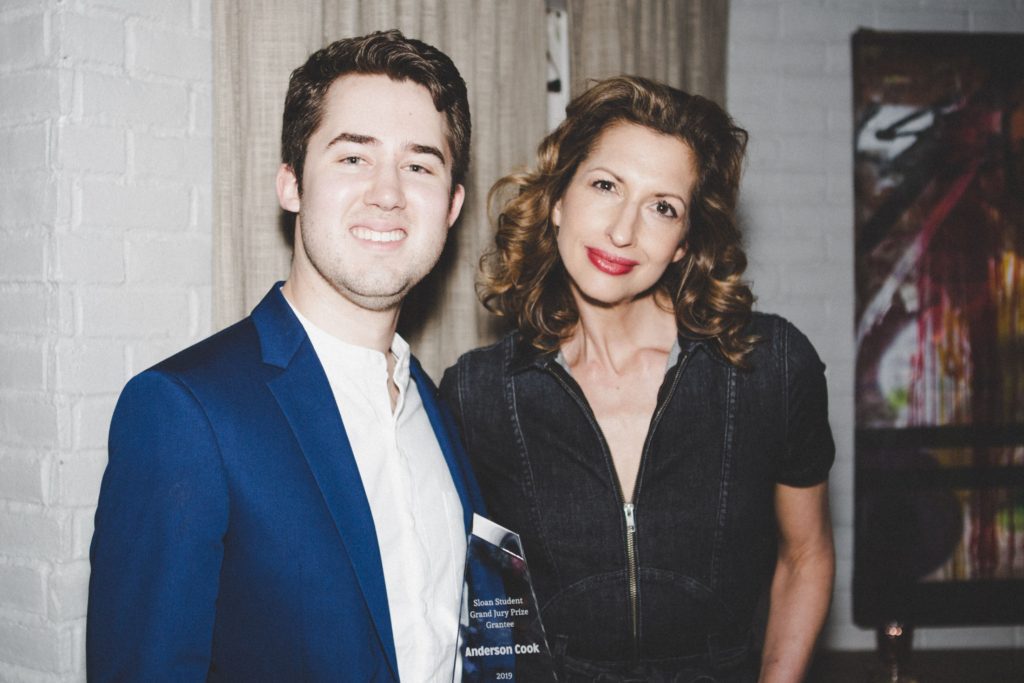 "I've always been a huge fan of the NBA, and I've been fascinated by flat earth conspiracy theories for so long," Cook explained as the inspiration for the film.
"When a couple notable NBA players went on podcasts and interviews on TV to say that they had a suspicion that the earth was flat, I was kind of in disbelief, like a lot of people were. I came up with this idea kind of poking fun at the NBA players. Over the time of writing, it evolved into me understanding the larger historical picture that these players are interested in, thinking about the way we perceive celebrities and science, and the way that they are combatting that, as well."
Cook was also influenced by the democratization of the internet.
"There is no guard against false information, so a child will see an NBA player say the earth is flat online and suddenly believe that."
The new Sloan Student Discovery Award went to Andrew Rodriguez, who is currently in his final year in the Film Conservatory at SUNY Purchase, for his series "Plus." A coming-of-age story, Rodriguez's film centers around a queer student of color struggling with a sudden HIV diagnosis and the challenges that come with it, especially the stigma.
"I still did not believe it until they called my name," Rodriguez reveals to us after being awarded. "This honor makes it feel like what I am doing is worth it."
He was empowered to create this film to prove that people of color can successfully make films that explore topics and issues beyond their own.
"I like to make stories about human experiences and important things that are not being talked about. The worst happened in the 80s, and I think today society kind of brushes HIV off and the people still being affected."
The film is actually a pilot, because through a TV series he feels an audience can better develop a relationship and attachment to the central character. Rodriguez emphasizes in learning to view him like a friend or family member, one can better understand the importance of fighting stigma against HIV, like if someone you loved was afflicted by it.
"My story isn't about the struggles of black people. It is an important story with black people in. This award tells me that we can win without telling stories through our own pain."
The Sloan Student Honorable Mention went to current MFA candidate in directing at Columbia University, Jamil Munoz, for his series, "Baretia."
A filmmaker inspired by naturalism and truth, Munoz tells the true story of Jeanne Baret, the first woman to successfully endeavor on a circumnavigation of the world — all while disguised as a man.
"It gets really disheartening to toil away at a computer screen by yourself for two and a half years," Munoz shared with me. "So, it is really great to know that this story achieved some significance beyond what I put into it. Having an organization like Tribeca is crazy for any aspiring writer. It is the stamp of validity, the seal of approval, and it is kind of like the gateway into the world of actually getting things made."
As far as advice for potential future Sloan Foundation winners?
Grand prize winner Anderson Cook's biggest tip is to listen to what is hardest to hear.
"The note that you get that, you just know, is going to take the longest to correct, that is what is going to make your screenplay amazing. I often had criticism that was hard to hear, because it basically meant starting over. It made a much better version every time."
Each recipient was chosen by a jury of seasoned science and industry veterans, including Anne Hubbell, VP of Motion Picture at Kodak; Janna Levin, the director of sciences and chair of the science studios at Pioneer Works; Claire Tow, a professor of physics and astronomy at Barnard College of Columbia; and Orange is the New Black stars Dascha Polanco and Alysia Reiner.