DON GIOVANNI, opera by Mozart, will be performed this June at the Center for Jewish History (15 West 16th St. New York NY 10011), starring David Serero as Don Giovanni along with an international cast.
Don Giovanni is one of the most famous operas of all time, written by Mozart with a  libretto by Lorenzo Da Ponte.
Who is DAVID SERERO aka Don Giovanni?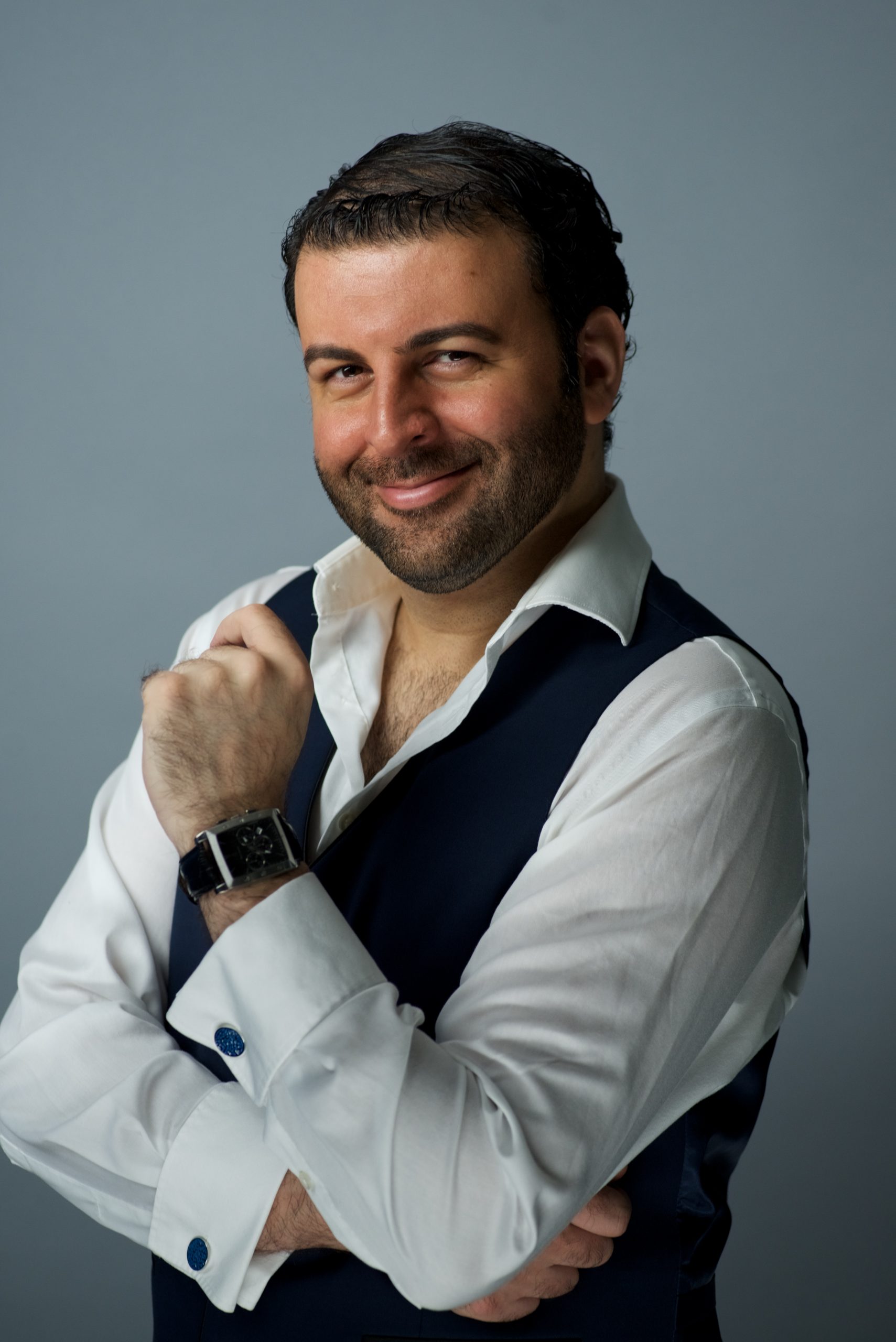 Actor and baritone, David Serero, has received international recognition and critical acclaim from all over the world. At only 36 years old, he has already performed more than 1,200 concerts and performances throughout the world and played in over 100 films and recorded 20 albums. After studying in Paris, New York, St Petersburg (Mariinsky Theater), David has given concerts in Paris at the PARIS OPERA GARNIER, OLYMPIA, EIFFEL TOWER; in New York at the LINCOLN CENTER, CARNEGIE HALL, TIMES SQUARE; in London at the ROYAL COLLEGE OF MUSIC, WEMBLEY STADIUM; and in Moscow at the TCHAIKOVSKY HALL; in Amsterdam at the CONCERTGEBOUW, the BUDAPEST OPERA conducted by PLACIDO DOMINGO and more. He made his sold out WEST END debuts at the Dominion Theatre. He has sung more than 30 lead roles in Opera, Operetta and Musical Theater. In 2012, David Serero performed Don Quixote from MAN OF LA MANCHA in Paris and the title role from the revival of Duke Ellington's only musical: BEGGAR'S HOLIDAY and also starred in the cast album recording. In 2013, David performed with JERMAINE JACKSON in YOU ARE NOT ALONE, a musical written, directed and produced by David Serero. He has also produced and arranged I WISH YOU LOVE an album of Jazz standards for Jermaine Jackson. In December 2013, David shared the cover of Theatre & Performances with Barbra Streisand in London, and made his BROADWAY solo debut at the Snapple Theatre in New York and released his first studio album ALL I CARE ABOUT IS LOVE. In 2014, he released The Broadway Baritone featuring Broadway classics and toured in the UK with a performance on WEST END. During the summer 2014, he recorded the entire love letters's correspondence of NAPOLEON to Josephine and released his new studio album THE CROONER BARITONE, The FRANK SINATRA Classics for the 100th anniversary of Sinatra. In 2015 and 2016, he played Off Broadway the lead roles of SHYLOCK (MERCHANT OF VENICE) and OTHELLO's title role with both critical acclaim. In 2015, he performed two open air concerts on TIMES SQUARE (New York) for BEST OF FRANCE with the presence of the French President Mr Francois Hollande. He released SEPHARDI, an album of Sephardic music in Ladino language and records the title role of RICHARD III in French. In 2016, he releases ALL MY LOVE IS FOR YOU, a Pop Rock album, entirely composed, performed, arranged and produced by himself. He also played NABUCCO (Nabucco) in New York; and the title roles of DON GIOVANNI and RIGOLETTO at the CARNEGIE HALL. In 2017, David entered the prestigious WHO'S WHO AMERICA for demonstrating outstanding achievements in the entertainment world and for the betterment of contemporary society. In the summer 2017, he releases BARITONE OPERA ARIAS, singing opera classics such as Toreador (Carmen) and from operas Tosca, Nozze di Figaro, Fanciulla del West and Barbiere di Siviglia.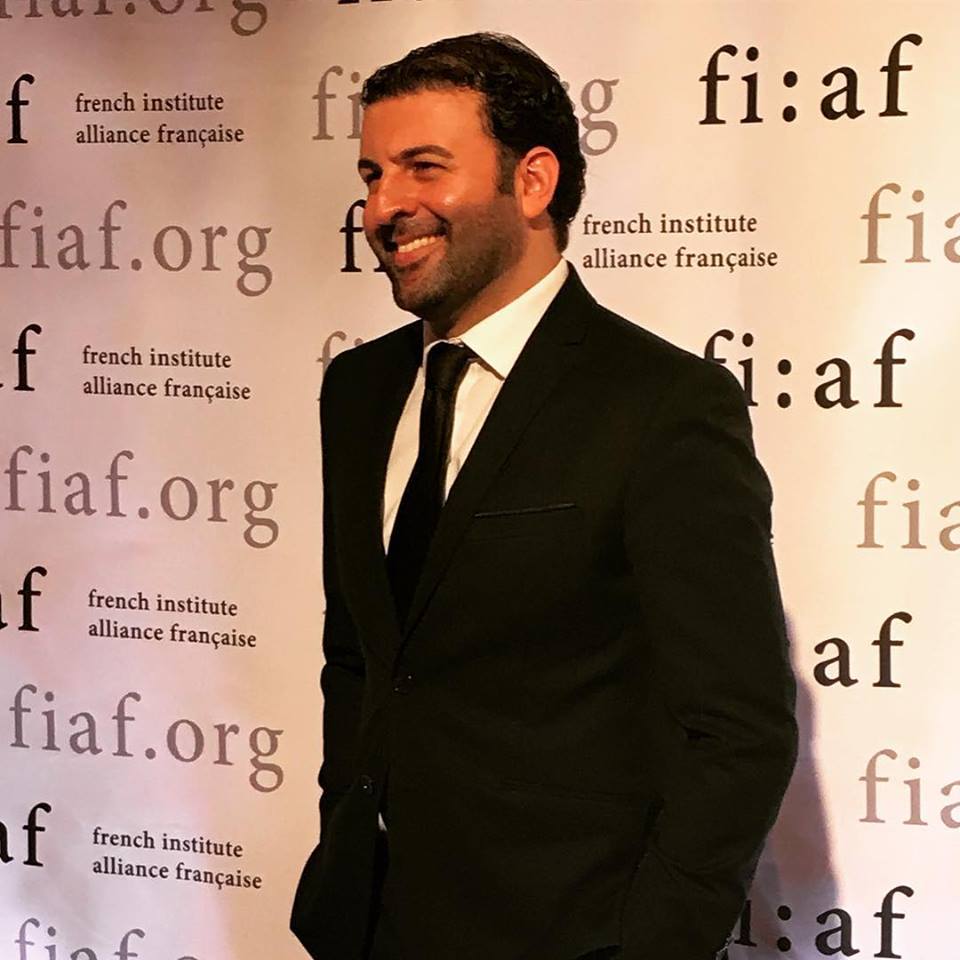 On the 2017/2018 season in New York, David Serero starred as CYRANO DE BERGERAC (Rostand), DON GIOVANNI (Mozart), BARABAS (Marlowe's Jew of Malta), and KING LEAR (Jacob Gordin's The YIDDISH KING LEAR).
His next engagements for 2018/2019 in New York are I,Napoleon (a one man musical about Napoleon written by David Serero), Hermann (Queen of Spades – World Premiere), Eugene Onegin's title role, Romeo (Romeo & Juliet by Shakespeare), Boris Godunov's title role (World Premiere adaptation), Captain Dreyfus's title role (Jacob Gordin's play), Figaro (Nozze di Figaro by Mozart) and Macbeth's title role by Shakespeare.
In American Television, he has appeared in: The Hunt with John Walsh (CNN), Mysteries at the Museum (Travel Channel), Deadline: Crime with Tamron Hall (NBC), Six Degrees of Murder (Discovery Channel), Checked Out, On The Case with Paula Zhan (Discovery ID), Rabid Beast (Animal Planet TV), Suddenly Rich (TLC TV), Whistleblowers (Spike TV), Blood Feuds – Gangs of New York (Discovery Channel), We Speak NYC (New York TV), Crimes of Fashion (Discovery ID).
In American Films he starred in Alice in America, Tango Shalom, Winter Has No Sun, Most Beautiful Island, Paisanos in Paris, Following Phil, Terminal 5, Sheepshead, Again, Overload Rock or Die, The Redemption, Kingdom of the Alley, Ring Ring, Laundry Day, Capicola, Make it Work, There Will Come Soft Rains, Amarena, When I Sing, Hatikvah.
He starred in several commercials for Sotheby's & eBay, Bank of America, Don Julio Tequila, Khiel's, Volkswagen, BJ's, Pepsi, Mitsubishi Cars and more. Full biography on www.davidserero.com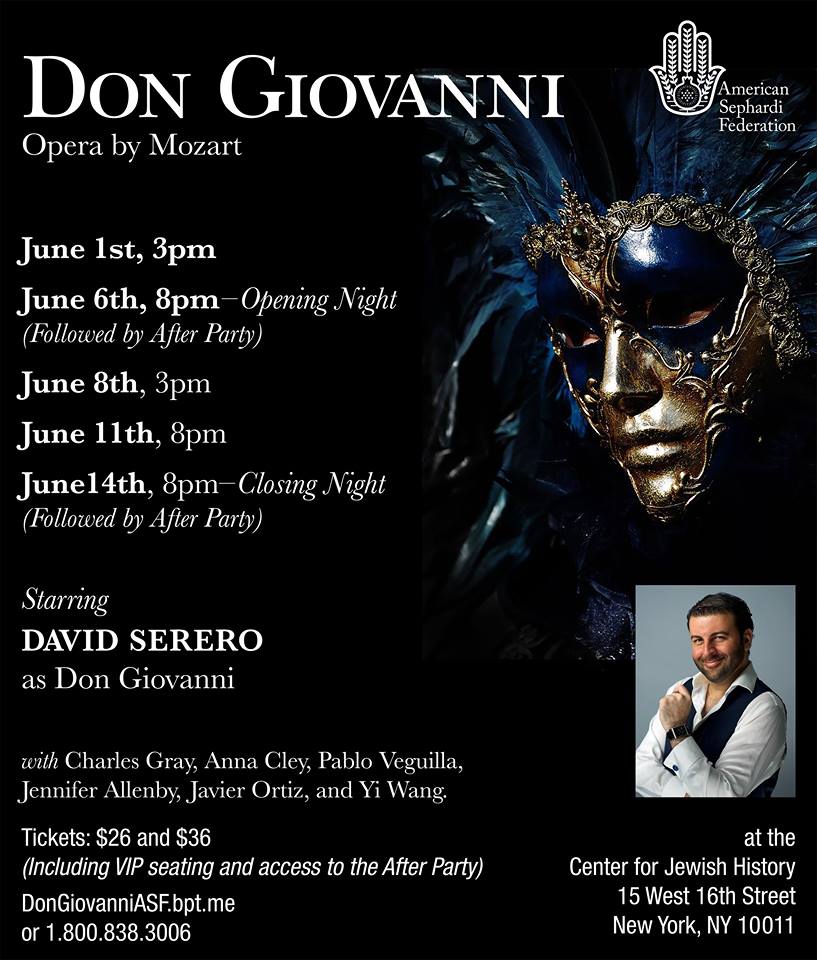 Tickets can be purchased at DonGiovanniASF.bpt.me or 1.800.838.3006. This new production is presented by the American Sephardi Federation.