We recently revisited Euphoria, because what else is there to do right now and noticed some things. Each character's signature style connects to their story. The four fashion queens of Euphoria (Rue, Maddy, Kat, Jules) are iconic, but let's not forget Cassie Howard. Cassie's styling choices are the most subdued of the main characters and often equated to boring, but that is actually very intentional. Here's a defense of Cassie's low-key fashion, why it works perfectly for her, and where she could be headed in future seasons.
An Overview
Yes, Cassie Howard does not have a distinct style like the other girls but that appears to be a direct consequence of her storyline. Cassie's arc revolves around her relationships with various men in her life, whether that is her boyfriend McKay, her other love interest Daniel, or even her neglectful father. Her past also haunts her, with inappropriate pictures and videos from past boyfriends circulating the school. Due to this and the rejection from her father, her ambition seems to be to simply get by and find love and acceptance. She's a people pleaser, and more often than not the people she is trying to please are men.
What we get from her are simple outfits, very typical of the average teenager that doesn't show too much personality through their clothing. She does have some signature colors, with baby pink and blue dominating most of her wardrobe which consists of a lot of mom jeans, skirts, and dresses. The best way to describe her style would be feminine, but approachable. 
As for makeup, she keeps it minimal and natural. Occasionally she will throw on a little eyeliner when she goes out, but other than that she keeps a fresh face. This could be a product of her wanting to portray a sense of innocence given her past. It also seems to be a way to pacify her insecure relationship with McKay. From the beginning, McKay is uncomfortable with Cassie's sexual history, so trying to keep a low profile could be her way to keep him happy.
Rebellions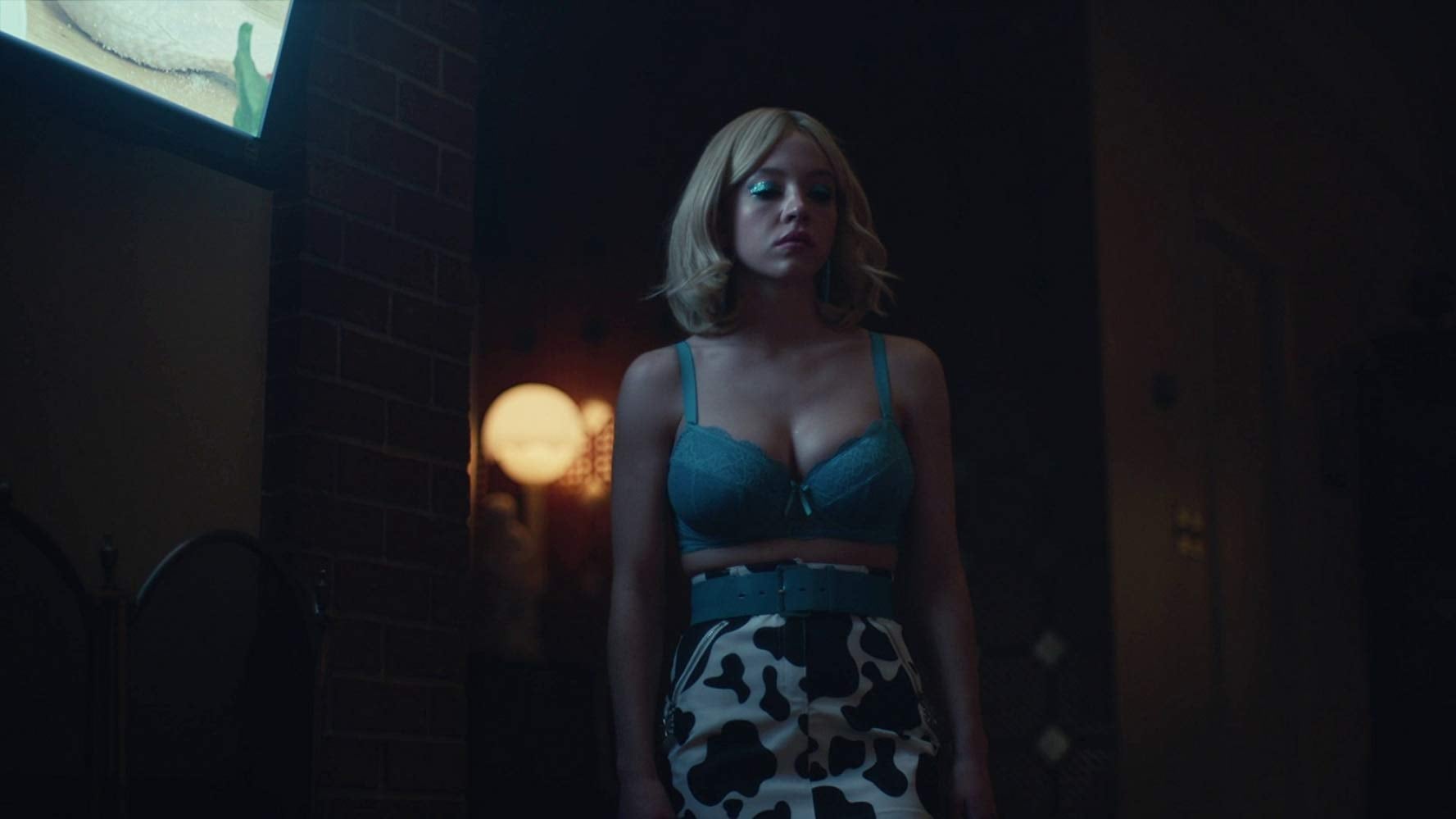 The few times when Cassie does depart from her usual low-key style are integral to her development. Her Halloween costume is the first of these departures, when she dresses up as Alabama Worley with a lacy teal longline bra and cow print skirt, complete with sparkly blue eyeshadow. She goes to a college party with McKay who tells her he'd "never hear the end of it" if she showed up dressed like that  forcing her to cover up in an ill-fitting football jersey. She goes to another party the following night and kisses Daniel, and when he wants to have sex with her she refuses, causing him to snap at her and tell her that she only gets attention from men because of her reputation and body.
Both of these instances reinforce Cassie's mentality that her worth is dependent on what the men in her life think of her. Whenever she tries to do something solely for herself, she is shot down and humiliated. In fear of being ridiculed by the people she cares about, she opts for a less flashy wardrobe for most of the season.
The most glamorous moment both hair and makeup wise for Cassie comes in the series finale in her figure skating dream sequence. She is going to get an abortion after finding out she's pregnant and the audience is taken from that scene to her skating on the ice in a stunning blue costume adorned with jewels and the feathers of a peacock. Her makeup is equally fabulous, with gems spaced out all over her face, culminating to a dramatic blue and green eye look matching the colors of her dress. 
Moving Forward
The figure skating sequence is a high point for Cassie, but it is not her only finale look that says something. At the winter formal, she wears a simple but stunning satin pink dress. The look is complete with her confidence and a fresh face, walking into that room not tied down to a man and being happy about it. The only direction she can move is forward, and she is doing that with her friends and sister by her side.
Cassie's wardrobe choices are rather tame for the duration of the season, mainly due to her fear of losing people and never fully believing in herself. Her first departure from this leaves her dejected and at her lowest point, but her second big fashion moment leaves us with a powerful message. As she glides across the ice in jewels and feathers, she is free, not only from her pregnancy but her past. I think we should expect some great looks from Cassie next season.