This year, Arab Fashion Week was hosted online. In its 11th season, the showcase ran from June 24 to 26 and was conducted in Dubai. It included 11 shows ranging from ready to wear athleisure in a spectrum of colors, to couture romantic gowns made in delicate fabrics textured by hand. We watched the shows online and reviewed our five stand-out collections. These shows quickly struck a chord with us and became our favorite, either because of dazzling artistry on the runway or the shocking significance behind each piece. We are just dying to share with you: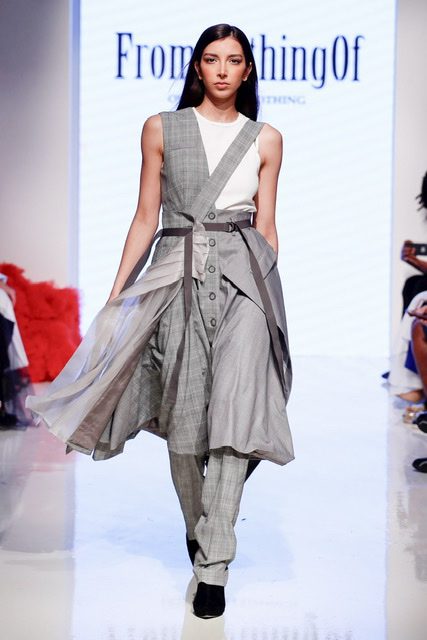 FromClothingOf
This Hong Kong based designer opened the show on Wednesday. The entire collection centered around the theme of women claiming the right to how they dress, said the Arab Fashion Council.
While the pieces seemed minimalist and austere, coming in shades of only base colors, upon second glance it was clear each was meticulously tailored. Each structure was impeccable, containing various layers and creating depth, possessing a powerful yet intrinsically feminine style.
The designer believes that regret is the essence of life; she hopes to present a kind of defective beauty, said Arab Fashion Week online. She will piece thin taffeta or cotton, mesh and organza together. The clothes will be contoured with semi-dress and irregular cuts to present the layering and an unfinished regret.
According to Arab Fashion Week online, FromClothingOf showcased the SS20 collection called "Perfectly Imperfect" inspired by the movie "Inside Llewyn Davis."
Mada 'En
Farah Bseiso, a Jordanian Ready-Couture Fashion Designer, closed the first day of Arab Fashion Week. Her Haute Couture and Pret-a-Porter designs bring out elegance, femininity and sophistication in every one of the models. One can only imagine how the average woman feels wearing these delicately beautiful gowns.
Maison Mada'En is inspired by the image of radical femininity. Mada'En presented this gorgeous dress which evokes the glamour of the 50's new look. This gown features a cloudy grey blend with multicoloured woven dots, French tulle flowing into a volume long dress, a vivid mustard yellow mikado off the shoulder and its ruffled neckline.
Bseiso says she draws inspiration from her travels and immersion in other cultures, which has had a great influence on her vision for her brand.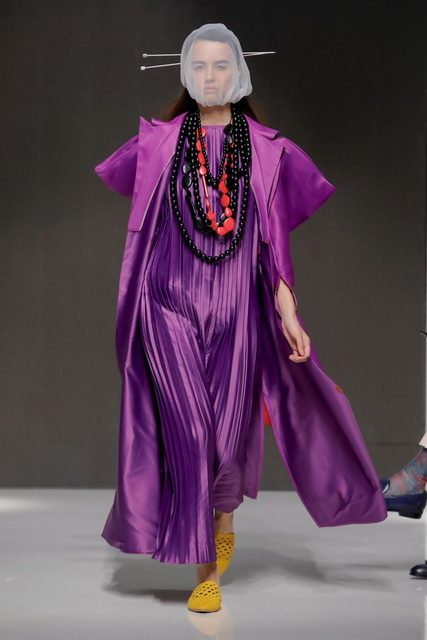 FAD International Academy
FAD, a creative arts and fashion institution that trains emerging talent, opened show on Thursday afternoon and is it sure worth noting. The collection was created by, what I imagine is, a variety of up-and-coming designers and was therefore disjointed. However, this team is sure to contribute to the greater vision of UAE to rise as a global industry epicenter in fashion and luxury.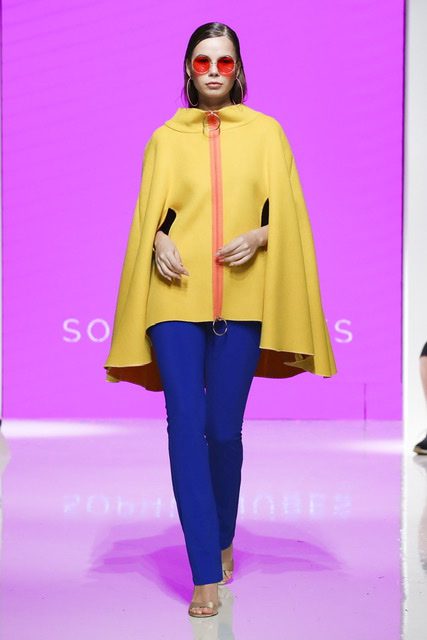 Sophia Nubes
A bright and spunky Sophia Nubes show followed. "Our fashion is inspired by an all-wanted style to feel yourself alive and charming" said the design house. "A very good start in the morning is just an easy-wearing suite which really makes your day."
The collection featured colorful suits for every occasion, from athletic to office wear, bordering on 80's-like feel and gaiety. This was mixed with 70s style eyewear – leaving the audience literally seeing everything through rose-colored glasses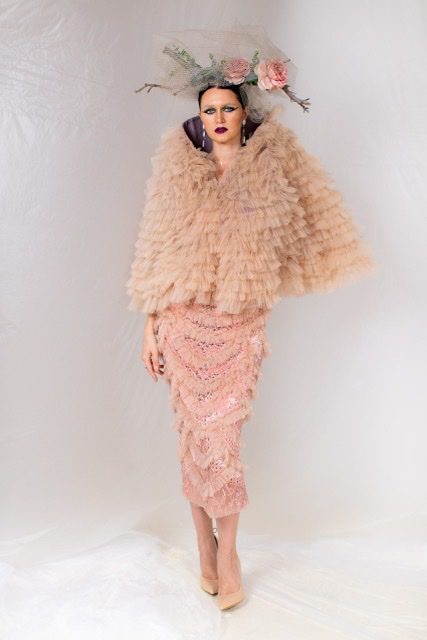 Amato Couture
Amato Couture's "A Traveller's Tale" closed the fabulous fashion week.The gowns that walked the runway were ethereal and featured lavish materials with rare embellishment techniques. According to Arab Fashion Week, Amato textures its own fabrics.
The gowns all were signature cuts that took the audience from romantic Shakepearean tales to the sensual styling of Mata Hari. Every ensemble is a tribute to the silent strength of women.
"We want to create a visual and sensory experience for our clientele," Rashid and Furne explains. Amato Couture constitutes creative designer Furne One, partnered with textile expert Rashid Ali.
All images courtesy of Arab Fashion Week online