AAFA CELEBRATES SUSTAINABILITY, STEWARDSHIP, AND UNITY WITH THE 2021
AMERICAN IMAGE AWARDS
American Apparel & Footwear Association (AAFA) hosted its American Image Awards, a digital gala celebrating the accomplishments of the fashion and retail industry. Recognizing the thread of unity and collaboration that the industry has rallied around over the past year, industry leaders were awarded for their achievements in sustainability, innovation, diversity, and global stewardship.
Honorees included:
Company of the Year – HanesBrands
Retailer Innovator of the Year–Walmart
Designer of the Year –Gabriela Hearst
Fashion Maverick –Black In Fashion Council
Eco-Steward of the Year – Sustainable Apparel Coalition
Digital Entrepreneur of the Year – ShopShops.
Award-winning host of the The List TV show, Segun Oduolowu emceed the gala which benefitted the Council of Fashion Designers of America (CFDA) Foundation.
"The American Image Awards is about celebrating the future of fashion and the path upon which our industry has embarked in the post-pandemic era. This year's honorees are the very embodiment of where the industry is heading, and it was a privilege to showcase their success,"

said Stephen Lamar, president and CEO of the American Apparel & Footwear Association.
Attendees were treated to a message from the Chloé headquarters in Paris when Gabriela Hearst spoke regarding how this honor will continue to further the message of responsible practices in the world of design.
In her acceptance remarks, Denise Incandela spoke to the resiliency of Walmart as the company navigated the uncertain waters of the past year innovating new approaches to delivering their product to their customers. 
Mike Faircloth delivered heartfelt remarks on behalf of HanesBrands and their 61,000 strong global team. His story of seizing on the last year to pivot their operations to achieve bold sustainability goals in partnership with their manufacturing partners. 
Lindsey Peoples Wagner and Sandrine Charles were honored for their work in founding the Black In Fashion Council and spearheading initiatives that are driving advancement of underrepresented communities throughout the fashion industry. 
Amina Ravzi, the Executive Director of the Sustainable Apparel Coalition accepted the inaugural Eco-Steward of the Year Award for her organization's work in helping the industry address inefficiencies, resolve damaging practices, and achieve greater transparency in environmental and social areas of their businesses. 
Liyia Wu, the founder & CEO of ShopShops spoke of bringing brands to her customers via her digital platform during at time that made her company more relevant than ever to brands and consumers alike.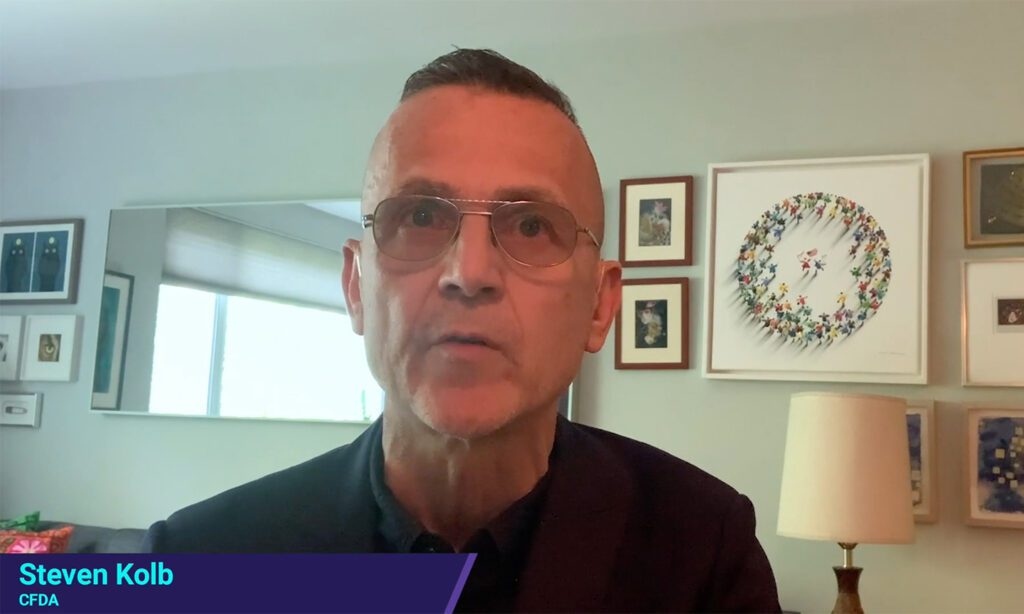 "We cherish AAFA's support and efforts in strengthening American fashion's global impact. In a year that has been filled with great challenges and uncertainty, leaning into our communities and these partnerships has made all the difference in our continued recovery,"

said Steven Kolb, CEO of the Council of Fashion Designers of America (CFDA).
Industry luminaries included Brandon Maxwell (Fashion Designer, Creative Director of Free Assembly & Scoop, & Judge of Project Runway), Nina Garcia (Editor in Chief of Elle Magazine, Judge of Project Runway), Caroline Vazzana (Influencer @cvazzana & Author of Making It in Manhattan), Tijana Ibrahimovic (Celebrity Style Expert @TijanaStyle, Editor in Chief of Pop Style TV), Lindsey Coffey (Miss Earth 2020, environmental activist), Colin Browne (COO of Under Armour, Inc.), Sarah Clarke (Chief Supply Chain Officer of PVH Corp.), and CaSandra Diggs (CFDA President).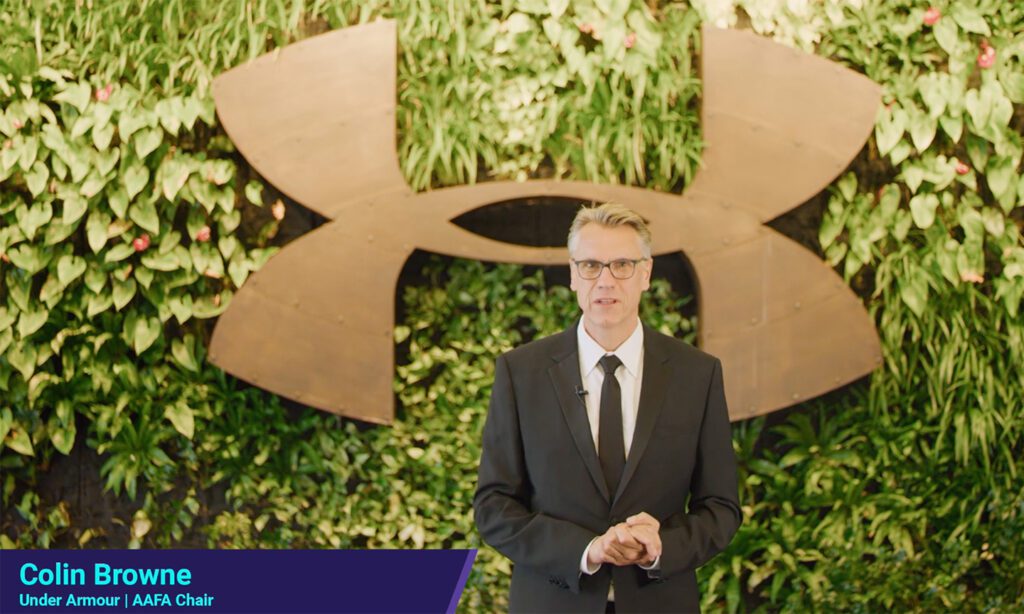 "We have the opportunity – no, the responsibility – to be a force for good. We also have the responsibility to lean-in and embrace changes, which is a strength of this community and the role of AAFA. We can change the world. This community reaches into every household in America and in all corners of the world. Tonight, we celebrate this amazing industry."

said Colin Bowne, Chief Operating Officer of Under Armour, Inc. & Chair of AAFA.
About the American Apparel & Footwear Association:
AAFA is the national trade association representing apparel, footwear and other sewn products companies, and their suppliers, which compete in the global market. Representing more than 1,000 world famous name brands, they are the trusted public policy and political voice of the apparel and footwear industry, its management and shareholders, its nearly four million U.S. workers, and its contribution of more than $400 billion in annual U.S. retail sales.
They provide exclusive expertise in trade, brand protection, and supply chain & manufacturing to help members navigate the complex regulatory environment and lower costs. Members gain unparalleled access to information and exclusive insights on regulation and policy, and premier opportunities for networking and collaboration.
Social Media: #AmericanImageAwards @ApparelandFootwear (Instagram) @ApparelFootwear (Twitter)