Beautiful, fresh and talented; the new "It Girl"in our eyes, Monica Barbaro, first captured our attention in her breakout role in the Oscar-nominated, Top Gun: Maverick– but that wasn't where she got her start in the industry. In the vast realm of Hollywood, there are actors who captivate audiences with their undeniable talent, magnetic screen presence, and ability to bring characters to life. Monica Barbaro is certainly a rising star who has been making waves in recent years, but especially in 2022. With her striking beauty, versatility, and exceptional acting skills, Barbaro is truly carving out a prominent place for herself in the entertainment industry and Hollywood alike.
Barbaro honed her craft by studying theater at the prestigious Tisch School of the Arts (NYU), where she gained invaluable experience and developed a strong foundation in acting. Armed with her formal training and unwavering determination, Barbaro embarked on her journey to conquer the world of acting- and she's killing it!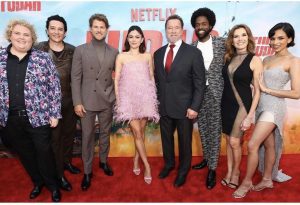 Barbaro first caught the attention of audiences with her breakout role as Yael on the critically acclaimed television series "UnREAL" on Lifetime. Her portrayal of the ambitious and complex character showcased her ability to bring depth and authenticity from the screen, to your living room.  We had an opportunity to chat with Monica about her new show on Netflix called, "Fubar," starring opposite Arnold Schwarzenegger, a global spy adventure series that's considered a "loose" sequel to the wildly popular "True Lies" film.  Monica is so much fun- we truly had the best time discussing her "Oscar Prep" plus her love for "Harry Potter!"
Pop Style TV's Lauren Conlin:
Hi, Monica.
Monica Barbaro:
Hi, how are you?
Lauren Conlin:
I'm doing great. How are you? Can you hear me okay?
Monica Barbaro:
Yeah, can you hear me okay?
Lauren Conlin:
I can. I'm in the car, I'm trying something new! So I'm on the highway right now, ha.
Monica Barbaro:
Oh, it doesn't even sound like it at all.
Lauren Conlin:
Okay, amazing. Well, I want to congratulate you because FUBAR I believe starts streaming tomorrow on Netflix, is that right?
Monica Barbaro:
Yeah, so what day is it? Yes, tomorrow.
Lauren Conlin:
Yes. Thursday, May 25th it airs, ha.
Monica Barbaro:
Yes, it is tomorrow.
Lauren Conlin:
You play opposite Arnold Schwarzenegger?
Monica Barbaro:
Yes.
Lauren Conlin:
Okay. You play his daughter, is that right?
Monica Barbaro:
Yeah, we are a spy duo. Although we don't know it at the start of the series, we find out pretty quickly that we've both been lying to each other for years, and all of these problems that we've bottled up start to come out in hilarious ways, in highly dangerous settings.
Lauren Conlin:
Oh, okay. So it's kind of a comedy and a drama?
Monica Barbaro:
It's an action comedy, and then there's some real familial touch points in there. I think we bring up some actual relationship issues, but ultimately the tone of the show is comedic, and then there's a lot of action and stunts and a lot of things blow up and all that.
Lauren Conlin:
That's fun. What is Arnold like? I really need to know what it's like to work with him. He's getting old, so I'm very curious.
Monica Barbaro:
Yeah, he's such a legend. He could absolutely show up to set unprepared if he wanted to, but he never did. He worked really hard and he had more dialogue in this series than any project he's ever had. And not just because there's eight episodes, but because Nick Santora, our writer, really gave him a lot of expositional stuff and jargon and things like that to explain scenarios, as you do in these kinds of series. So he worked really well with it and I was impressed.
Lauren Conlin:
Okay. I think this show is going to do really well, because I think people are really anxious to see Arnold back on screen because it's been a while. So I'm really excited to watch it. And I want to pivot just to Top Gun really quick, because that movie was awesome and it garnered amazing reviews. And when you jumped into that project, did you expect all of that, or were you nervous because it's a sequel of an iconic film?
Monica Barbaro:
There's always so much pressure in doing a sequel of any kind, let alone a sequel for a film that is so beloved. I would tell people I was working on it and they would give me a very hesitant, oh, why are we making a new one? Or, oh, that's one of my favorite movies. No matter what, there was more pressure put on, but we just really tried to make the best film possible. I think we did that with Joe Kazinsky, our director, and Tom always has the highest standards. And Christopher McQuarrie, who rewrote it, and Jerry Bruckheimer is a known entity. We had the best team, but anything can happen. So it was just a matter of everyone doing their best every single day.
Lauren Conlin:
I think a lot of people thought it could have won best picture. So did you attend the Oscars this year?
Monica Barbaro:
I did, I did.
Lauren Conlin:
Was it amazing?
Monica Barbaro:
It was very fun.
Lauren Conlin:
It was. Was it your first time?
Monica Barbaro:
Yeah, well, press is something that can be very overwhelming. As an actor, you get really used to showing up as other people in big ways. And then when you're in those situations, it can feel very vulnerable to show up as yourself. But it's all exciting and all the events that lead up to the Oscars are huge, huge celebrations of other kinds. And so you get a little bit more comfortable with it, but still you're there. And there's nothing like being at the Oscars, it's a real pinch-me moment, and I just tried to be as present as humanly possible and soak it all in. It's crazy, you're sitting there staring at all your heroes in one room. It's Wild.
Lauren Conlin:
Yeah, I know. Well, this sounds really dumb, but I'm always curious, how do you get ready that day? How do you prep that day for the Oscars?
Monica Barbaro:
It's a long process of a lot of people doing all kinds of things to every inch of your body, and then eventually you're processed and sent on your way in a pretty dress.
Lauren Conlin:
Okay. I don't know if you go to a sauna, I don't know, I'm just thinking all these things in my head that people do to get ready. Or maybe what I would do to get ready, I don't know!
Monica Barbaro:
I don't know. I'm sure some people have real wild routines. I think I'm kind of basic.
Lauren Conlin:
No, I'm just thinking of Gwyneth Paltrow, injecting yourself with bone broth that day or something with an IV. 
Monica Barbaro:
Certain people do, I'm sure.
Lauren Conlin:
Well, I'm so honored and excited that I was able to talk to you before your new show premieres tomorrow.
Monica Barbaro:
Thank you. Yeah, I'm excited too. Where are you driving, by the way?
Lauren Conlin:
Well, I live in Manhattan and obviously it's Memorial Day on Monday. We're going to New Hampshire, so I wanted to get a headstart and beat the traffic.
Monica Barbaro:
Nice.
Lauren Conlin:
I have two kids and my husband's away and TMI, I don't have a babysitter so I'm like, let's just go to my parents and I will dump them off and pretend like they're not mine, ha ha!
Monica Barbaro:
Are your kids in the car right now too?
Lauren Conlin:
They are, I'm literally making them be very silent.
Monica Barbaro:
Hi Kids!Do your kids have any questions?
Lauren Conlin:
No, my kids don't have questions. They're going to want to know if you are ever going to be in Harry Potter or something. No, they don't.
Monica Barbaro:
I wish.
Lauren Conlin:
You're so funny, oh my gosh. Well, is there anything else that you just want to add or I always like to ask, is there anything that people might not know about you that you want to announce?
Monica Barbaro:
No. Now I'm stuck in my Harry Potter fanship, but I think I've been pretty open about that over the years, that I'm still waiting for my letter.
Lauren Conlin:
Okay, all right, well, we'll enforce that with JK Rowling for sure. All right, well thank you so much. You've been totally lovely. I can't wait to watch you and just watch and see what you do with your career and just follow you. So thanks again for being on Lauren Interviews.
Monica Barbaro:
Yeah, thanks for chatting, and get there safe. Have fun in New Hampshire.
Lauren Conlin:
[crosstalk], I will, thanks again. Bye.
Monica Barbaro:
Bye.