The Metropolitan Museum opened a new fashion exhibition. But it's unlike any of their current galleries. The Met's About Time: Fashion and Duration explore fashions from the past and their influence on modern adaptations. According to the art museum, the timeline ranges from 1870-2020. The expansive timespan allows for numerous designers to be highlighted. So, what should visitors anticipate from the new exhibit?
The Emphasis of Time
About Time: Fashion and Duration transforms the museum into the inner mechanics of a clock. The exhibit is divided into two galleries depicted as clocks. Each clothing also aligns with a tick mark. This highlights "the principle of 60 minutes of fashion," according to the museum. Similarly, the Met also discussed the current era of fast fashion in the exhibit.
The best part? They enlisted narrators to recite lines from author Virginia Woolf. These narrations on time are conducted by actresses Nicole Kidman, Julianne Moore, and Meryl Streep.
All Black Everything
The easiest identifier is the monochromatic color scheme. Almost every design is draped in black fabric and materials. According to the exhibition's curator Andrew Bolton, the artwork is "primarily in black to emphasize their changing silhouettes and interconnection." Iris Van Herpen (left) and Charles James (right) embody this interconnection.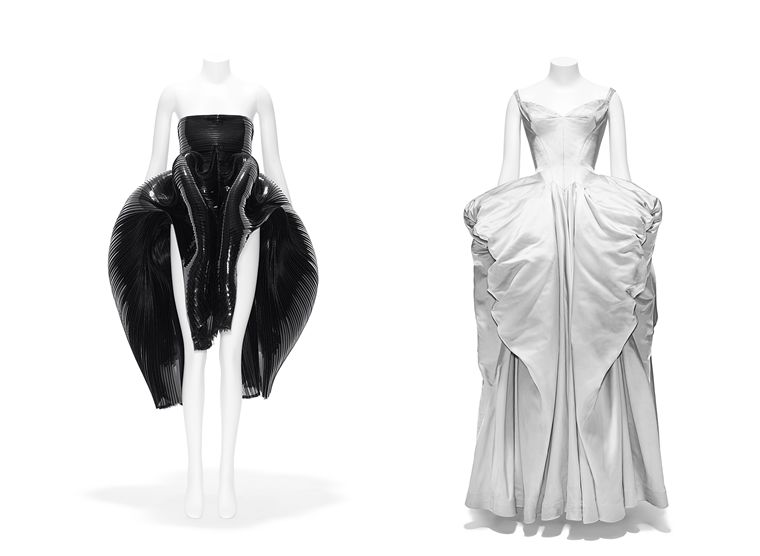 Both have defined waistlines and exaggerated hips but their necklines and material changed over the 60-year difference. The all-white finale of Viktor & Rolf reinforced the return to simplicity and vintage design. Their 2020 spring/summer dress features lace patchwork with an unstructured silhouette.
About Time: Fashion and Duration will be open by exhibition ticket only with limited capacity and health guidelines. Guidelines include mandatory face coverings, social distancing, and frequent usage of hand sanitizer. General admission prices range by age. Adults are charged up to $25, while student admission is $12.
For those unable to attend in-person, the museum provides a 15-minute tour online. The Met's About Time: Fashion and Duration opened October 28, 2020, and closes February 7, 2021.

cover photo : Detail of a satin dinner dress from c. 1895 by Mrs Arnold, a dressmaker in Brooklyn. Photo: © Nicholas Alan Cope; courtesy the Metropolitan Museum of Art