The characters on Friends made us laugh and cry, all while showing us what it's like to be a twenty-something in New York City. Now that Friends is streaming on HBO Max, as well as the reunion, here's a recap of the most wholesome moments throughout the show.
1. Joey Lets Chandler Out of the Box
Joey and Chandler have a bromance like no other, and stick with each other throughout all of the mistakes Chandler makes throughout the series. One of the worst was when he kissed Joey's girlfriend Kathy, resulting in him spending Thanksgiving in a box to make it up to him. It took a lot for Joey to let Chandler out of the box in order to win back Kathy, considering what happened, but he does. When the two hug, it's incredibly touching, and it was a great example of how great of a friend Joey is.
2. Co-Parenting the Chick and the Duck
Each of the three guys in Friends has a pet at one point or another, but Chick and Duck are iconic. There are some great moments from bathing the duck to the actual adoption that tear at everyone's heartstrings.
3. Monica and Chandler Honoring the Birth Mother
In the finale, the birth mother, Erica, giving her child up for adoption goes into labor. Monica and Chandler's dreams of becoming parents finally comes true. However, they're surprised to learn that Erica was pregnant with twins and once they're delivered, they tell Erica that they decided to name their daughter after her, and their son after Monica's dad, Jack.
4. Joey Moves Out and Back In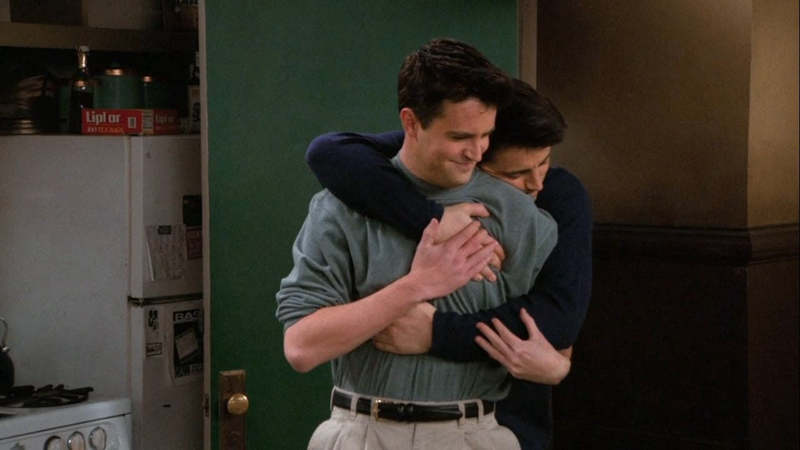 Joey and Chandler's bromance and living situation is a highlight of the early seasons, so when Joey moves out it's heartbreaking. After packing his stuff and leaving, he comes back and hugs Chandler from behind, which is one of the most tear-inducing moments in the show. A few episodes later, the two hug again because Joey has returned to the apartment. The two moments are paired well and show how much of an emotional rollercoaster Friends is.
5. Ross and Rachel Giving Emma a Keepsake
At Emma's first birthday party, Ross interviews each of their friends and family asking them to send a message to 18-year-old Emma. It's a wonderful gift idea, and Ross's parents realize that they might not be alive in the far future, which makes the video all the more heartfelt. Rachel and Ross want to document how loved she is, and they do just that.
6. Phoebe's Lobster Theory
When Phoebe compares Ross and Rachel's love to lobsters it melts everyone's hearts. Lobsters mate for life, and she says that Ross and Rachel are just meant to be, and it turns out she was spot-on.
7. When Monica Proposed to Chandler
When an emotional Monica gets down on one knee and proposes to Chandler, you can't help but shed a tear. It's hands down one of the most romantic scenes of the entire show.
8. Phoebe's Wedding
If Phoebe's vows about how she has everything she was once missing from her life don't make you cry… I don't know what will.
9. When Rachel Gets Off the Plane
In the final episode of Friends, fans were anticipating Ross and Rachel getting back together, and this is definitely the most romantic moment that the two share. Rachel famously gets off the plan and runs to Ross, who was ready to confess his love for her too. They finally get over their problems and have their own happily ever after.
10. The Last One
There's a rollercoaster of emotions to be felt during "The Last One". Thankfully, Joey and Chandler get to say goodbye to the audience in their own special way. The two have one last foosball game and part with the table. The most wholesome moment from the finale is one of their most touching hugs as they transition from the lame handshake to a heartfelt hug that shows what a true end of an era the show was.
Cover photo courtesy The Guardian