Pop Style TV had a pleasure to attend a special screening of Non Essere Cattivo at the Florence Gould Theater in New York City.  Don't Be Bad is a 2015 Italian crime film directed by late Claudio Caligari. It was selected as the Italian entry for the Best Foreign Language Film for the 88th Academy Awards but it did not make the cut. If you are looking for a non typical Hollywood production and a film that can shake up your emotions you should see  Don't Be Bad .
Caligari died of cancer in May, at the age of 67. He was influenced by Pier Paolo Pasolini and Italian drug culture. Thanks to the efforts of his close friend, actor Valerio Mastandrea, film was completed and brought to 72nd Venice Film Festival where it picked up few awards including Pasinetti Prize. Known for his documentary Toxic Love where he explored youth heroin addiction he created another film that focuses on  lives of troublesome group in 1995 Ostia.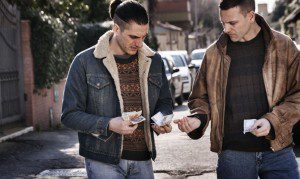 Two best friends whose lives are  filled with partying , cars, cocaine and booze, Vittorio (Alessandro Borghi) and Cesare (Luca Marinelli) are inseparable. When one of them tries to earn honest living without drugs they struggle to keep their bond strong.  Story about love, friendship and survival will make you think about your life and how important it is to make right choices.
The film does not yet have U.S. distribution.