Brides Gone Styled, with stylists Gretta Monahan and Robert Verdi is about to premiere on TLC this week.  We are super excited about it as we had a chance to talk to Robert at Fashion 2.0 Awards in New York City.
Robert: I am doing a new wedding series on TLC and it is a fun, crazy look at the wacky, wonderful brides that have very extreme ideas about how they want to look on their wedding day. So Gretta Monahan, my co-host and I take them on a shopping trip where we learn what they want and than we advise them and council them on what we think they should look like …and battle it out.
PSTV: Are those brides with "good taste" in clothing?
You know, it is interesting, taste is something that goes by the way you side with brides. It is not about the taste when you are a bride, it is about the fantasy that you want to create. It is really about this thing that it is not easy for men to understand which is from the time women are little girls they are building a fantasy about their wedding day and it is very emotional, very intense because it is the single biggest moment of their life. It's not unlike The Oscars are for a celebrity but most women won't be nominated for an Oscar, most will get married. That is the moment that they are on the red carpet and they are the star, it is their moment and it is very, very difficult experience for a girl because its all riddled with anxiety and nervousness about making people happy but still being happy herself, not making a mistake, being fashionable, classy , iconic, feeling sexy and beautiful and truth while I was really excited to be part of this show, fashion and bridal were separated for a long time. They are in a coalition force now and bridal category is no longer isolated, it is no longer about three silhouettes. It is a full on personal expression of a woman's unique, individual style. I love that fashion and bridal are intersecting now in such an intense way because it gives women the freedom to do outrageous, exciting things. My job on the show is to make sure it is done tastefully. Whatever you want to do, I want to make sure you do it with great taste!
PSTV: Who is harder to style? Brides or celebrities?
RV: Brides are harder to style than celebrities! Without a doubt. No question about it! It is not that they are high maintenance it is just that most celebrities get to the place where they realize it is part of their job and there is always another red carpet moment. Your wedding is once in a life time, for some girls it is two or three times, but for most women its a single biggest fashion moment of your life.
Watch Brides Gone Styled on TLC Friday, June 12 9:30/8:30 C
-Tijana Ibrahimovic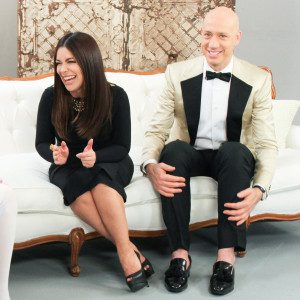 photo from TLC.com