With controversy in fashion at an all-time high (most recently, gucci's balaclava sweater), designers seem to be taking note and hearing the voices that are demanding to be heard.  An industry once known for super young porcelain bodies that incited the term "heroine-chic"  are now realizing that we live in a world full of differences that need to be represented.  After all, people of all ages, shapes, sizes, color and culture buy their clothes, so why not reflect that on the runway; and so they did!  Here are the standouts for Fall/Winter 2019 FashionWeek.
DISCO FEVER
 Designers drew inspiration from the era where glitz and glam were celebrated. Showstoppers reminiscent of Studio 54 paid homage to the 70s and the icons of fashion in that era.  The Indian American Designer, Naeem Khan wowed onlookers with his tribute to his mentor, Halston, as  blinding sequins, fringe,  and sumptuous velvet strutted down the runway leaving an aftershock of wonderment to spectators.  The concert-like vibe added that extra pizazz as an ode to 70s rock classics pulsated the air. The grand finale of silver sequin gowns were worn by Halston veterans Pat Cleveland, Karen Bjornson and Alva Chinn with a musical backdrop from Rock Icon Queen, Radio Ga Ga. The energy created by the music was intended to evoke a Bohemian feeling of freedom and individuality, which was seamlessly attained.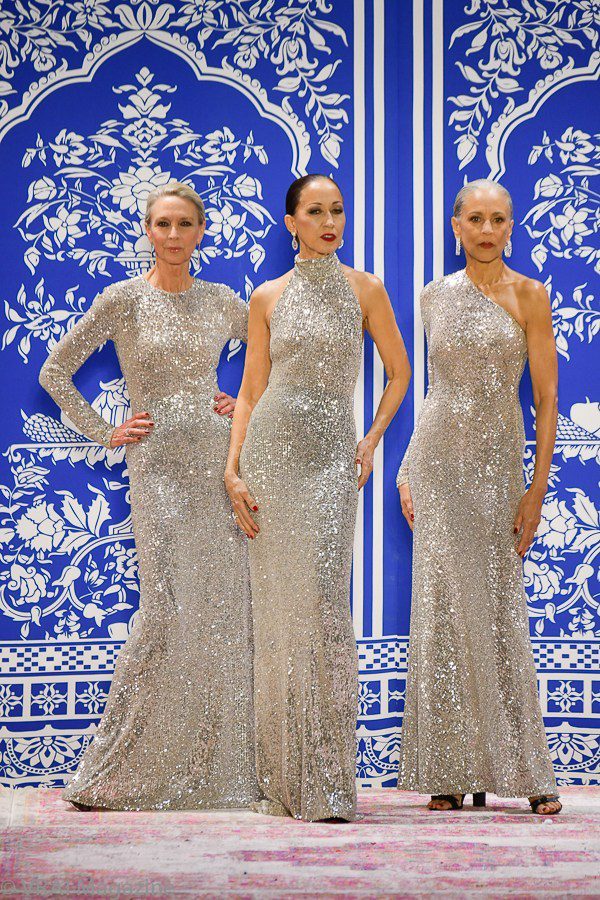 BRrrrING IT
Whether you believe climate change is a hoax drummed up by scientists or a proponent of global warming activism you will have options for fall winter 2019.  Designers have ensured that we are protected from death inducing temperatures and provided a source of comfort while allowing us to express our individuality.  Fall/Winter 2019 will indulge your fashion senses with wool, fur (both real & faux), feathers and colors that will help you forget it's below freezing. The most noteworthy pieces came from Denis Basso who skillfully curated a wardrobe for the "New York City Girl".  This collection exudes the energy, strength and magnetism that are innate within the soul of a New York woman.  She's fearless and effortlessly stylish. While his collection keeps us warm, he did not miss the opportunity to reflect the exuberance of the New York Fashionista through bold prints and textured designs that bring the sex appeal the metropolitan woman embodies.
Son Jung Wan was another standout designer this season as masterfully constructed faux fur coats became a quintessential staple for the downtown chic. The added textured embellishments give an edgy retro vibe that seemed to be the running theme in most collections this season.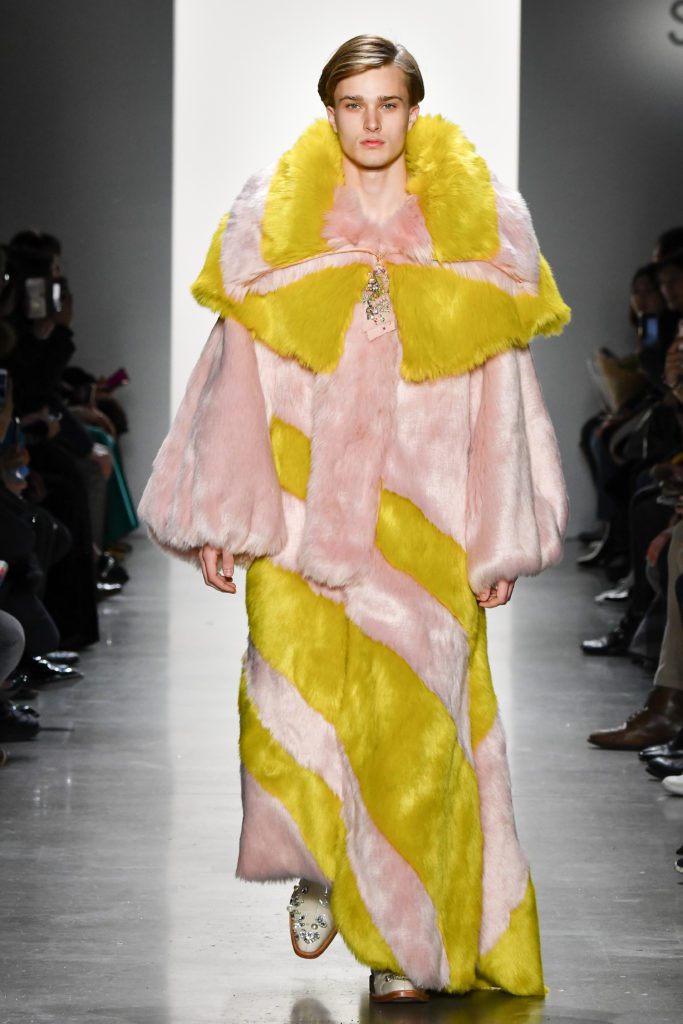 BOLD & BEAUTIFUL
No, not the soap opera, but the diversity of women that flooded the runway at Cushnie's Fall/Winter showcase.  This collection glorified the differences of a woman's body and showed the fashion industry that women of every size are beautiful, elegant and boldly self-assured.  The British Jamaican designer, Carly Cushnie, created a line that is fashionably universal, suitable for any body type.  Inspired by 1920's designer Paul Poiret, Carly Cushnie created a collection of jewel-toned hues of silk gowns that wrapped models with a spectrum of skin tones, shapes and sizes.   Models, Candice Huffine and Marquita Pring showed us how curvy girls rock silk which they did without falter in their gait. The slightly draped silk dresses flattered every curve and moved with remarkable ease.   The fit and draping of all Cushnie's gowns reminded us why she was quickly catapulted into fashion's spotlight.  She recognized a void in the market that had long been overlooked and promised to fulfill the yearning for glamorous, sophisticated clothes for women above a size 10.  In fact, she has made strides in moving forward, by announcing  her collection will debut in sizes ranging from 10 to 20+.Other heavy hitters to unveiled their plus size collection are Christian Siriano, Christopher Kane, Prabal Gurung, Johnathan Simpkhai  to name a few.
CRAZY,SEXY,COOL
TLC's album was not played, but this segment is aptly titled in reference to the LaQuan Smith presentation. The self-taught designer, who hails from Queens NY, did not disappoint with a FW 2019 collection that could stop New York traffic.  High splits and sheer animal print were the theme of this collection. Each piece was unapologetically sexy with an inherent air of heroism; while the use of fur added the luxurious qualities we've come to expect from this highly sought-after designer.  It's no surprise that the likes of Beyoncé and Cardi B would reach out for his magic touch.  The edgy confidence of the diverse cast of models was amplified by the music selection of celebrity stylist and New York DJ Matthew Mazur aka Mazurbate.  His picks included voice snippets of Hilary and Carlton Banks from Fresh Prince of Belair fused with vouging anthems.  This further personified the identity of the LaQuan Smith woman, as an unrepentant badass.