With warm weather on the horizon , there's really only a couple of things in mind… outdoor brunchin' and keeping your hair from becoming a flat mess, thanks to lovely humidity. Now, the brunch is easy, but to combat summertime sadness via frizzy hair there are few recommended approaches.
 Instant, long-lasting volume via a crazy hot tool + gradual, it's your own hair volume via science
For instant volume that won't get deflated the second you walk outside: Finish off every style with Voloom , the only hot tool specifically designed to add lasting volume without product or expensive blowouts. The secret is in the patented plates which, kind of look like a cross between a crimper and a waffle iron, and gently build lasting structure into the under-layers of the hair, lifting the top layers up and away from the scalp.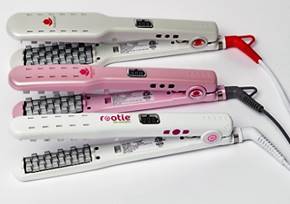 For volume that is actually your own, no tools or products required, let science help for the long-term
Created by a team of hair biologists, Évolis  Reverse Activator targets those suffering from thinning hair, aging hair and aggressive hair fall. A proprietary blend of keratin and wheat protein to strengthen and fortify, plus natural actives and antioxidants accelerates hair growth, decreases hair fall and inhibits a protein with only one role: signal hair to stop growing.  95% of participants in a consumer usage study noticed an increase in hair thickness within 90 days of use!