If you are in search of new hidden gems to explore we are about to let you in on a secret. Just a couple  of hours away from Chicago,  in northwest Illinois there is a small town called Galena. Known for its well-preserved 19th-century buildings like the 1826 Dowling House  and a home of former President Ulysses S. Grant. Known for its rich history, few ghost stories and a Winter Carnival at Eagle Ridge Resort spa it is definitely worth a trip !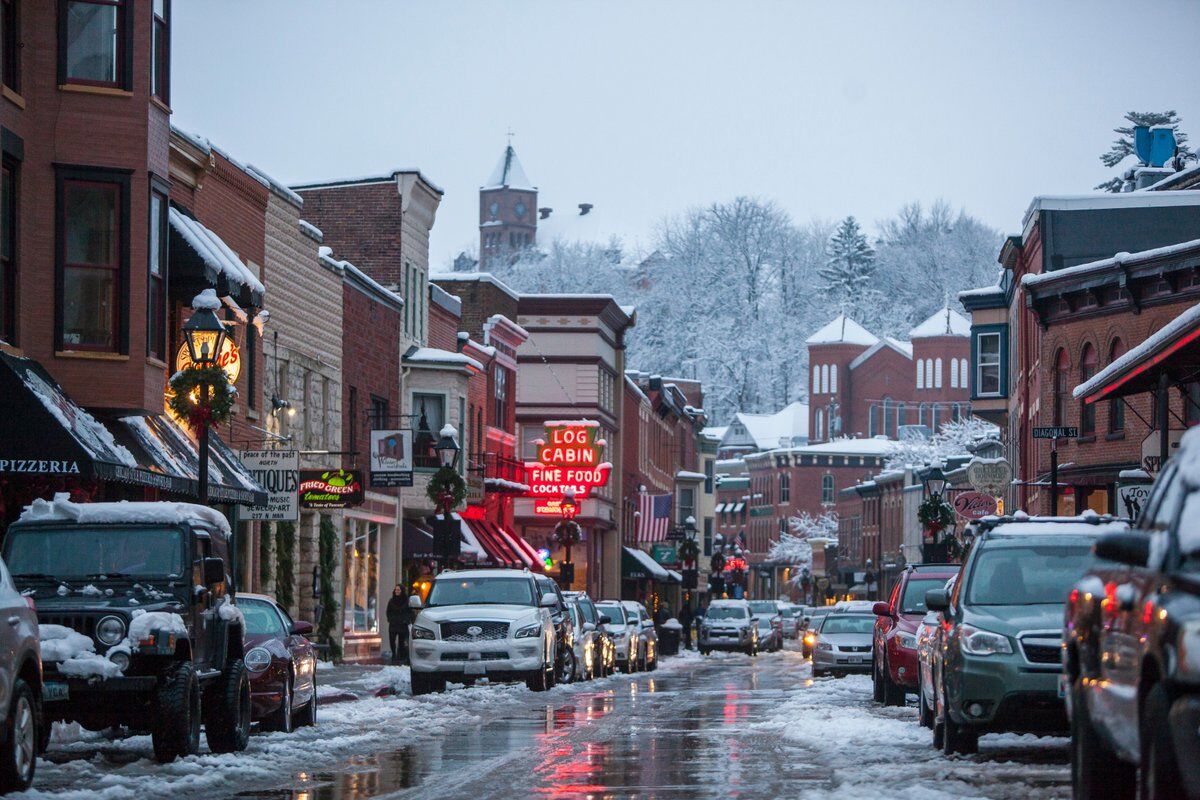 POP Style TV spend President's Day weekend at the Eagle Ridge Resort Spa and even though they have beautiful on site rooms to rent we opted for a mansion on Cinnamon Road. Yes, the best address we ever had that completely complimented the winter wonderland feel.
Since President's Day weekend it is their most popular weekend, it is good to arrive on Thursday. It would give you an opportunity to explore the premises and get the information on all the activities organized. Guests can also relax at a prestige Stonedrift Spa so we recommend getting your appointment on time since it is very popular among visitors.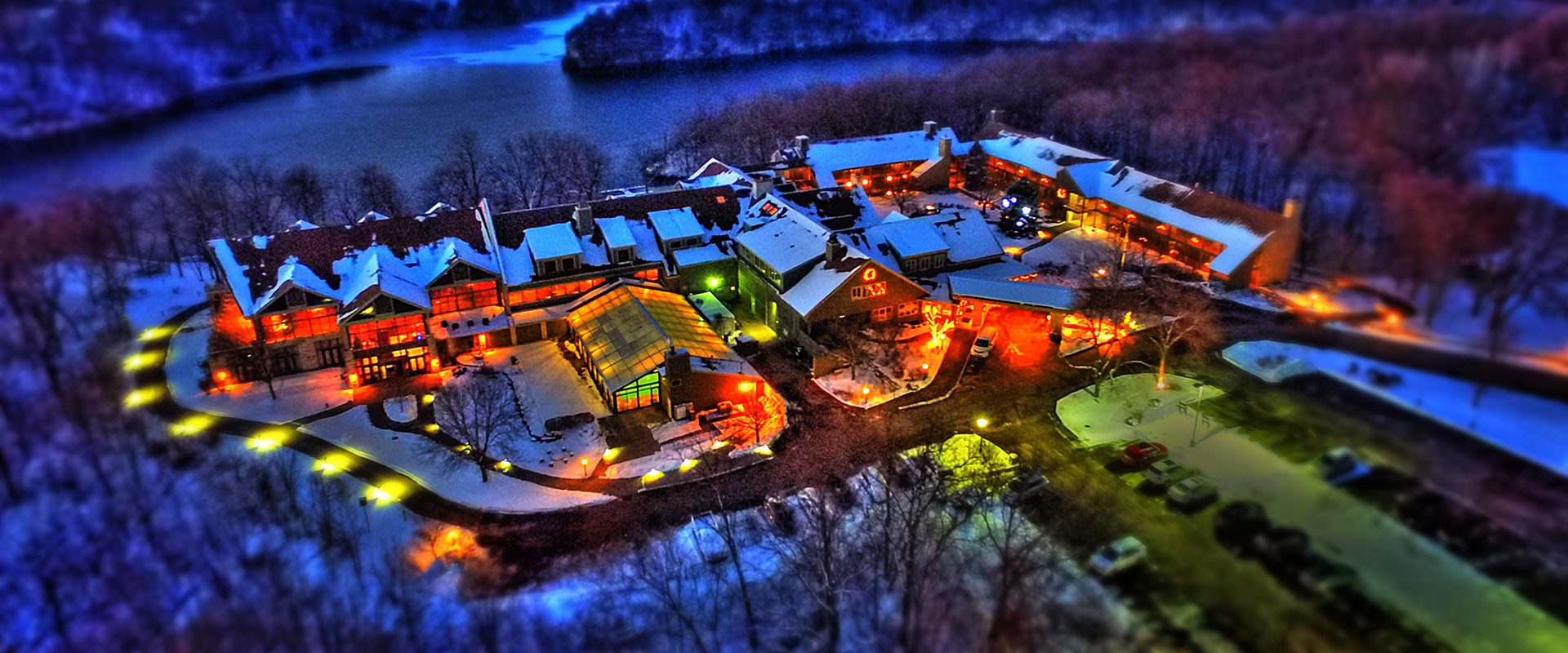 We mainly dined at The Woodland , fine dinning restaurant located at the resort. Good champagne and wine choices first caught our attention. Once the fresh bread arrived followed by a salad with chef's secret dressing recipe that was absolutely delicious we were sold. They prepare their meats very well and may we mention , we used the famous dressing as addition to every dish for extra flavor.  You have to leave some room for their famous Sinsinawa Mound Sinnablast dessert! Made by Mound Bakery  located just outside Hazel Green, Wisconsin it is a decadent mix caramel-cinnamon bread with a crusty exterior and hot moist inside topped with caramel sauce, white chocolate, chopped pecans and dusted with powdered sugar.
Don't feel bad, they have excellent workout facilities as well as the Nordic Center where you can enjoy Winter activities. We were taken back to our childhoods and sled for hours.  We also for the first time tried snow shoeing!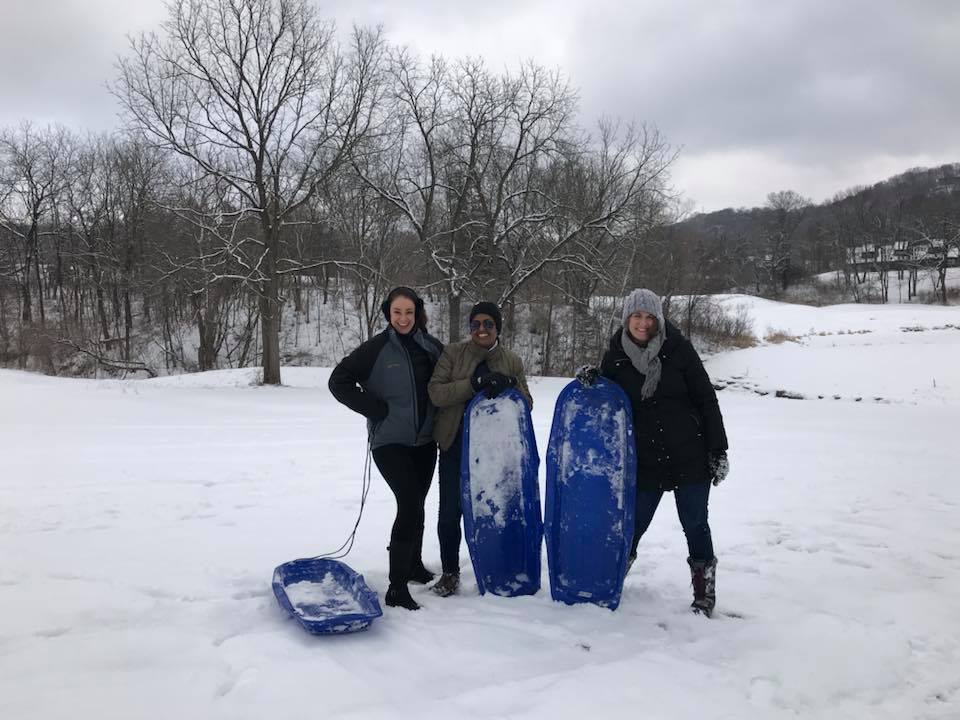 Spending a day Downtown Galena was a fantastic experience. It is a super charming, historically preserved  little town that lies on  Galena River. Surrounded by mansions and beautiful nature we even had a chance to visit President Ulysses S. Grant home. 90 percent is kept exactly as it was including their library, dinning room, kitchen, bedroom and bedrooms of each of their children.
The Main Street, also called Helluva Half Mile is full of shops as well some great restaurants. We recommend famous Gobby's for lunch and wine tasting at Galena   Wine and Cheese.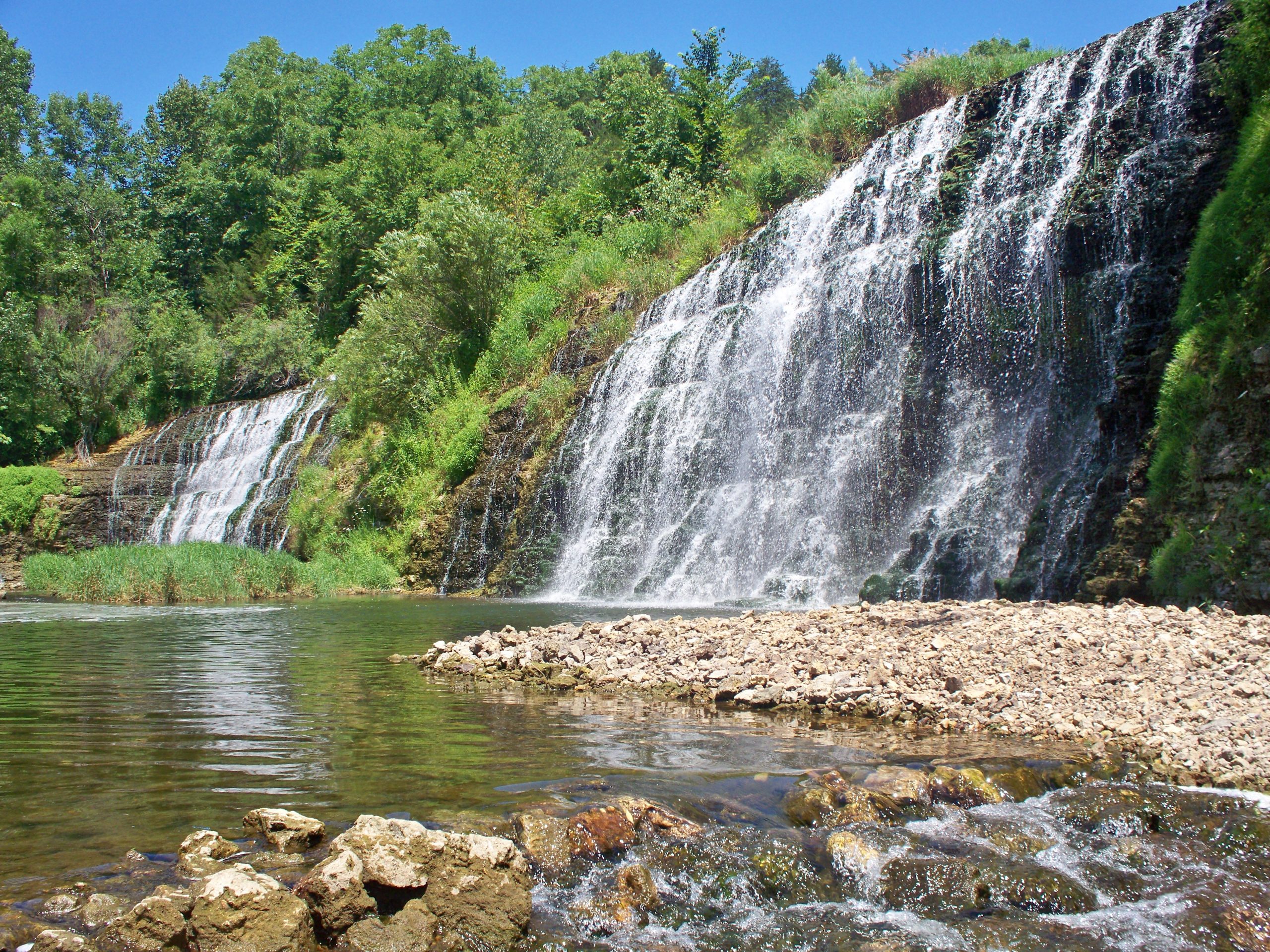 Galena Brewing Company is a true beer lovers paradise. Great place to meet for aperitif and head next door to Fried Green Tomatoes restaurant for dinner. Guess what, yes you need to taste their delicious fried green tomatoes and post steak their flourless chocolate cake. They also have a great selection of wines. We got lucky and that night bottles were half of!!!
Our choice was getting back to our beautiful, four bedroom mansion with fire place and a game room! However we did hear that the karaoke town scene is pretty strong.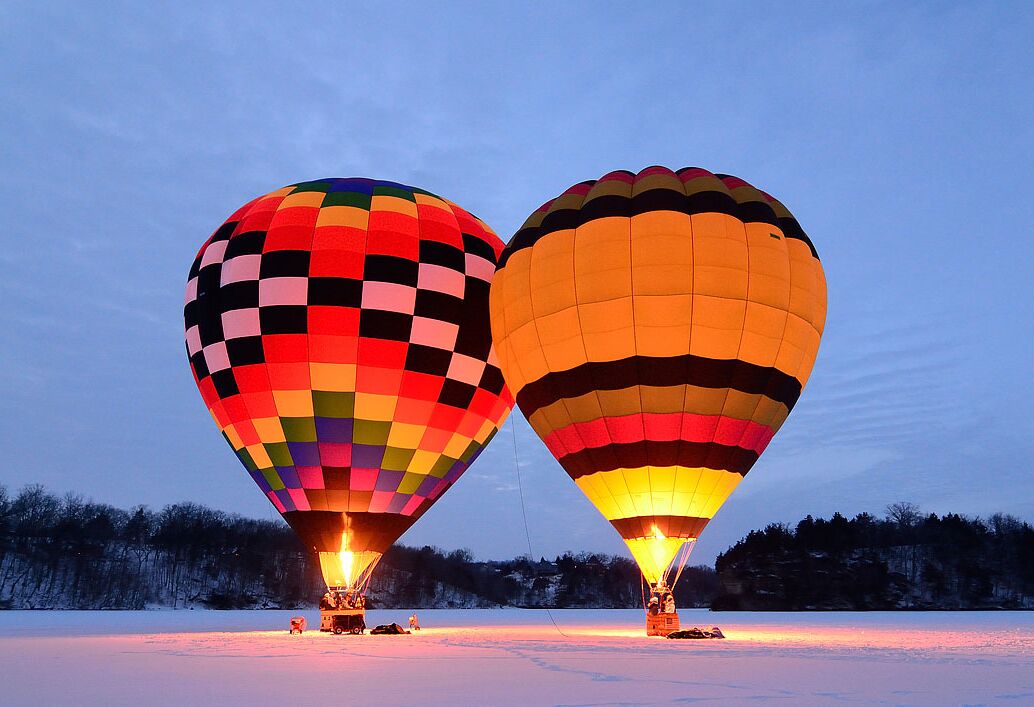 Before the biggest night at the resort, the  Fire and Ice Winter Glow show a good massage was exactly what the doctor ordered.   Stonedrift Spa offers range of services and they proudly partnered with Éminence Organic Skin Care for facial treatments. Most massages are just that, but sports massage we experienced exceeded all expectations and was well personalized.
After a quick break by the fireplace with beautiful views from our home for the weekend, it was time for  glowing hot air balloons magically lighting the night sky. Snow art for kids and families, 5-Hole Mini Snow Golf Course featuring an ice carved heart hole, bounce house, games and crafts for kids, mouth watering Marshmallow Shots and cozy Valentine Gazebo, with romantic views and plenty of warm furs for guests to snuggle into completed the Winter Wonderland experience.
Whether with your family or a group of friends visiting Galena and Eagle Ridge Resort is a must. They have different activities throughout the year so take a look at different programs bellow.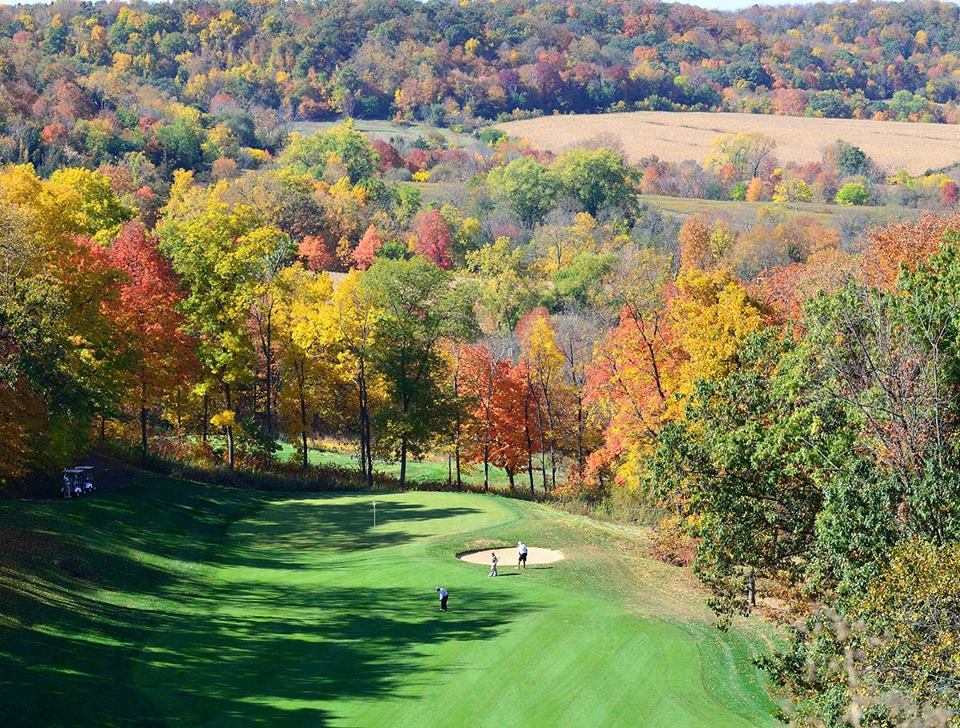 Spring
Eagle Ridge celebrates Spring Break during the entire month of March and April. Teachers can enjoy the resort's "Give Our Teachers A Break" promotion, which provides teachers a special per night room rate seven days a week. The resort also offers special rates and packages to all spring break families.
Scrapbook Spectacular (March 9 through March 11). The resort offers a special package for all avid scrapbookers. For $269 per person (based on double occupancy), guest receive accommodations for two nights, light dinner buffet and dessert on Friday night, breakfast, lunch, dinner and light night snack on Saturday night, and Sunday champagne brunch at Woodlands Restaurant.
Galena St. Patrick's Parade. Grab your friends and family and get to Galena on March 17 for a fun Shamrock Shimmy 5K run through downtown Galena. The annual St. Patrick's Day Parade includes marching bands, costumed clans and floats and live music.
Galena's Wine Lovers' Weekend. Head to downtown Galena on 23 and Mar. 24 for the 11th Annual Wine Lovers' Weekend, one of the largest indoor wine tasting events in the state of Illinois featuring over 250 wines. Enjoy a spectacular weekend staying at Eagle Ridge while indulging in Galena's wine tastings, winemaker dinners, shopping, and winery tours. Eagle Ridge is extending a special $99 room rate on March 23 that includes a one-night stay for two in a standard room and a complimentary transportation to the event at Turner Hall in downtown Galena.
Easter Weekend (March 30 through April 1) features one of the area's best Easter egg hunts, Easter Bunny meet and greet and a massive Easter Brunch buffet on Sunday, Apr. 1. Guests are invited to stroll through an assortment of delightful children's activities and crafts including Easter egg coloring and Travel Buddy Workshop.
Spring features Eagle Ridge's golf season kickoff in March. The distinctive courses at Eagle Ridge are open to the public for players welcoming the challenge of golf. The General, The South, and The North Course are each 18-hole championship courses enjoyed by golf aficionados for decades. In addition to 63 exquisitely manicured holes laid out over our four courses, Eagle Ridge Resort & Spa offers a grill and golf shop featuring an attractive selection of golf and casual wear.
The magic of the resort over Mother's Day Weekend comes alive May 11 through 13, celebrating mothers and daughters with nurturing spa treatment packages, ladies golf packages and a Mother's Day Brunch at Woodlands.
Memorial Day Weekend (May 25 through May 28) raises the flag to an all-American tail gate party and the unofficial summer launch with special packages for the long getaway weekend, golf, hot air balloon rides, horseback riding, fishing, boating and party pontoons, Sunset Champagne Cruises on Lake Galena, kid-friendly indoor and outdoor activities, Movies and Tubies, S'mores galore, workshops, Sunday brunch at Woodlands and more.
Summer
June 15, 16 and 17 are the dates for the annual Great Galena Balloon Race, which takes place on the grounds of Eagle Ridge Resort & Spa. The three-day adventure over Father's Day weekend includes multiple balloon races, night glow extravaganza, balloon rides, a classic car show, live music, wine tasting and Alefest events, wine flight and activities for the whole family.
Fourth of July Weekend (June 29 through July 9) and Shenandoah Pro Rodeo competition at its best on June 30th and July 1st at the nearby Shenandoah Riding Center. Eagle Ridge guests also have access to horseback riding and lessons with miles of riding trails with special packages, boating, canoe, paddle boat rentals and Champagne Cruises on Lake Galena, kid-friendly activities. The annual Firecracker 5K, through the rolling hills of the scenic Galena Territory will take place on Saturday, July 1st.
Fall
Labor Day Weekend (September 1 through September 3) is the unofficial end of summer and is celebrated with a golf tournament, Labor Day getaway packages, indoor and outdoor activities for the whole family and more.
It's an Oktoberfest celebration all month with special beer and menu offerings from October 1 through October 31. This year, the 12th Annual Galena Octoberfest on October 22 features non-stop live music, wiener dog races, polka dancing and lessons, German-style food and beverage, bounce house and games for the kids, and much more.
Galena Country Fair (October 6 through October 7) boasts more than 150 vendors selling high-quality, original, handmade arts, crafts and fine arts. Held in picturesque Grant Park overlooking historic Galena, Illinois, the fair is a Columbus Day weekend tradition.
Halloween Weekend (October 26 through October 28). Be a part of Galena's 40th Annual Halloween Parade & Festival on October 27, the largest, longest and spookiest parade in the tri-state area, featuring spectacular floats, marching bands, costumed participants, prizes and treats for guys and 'ghouls' of all ages. There are even hot air balloons lighting up the Helluva Half Mile(Galena's historic Main Street) as they make their way along the parade route. Eagle Ridge Resort & Spa guests can enjoy family-friendly activities all weekend long: Halloween themed arts and crafts, workshops, cookie decorating, tarot card reading, Movies and Tubies, S'mores Galore and more.
PGA Event. The Illinois Section PGA Players Championship will be at Eagle Ridge Resort & Spa September 24 and 25. This 36-hole stroke play event, contested over two days, is open to all eligible Illinois PGA Members or Registered Apprentices. The resort is hosting the top PGA club professionals from across the state of Illinois.
Holidays
Eagle Ridge celebrates one of the largest Thanksgiving Feasts in the US. On Thursday, Nov. 22, more than 800 guests will enjoy a buffet of more than 50 traditional and creative Thanksgiving specialties. In addition, the Pilgrim Deliveries have become a favorite tradition in Galena: order a Thanksgiving dinner whether staying on the resort grounds or nearby and have Eagle Ridge's pilgrims deliver a feast to your door. Guests can also join "Meet & Greet with Santa and Mrs. Claus" on Friday Nov. 23 and "Breakfast with Santa" on Sat., Nov. 24 at Woodlands Restaurant. Children can enjoy Santa's workshop activities and crafts and, a photo opp. with Santa.
Winter in Galena is full of "Christmas in the County" activities and events that put you in the holiday spirit throughout November and December. Head to Galena, Elizabeth, Stockton or Warren for fun events including Festival of the Trees, Old-Fashioned Christmas in Galena, Holiday Fire in the Sky, Night of the Luminaria & Living Windows.
Photos : Eagle Ridge Resort