The Upright Citizens Brigade partnered with Seeso for this year's "The UCB Show" and "Thank You Del: The Story of the Del Close Marathan".  The comedy streaming channel has renewed "The UCB Show" for a second season.  Shooting began at 18th Annual Del Close Improv Comedy Marathon.  The announcement was made by founders Amy Poehler, Matt Walsh, Ian Roberts and Matt Besser at the press conference that kicked off the 59 hour comedy weekend.
With 10 stages and 680 shows, the weekend was packed with nonstop laughter.  Eight countries were represented including the United States, Puerto Rico, Australia, Amsterdam, Canada, Iceland, Great Britain, Sweden, and Poland.  2674 people took the stage including 5 high school teams and 49 college groups.  Notable shows included The Upright Citizens Brigade, Asssscat 3000, the Cast of Broad City and writers from the Daily Show and Late Night with Stephen Colbert.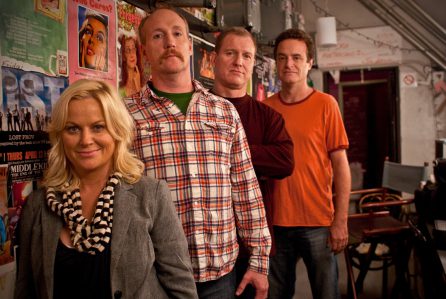 With nineteen of the most hilarious comedians known to man taking the stage, the laughter in the room was non-stop.  Stories of Marathon fails and arrests for the sake of the sketch had those in attendance roaring.  The three day festival acted as the ideal platform to launch"Thank You, Del".  The documentary gives light to the man that influenced the funniest people of this time including Tina Fey, Bill Murray, and Mike Myers.  The marathon began in 1999 after the death of Del Close to keep his legacy of improv alive.  Eighteen years later, the documentary allows viewers an intimate glimpse into the life and work of Del Close.  The film is filled with humorous and heart-warming moments.
Poehler shared a memory of her early days in comedy travelling with Close.  He insisted that she did no go through security with him and to this day she does not know why.  Another notable story included when Close gave up smoking and was angered when smokers put the butts out because people liked to smoke them.  Close never became a household name.  He always realized that he would be the vehicle for people to be successful.  He never reached the milestones those who studied under him did.
The documentary is available to watch on Amazon.  The creators hope to enlighten comedy lovers everywhere about the contribution Close made to comedy.