The arrival of Marie-Lou&D salon to already  fashion-forward neighborhood of SOHO was exciting news.  POP Style TV attended the opening party and after meeting their team of top-level European hair and beauty experts it was time to try out their services.
Marie-Lou&D 's top- level stylists provide everything from cutting edge blunt bobs to perfect icy-platinum blonde tresses, low maintenance ombre balayage to downtown layered lobs. They  use SHU UEMURA and Kerastase hair-care products and offer face and body services.
I made an early morning appointment for a facial and  especially enjoyed walking down West Broadway looking forward to meeting Courtney Sheets, who was set to be my esthetician.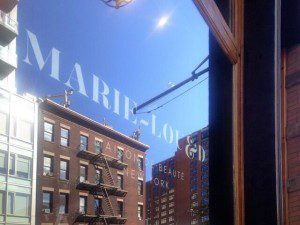 As I walked into Parisian inspired interior I was pleasantly greeted and offered a cup of coffee. They have a small living room like area where the whole experience begins as you sip on a beverage ( birdie told me they serve wine too). Courtney looked at my skin and we agreed upon Premiere Cru facial. It lasted for an hour and I have to say it felt as a whole body service, not just a facial. It includes mini arms, face and neck massage.  She communicated to me the whole time and we adjusted Caudalie's finest products to my skin. Extractions were painless and effective. Everyone at the salon went above and beyond to provide a relaxing experience. I left refreshed and happy. Most importantly my skin felt great.
"There is nothing more appealing than diversity in beauty and we are here to offer you our expertise to make you feel your best," says the CEO of Marie-Lou & D, Dharmendra Manwani. "Our brand promise is of expertise, trust, confidence, accessibility and consistency, and we hope that together we can make the world a more beautiful and chic place."

They are definitely on the right track!  For more information go to Marie-Lou&D