Pop Style TV attended the opening of the first and only Baijiu Bar outside of China. Sounds great but you must wonder what is baijiu? No worries, most people have never heard of this drink.
Relatively unknown in the West, Baijiu, (pronounced 'bye-joe') is the featured exotic drink in Lumos NYC where you can try exciting new cocktails created by Orson Salicetti, former head bartender at Apotheke, and architect, Qifan Li. They partnered up to introduce Baijiu, the number-one selling spirit in the world.  Orson created original cocktails to highlight and balance baijiu's strong flavors rather than try to hide them.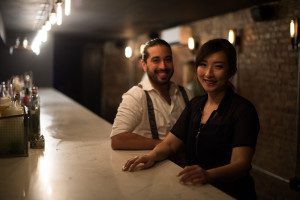 How is it made?
Baijiu is made by mixing grains in proportion according to the recipe, lightly steamed, and then pulverized qu is added to encourage solid state fermentation. The inoculated grains are placed into pits dug into the earth, sealed with mud caps where grains ferment for generally 30-90 days, after which the mud cap is removed and the grains are placed into giant steamers.  The hearts age in 1-ton, terracotta urn, generally for 1-3 years, after which urns are carefully chosen for blending the final product.
What adds to the mystery is that Lumos NYC is hidden under a hat shop so one has to search for it. Located at 90 West Houston Street,  the venue hosts live music and a burlesque act, Calamity Chang, 'The Asian Sexsation' in a show called 'ShangHai Gesture.'
Even though  Baijiu is a social drink traditionally served in a tiny ceramic 'shot cup', we recommend you pass by for new experiences and some full size delicious cocktails.
Franggy Yanze (photo of owners)
Keith Dong (photo of cocktails)